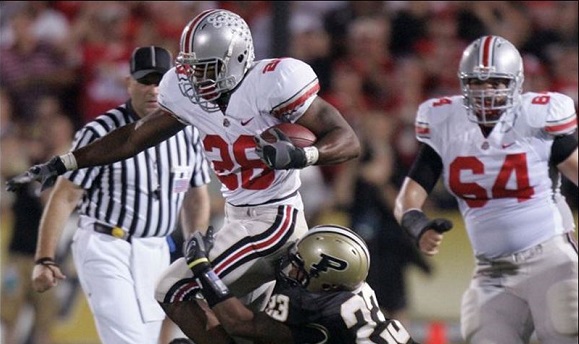 After soaring to the highest of heights in the 2006 regular season, only to be thrown to the deepest of depths in the BCS Championship game, Ohio State entered the 2007 season with a bit of uncertainty. Many of the stars from the previous season had departed, and yet at a place like Ohio State you very seldom go into "rebuilding" mode, because there are always young talents ready to emerge into stardom.
One of those youngsters was a sophomore running back named Chris "Beanie" Wells. Wells had come into the program with enormous hype and many accolades from his high school days. He also came in at full size, already looking like a man among boys compared to his fellow freshmen. Wells had his ups and downs in his freshman season, but it was mostly up as he played the role of a solid, and occasionally spectacular, backup to starter Antonio Pittman.
Losing Pittman wasn't the only problem for the offense. Also gone were receivers Tedd Ginn Jr. and Anthony Gonzalez, and Heisman Trophy-winning quarterback Troy Smith. Smith had been the leader of the offense for most of his last three years in the program and so filling that void would be especially important going into a season where every Big Ten team would surely be bringing out their best game against the two-time defending conference champions.
Todd Boeckman had sat behind Smith for two years (three if you count his redshirt season) and despite having not started a game he was considered a veteran presence. Having won the starting job over Rob Schoenhoft, Boeckman was ready to take the reins of the Buckeye offense, such as it was. 
Despite all of the losses on offense, the core of the defense remained, and so it was thought that the team would have to rely on the defense for at least a few games so that the young offense could get its bearings. The script went as expected for the first two games (a blowout of FCS Youngstown State and an offensive struggle against Akron), but then the team faced a trip to the west coast to play at Washington, a place that had not been kind to them in the past.
The team struggled for a bit in the first half, but the young offense came alive in the second, overwhelming the Huskies on their way to a 33-14 victory. This became the catalyst for the offense, as it rolled to 58 and 30 points in their next two outings, victories over conference foes Northwestern and Minnesota. But in game 6 they were going on the road to face a Purdue team that was 5-0 and feeling confident. Worst of all, it would be a night game, thus ensuring that the home partisans would be at their most vocal in support of their team.
Ohio State entered the game ranked #4 in the nation, while Purdue was #23. Boilermaker quarterback Curtis Painter had been dominant against Purdue's soft early schedule, averaging over 300 yards passing per game. This would be a strength-vs-strength contest, with the Boilers' high-octane passing offense clashing with OSU's stifling defense. The game would be nationally televised on ESPN, and Purdue's fan groups had called for a "blackout" of the stadium, with every person in the crowd wearing the home team's favorite color.
All of the pageantry was wasted as the Buckeyes quickly took control of the game. Throwing all kinds of pressure at Painter and putting the clamps on his speedy wideouts, the OSU defense made short work of the Boilers on their way to a 23-7 victory. The Buckeye defense had a shutout going for 59 minutes but Purdue finally broke through in the last minute on a one-yard pass from Painter to Jeff Lindsay. Needless to say, it was a disappointing night for the record crowd that attended.
The Boilers seemed to have some success on their first drive, but they could not sustain it for long. Their punt pinned Ohio State at their own 13-yard line, but they would move quickly from there. The Buckeyes marched 87 yards to the end zone, with Boeckman hitting receiver Ray Small on a 26-yard touchdown pass to finish the drive and put OSU up 7-0. They would never trail.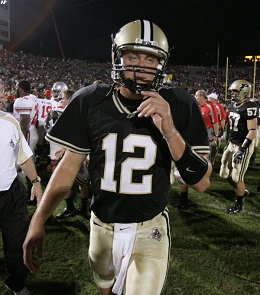 Ohio State's defense forced a three-and-out on Purdue's next drive, and then their special teams let them down as their punter shanked one out of bounds at the Boilermaker 43. Boeckman went to work from there, hitting receiver Brian Robiskie for 18 yards, then Small again for 13, and finally (after a Wells run) hitting Brian Hartline for six yards and the score.
After only two possessions, the Buckeyes already had all the points they would need to win the game. From there, the Boilers received a steady dose of Tressel-ball, and the main beneficiary was former South African rugby and soccer player Ryan Pretorius, who booted three field goals for OSU. No need to put up a lot of points when your defense is forcing the other team to break a dubious school record with 12 punts.
Painter managed to rack up some late yardage but for the most part he was held in check. He finished with 268 yards passing, with 101 of that going to tight end Dustin Keller, who had 7 grabs. Receiver Greg Orton had 10 receptions but for only 91 yards, as the OSU pressure forced Painter to repeatedly dump the ball off. True to Joe Tiller's usual philosophy, the Boilers hardly even attempted to run the ball, finishing with only four yards on the ground.
Todd Boeckman finished with a respectable 17/29 for 200 yards and two touchdowns. Beanie Wells carried 18 times for 85 yards while his backup Maurice Wells (of the law firm Wells and Wells, according to Tressel) carried 15 times for 74 yards. Freshman running back Brandon Saine got into the act with six carries for 20 yards, as the Buckeyes ground Purdue's defense into the turf in true Tressel fashion.
---
Let's relive some of that night: