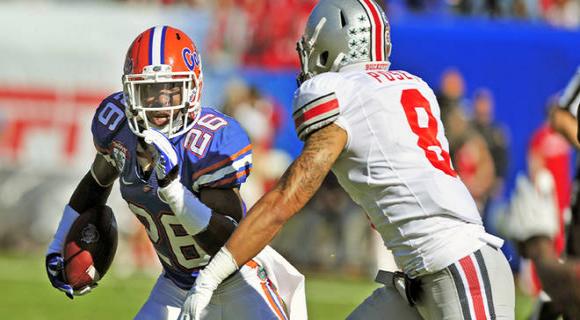 Jan. 2, 2012, marked the end of a forgettable season and era in Ohio State football history. Faced with impossible circumstances clouded by scandal, Luke Fickell spent the 2011 season as the Buckeyes' head coach. The end result wasn't ideal.
Ohio State floundered through its first losing season in more than two decades, the seven losses tied for the most in program history and the recruiting trail began to dry up. Some thought the Buckeyes could be rendered irrelevant for years to come. But that all changed two days after the first loss to Michigan in seven years.
Urban Meyer was introduced as head coach, recruiting has soared and Ohio State hasn't lost since. Just when the rest of the Big Ten thought it could play catch-up and even pass the Buckeyes, all of it goes kaput. Not even NCAA sanctions could hold Ohio State back from molding top-five recruiting classes.
"I try not to look back too often. I look back to the beginning of last year and that was very alarming," Meyer said. "Up to now, we're just trying to find a way to get to the next week."
Alarming or not, Meyer knew what he was walking into. And it wasn't a program in shambles. Titans of the sport – USC, Miami, Alabama, Nebraska and even Ohio State – have gone through sustained rough patches in the past 20 and 30 years. But the Buckeyes, according to Meyer, weren't on the precipice of another downtrodden period.
At his introductory press conference, he said the program wasn't broken. Talented players were on the roster they just needed new guidance. Under Meyer, the program has found it's footing – and flourished. Winners of 20 consecutive games, there's no letup from the Buckeyes. 
"I guess I have so much respect for Ohio State and the previous coaching staff, I knew all those guys. I knew Coach Tressel very well," Meyer said. "So I kind of figured it would be [fine]. There are always some issues, but nothing that can't get fixed, and you can recruit good players at Ohio State."
That's the route Meyer has taken as he tries to scale college football's mountaintop once more. He called then-Penn State lean Noah Spence after his introductory press conference and has had recruiting on his mind and in his blood 24/7/365 ever since. When Meyer takes a job, he gives it his undivided attention.
There are few coaches in the country more affected by loses than Meyer. It gives him more than a bitter beer face. The mental toll they cause led to the burnout and health problems he faced at Florida. He's promised his family that a year off helped change his outlook. Still, he's not eager to relive Nov. 27, 2010 – the date of his last loss as head coach.
"Do I still feel it? Yeah, and I just want to avoid it at all costs," Meyer said.
What about his players? Sure, there are those who played under the previous regime. They piled up wins until that fateful 6-7 season. Losing is fresh in their minds. The sting of defeat registers. But not with the bulk of freshman and sophomores who've never lost a college football game.
Saturday is the 670th day and 22nd month since Ohio State last tasted defeat. The Buckeyes are three wins away from setting a new school record with 23 consecutive victories. The combined record of the three opponents standing in their way is 7-14 overall and 1-7 in the conference.
One year after multiple overtime games and more than half the season's wins coming by a touchdown or less, Ohio State's restored order, winning by an average margin of nearly 31 points per game.
Meyer has all but guaranteed that complacency will not strike his team. A 20-game win streak, blowouts and three consecutive overmatched opponents be damned.
"That's something we think about all the time. I mean, that "L" word is not a good word for anyone," Meyer said. "So the one thing is we coach very hard. And Lou Holtz said it best, 'You coach hard when you win.' When you lose, it's very fragile and if you came out to practice, you'd be like, my gosh, you act like the offense is the worst in the country. They're 'Bloody Tuesdays' around here for a reason. As long as we're still coaching that way, and we will, they're very hungry."
Veteran tight end Jeff Heuerman still has bad memories from the 2011 Purdue game – and much of that year, his first in Columbus. But even he had to inquire about the most recent loss of his college career occurred. Once he confirmed it was indeed the Gator Bowl, Heuerman quickly stated that the team keeps its one-game-at-a-time mentality thanks to the coaches.
"Our coaching staff does a great job, regardless of the opponent," Heuerman said. "Tuesday will be a tough day. Bloody Tuesday and Wednesday. That's when games are won and lost."
Said Meyer, with a smirk: "We're pretty good agitators around here. The goal is to compete for championships in November. You can bet the focus is very intense."
It wasn't any less intense in 2011. Fickell just happened to be dealt an untenable and unwinnable hand.