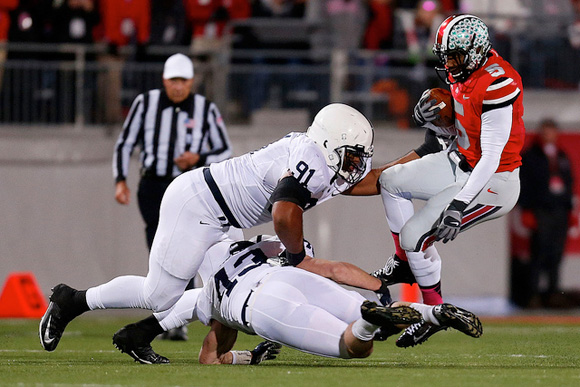 When you think Braxton Miller, you think big plays. Certain snaps come to mind like this, this and this. There's no question Miller can wow at any given moment, but putting together an entire game of highlights has eluded the junior until recently.
With his performance Saturday, Miller officially took his game to the next level.
That's not to say Miller hasn't had solid outings. Throughout 2012 his continued development as a QB was apparent. His game against Illinois (12-20 for 226 yards and 2 TDs with 73 yards on the ground and 1TD) was a monster, but he still lacked some of the discipline, pocket presence and mechanics to be an elite QB.
This offseason, with the help of George Whitfield and Tom Herman, Braxton was able to change that. It was apparent against Buffalo as Miller was firing darts on more than one occasion, however even then it seemed Braxton and the rest of the offense took their foot off the gas as the contest wore on.
Immediately following that game, Miller went down with a knee injury, so we weren't able to see just how far he'd come. For three weeks Kenny Guiton regaled us with his heroics, but a voice in the back of everyone's mind knew Braxton had only shown a glimpse of what he was working on in July.
In his comeback game against Wisconsin, Braxton didn't disappoint. Throwing for 198 yards and 4 TDs, he was in complete command. At that point, Buckeye Nation felt they'd seen Miller's best game in the Scarlet and Gray.
That is until two weeks later against Iowa. While his TD numbers weren't as eye-popping, his 222 yard, 2 TD day was his most efficient as a Buckeye (81.5% completion percentage). Add 102 more yards on the ground, and fans felt they'd gotten a glimpse of Miller's impressive ceiling.
The game this Saturday proved the ceiling is vaulted.
Miller looked like the best player in college football, as he put together the most impressive game of his Buckeye career. On a night where the reliable offensive line looked shaky in pass protection, Miller gave us a chance to see his improved mechanics on the move to the tune of 252 yards 3 TDs and a 204.5 QB rating (his highest ever)
Flushed out of the pocket on more than one occasion, No. 5 kept his eyes down-field to deliver the ball to play-makers. In games past, many of those instances resulted in tuck and runs. But, that instinct has changed, turning potential 10 yard gains into 30 yard receptions while decreasing the amount of wear and tear.
Example: this 36 yard throw to Devin Smith.
Herman has worked his junior signal caller to the point where taking off is the absolute last option. Of course, when that option needs to be exercised Miller proved he can still do the ridiculous things that made him such a valued recruit coming out of H.S.
I'll just leave this here.
What's more, Miller is doing all of this without making mistakes. His 2 INTs rank him behind only Bryce Petty and Marcus Mariota on the list of passing efficiency leaders. Unfortunately our friends in the North can't say the same.
Miller is now a complete quarterback, and it's never been more evident. Fans thought they'd seen his best game against Wisconsin, then Iowa and now Penn State. The truth is, his best is yet to come.
[Photo: Kirk Irwin Photography]