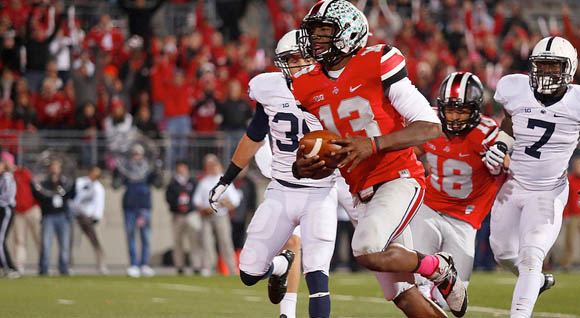 I expected an Ohio State win in the 10-17 point range – comfortable, but showing definite signs for improvement. Instead, the Buckeyes shocked Penn State, the rest of the Big Ten, and bettors everywhere by blowing the doors off of Penn State.
The Buckeyes reached and then blew past statistical milestone after milestone, so here are a few to get you warmed up. The fourth-largest crowd to ever enter the Shoe (105,889) saw the nation's longest win-streak extend to twenty games. That record crowd also witnessed a ground offensive (408 yards) unseen since November 4, 1989 against Northwestern (456).
Further, Braxton tied his career high for touchdowns in a game with five while moving in to fifth all time for passing touchdowns with 39. The Buckeyes were also efficient, not turning the ball over for the second week in a row, while not allowing a hundred-yard rusher yet on the season (Belton had 98).
Below I'll break down the offensive and defensive performances in turn.
The Offensive Blitzkrieg
|   | Points/Play | Yards/Point | Yards/Play | Ex. Play | Turnover | Red Zone % |
| --- | --- | --- | --- | --- | --- | --- |
| OSU | .977 (.818) | 9.76 (10.8) | 8.84 (8.90) | 5 (9) | 0 (0) | 100% |
You could argue that Herman buttoned down the offense as soon as Kenny G came in during Ohio State's third possession of the third quarter (or even halftime), so I calculated these numbers for both halftime and the entire game in parentheses. Here are my observations:
The Buckeyes ran 43 plays in the first half; they scored 42 points on those plays.
Even in clock-killing mode in the second half, the Buckeyes still managed to dominate every relevant offensive statistical category. The Buckeyes went from scoring approximately a point for every snap of the ball to 4/5 a point per snap.
Part of the team's identify this season has been fast starts on offense that have allowed the Buckeyes to dictate the tone and pace of the game. The Buckeyes had a 14-0 lead in the first quarter yesterday (and were working on a third touchdown) and have outscored opponents 143-38. This not only speaks to Meyer and Herman's pre-game preparation, but also partly explains the high number of pass attempts and yards by opponents – they're trying to play catch up from the beginning of the game.
It doesn't get more perfect than 100% – the red zone scoring percentage for the Buckeyes. Part of the reason why the points per play statistic is so high is because the Buckeyes always managed to red zone drives into scoring drives (and not ones involving Mr. Basil).
The Buckeyes had six explosive plays against Florida A&M and nine against Penn State. Braxton put on a scrambling clinic when he wasn't throwing pre-half time darts to Corey Brown, while Hyde, Hall, or any other running back gashed the Penn State defense on the ground.
Speaking of running backs, Hyde had a running back success rate of 94%, including his first thirteen carries in a row. Only five of Braxton's eleven carries were efficient, though he did add an explosive 39 yard touchdown run. Eight Buckeyes received a carry against Penn State and seven of them had yards per carry averages over 6.2. Rod Smith finished with four carries for ten yards.
How to Play Defense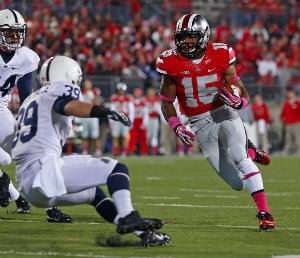 As great as the offense played last night, the defense's play probably warmed the hearts of even more Buckeye fans.
Apart from a ridiculous Alan Robinson highlight film catch and run (and run and run) against the second string defense, the Silver Bullets largely lived up to the moniker.
I predicted that Hackenberg would have a career day against the secondary, with a stat line like 300 yards, two touchdowns, and an interception. Instead, he finished with 112 yards and two interceptions, with a 4.9 yards per attempt average.
The Buckeyes won the two important margins, turnovers and explosive plays, 3:0 and 9:2 respectively. This means that not only did Ohio State end more Penn State scoring opportunities, but got points more quickly when they did have the ball.
|   | Points/Play | Yards/Point | Yards/Play | Ex. Play |
| --- | --- | --- | --- | --- |
| OSU Def | .189 | 25.5 | 4.82 | 2 |
The defensive staff deserves a lot of praise for shutting down a fairly impressive Penn State passing game (and completely making tight ends a non-factor!), which made Penn State's offense sputter unpredictably. The offense was able to mount four long drives (one of which was a single big play), but they were sporadic and random.
The Bullets took away 21 yards on four sacks, with two by Spence, one by Shazier, and another by Adolphus.
Ohio State was actually ranked 13th in the country in opponent third down conversion rate (at 30.2%), and that trend continued, with the Nittany Lions only getting eight of sixteen.
In addition to Spence's two sacks, he ended with four tackles, three tackles for loss, and a forced fumble. While Spence was notably brilliant, Shazier continued his (fairly) quiet excellence, leading the team with ten tackles, one sack, one quarterback hurry, and one TFL.
Vonn Bell and Trey Johnson were two of the young guys to score some minutes on defense, with both snagging three tackles. Cam Burrows also saw time, recording a tackle.
It wasn't all roses for Armani Reeves, whose hesitation was partly to blame for Allen Robinson's long touchdown catch of the night (though it's pretty much the entire defense's fault for that clown show of a play!).
Ohio State 63, Penn State 14
In summary, the defense was able to consistently pressure Hackenberg and Ferguson, limited any consistent drives from the Penn State offense, and forced Hackenberg in to 4.9 yards per attempt. We likely can't expect this excellence every week, but Fickell and Withers (and Roby!) deserve plenty of credit for devising a solid game plan to limit both big plays and long scoring drives. 
We'll have more analysis later in the week when we review charting data, so consider volunteering to chart a quarter or two.
[Photos: Kirk Irwin Photography]