Besides the extremely satisfying butt-whooping of Penn State, Week 9 was a study of extremes all throughout the Big Ten. Minnesota made an extremely improbable comeback, and Nebraska is extremely close to canning its coach. Iowa and Northwestern played extremely quick football, and Michigan State came extremely close to decapitating Illinois. The middle of the Legends Division is extremely confusing, yet Ohio State's Big Ten championship opponent is extremely obvious.
Minnesota (6-2, 2-2) 34, #24 Nebraska (5-2, 2-1) 23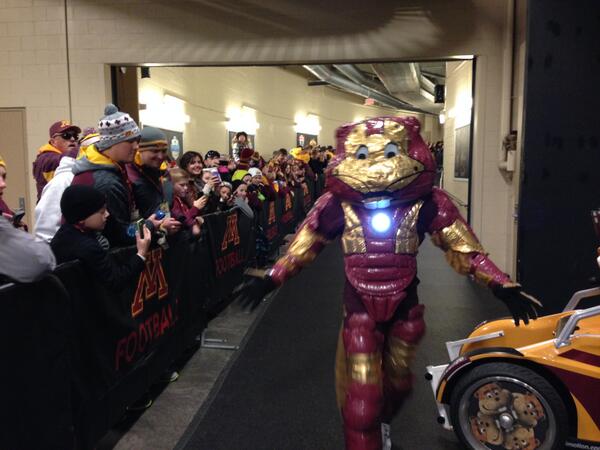 As interim coach Tracy Claeys so elegantly put it, Minnesota has fought its balls off for Jerry Kill's program all year long. Yesterday, that fight paid off with the program's first win over Nebraska since 1960 and a second straight year of bowl eligibility.
Nebraska jumped out to a 10-0 lead midway through the first quarter, but Minnesota slowly turned the tide with its option game. Minnesota used short touchdown runs to chip away at the Huskers defense and set up big plays like Philip Nelson's 33 yard touchdown pass to Derrick Engel, which gave the Golden Gophers the lead for good at 14-10. Though Nebraska cut the lead to 27-23 late, Nelson's second rushing touchdown of the day with 48 seconds left sealed the game.
This is probably the end of the road for Bo Pelini. Coming into this year, impatient Nebraska fans demanded a Big Ten championship or else, and in all likelihood losing to Minnesota ends that dream. Though Taylor Martinez being hurt has hampered the team (he needs to be better than 4.6 yards per pass if he wants me to keep calling him ever-efficient) there's no reasonable excuse for the passing and now rushing defense being so bad.
It sucks that famous alumni like Tommie Frazier are disloyal malcontents:
Do I need to say anymore?

— Tommie Frazier (@TouchdownTommie) October 26, 2013
...but it's hard to argue that Nebraska will ever be better than 10-4 under Pelini. His last hope is to run the table, starting with Northwestern this Saturday.
Minnesota clamped down on Nebraska's passing game, allowing just 139 yards thanks to DT Ra'Shede Hageman's dominating play. Its defense couldn't do anything against Ameer Abdullah, who rushed for 165 yards, but the effort was good enough to secure the Gophers' first win against a ranked team since November 2010. Minnesota could conceivably finish 8-4 with wins at Indiana next week and at home against Penn State the week after that; do you think Minnesota fans would be happy with a Gator Bowl appearance?
Michigan State (7-1, 4-0) 42, Illinois (3-4, 0-3) 3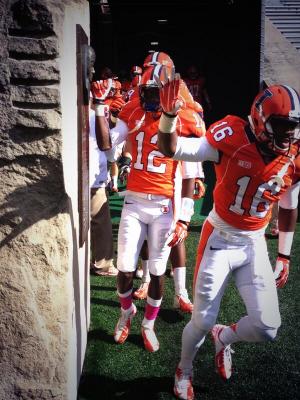 Ladies and gentlemen, your future Legends Division winner.
Illinois played well to start the game, and then Michigan State took over. Taylor Zalewski's 31 yard field goal gave Illinois a 3-0 lead which held through the first quarter, but the Spartan defense jumpstarted the Spartan offense. The defense blew the hell out of a Ryan Lankford reverse, injuring him and leading to a Jeremy Langford touchdown run. The defense stonewalled Illinois on 4th and goal, leading to a 99-yard touchdown drive capped off by a juggling tip drill catch to make it 14-3 at halftime. The defense held Illinois to 128 total yards to the day, giving the offense the opportunity to accumulate 477 yards and four second half touchdowns. All in all, it was dominance.
Illinois is really hurting. It's been winless in Big Ten play for two years now, and a manageable game became unmanageable in a matter of minutes. They were helpless to keep Connor Cook from completing 94% of his passes, and they couldn't be happy about allowing Michigan State to convert 93% of its third downs. (Also unhappy: Nathan Scheelhaase's father, whom stadium security ejected.) This team is better than last year's team, but Purdue is the only likely win left and even that's no guarantee. A win over Penn State next week would make them feel much, much better.
As for Michigan State, this is the team Ohio State needs to gameplan for over the next five weeks. I'm shouting this from the rooftops: this version of Sparty is a top-10 team, and MSU being unranked is bizarre. Even considering its offensive stinkers (Western Michigan, Notre Dame, Purdue), if Michigan State's awesome defense stalls Ohio State's offense it could nab Ohio State's Rose Bowl berth. Next week Michigan State plays Big Brother, aka No. 22 Michigan.
Iowa (5-3, 2-2) 17, Northwestern (4-4, 0-4) 10, OT

The quickest game in the country was perhaps the least interesting, as Iowa ground out an overtime win against plummeting Northwestern.
Iowa led 10-0 at halftime thanks to a Damon Bullock touchdown run. Northwestern came back with a Kain Colter TD pass and a Jeff Budzien field goal to tie it. At the end of the fourth quarter Iowa was close to scoring, but a Chi Chi Ariguzo interception ended the threat. In overtime, Jake Rudock hit C.J. Fiedorowicz with an eight-yard touchdown pass to put Iowa up, and then Louis Trinca-Pasat sacked Colter on fourth down to end the game.
Northwestern is in the middle of a scoring drought. Though Stephen Buckley ran well (17 carries for 99 yards) the passing game is downright sickly. The Wildcats were shut out in the first half for the first time since 2007 and have scored only three touchdowns in the last 189 minutes of game time, with no end to the futility in sight. From No. 16 and leading Ohio State in the 4th quarter to winless in conference, Northwestern is in jeopardy of a losing season unless it beats No. 24 Nebraska next week. You know, maybe the wrong Illinois schools are in the Big Ten:
Illinois schools in the B1G: Northwestern 0-4; Illinois 0-3; Northern Illinois 2-0

— Tom Fornelli (@TomFornelli) October 26, 2013
Iowa's win was remarkably quick-paced: a game with four quarters and overtime only took 2:40 from kickoff to completion. The Hawkeyes have taken a step forward this year, especially on the defensive line with a season-high six sacks and in the secondary with two key interceptions. Iowa may not be able to overtake Michigan State in the division, but I'm curious to see how they do against Wisconsin's powerful runners next week.
Houston 49, Rutgers (4-3, 1-2) 14

Rutgers couldn't stop Houston's passing attack and after entering as a seven point favorite suffered its worst defeat since 2005.
It was an entertaining first half, with big offense. Rutgers tied it at 14-all on a 14-yard Justin Goodwin run, but Houston had the final five touchdowns of the game. Freshman QB John O'Korn split the seams of Rutgers' passing defense all day, going 24/30 for 364 passing yards and five TDs. Deontay Greenberry had eight catches for 168 yards and three touchdowns. Trivia about Houston: it's the only team to score a touchdown in every quarter of its games this season, 28 quarters in all.
Rutgers is entrenched as a middling team in the American Athletic Conference and defined itself as a team good at running with Goodwin and bad at everything else. Gary Nova has 26 interceptions in his last 14 games, and the Rutgers D gave up 611 yards in this one. All that remains is trundling along to the Who Gives A Crap Bowl and waiting to join the Big Ten, which wanted this football team for some inexplicable reason. Rutgers hosts Temple next Saturday.
#9 Clemson 40, Maryland (5-3, 1-3) 27

Maryland has had a rough stretch after starting the season out 5-0. After losing a sloppy game to Clemson, it's time to look at rebuilding for 2014.
In spite of missing its top quarterback and top two receivers, Maryland threw a 71-yard touchdown pass to Levern Jacobs to grab a 7-3 lead. But Clemson would come back with more points and take a 16-7 lead to halftime. A pair of Clemson fumbles allowed Maryland a pair of 41 yard field goals to bring it to 16-13, but Tajh Boyd and Clemson's passing game made it 33-13 and 40-20 before a garbage time score at the end.
Maryland's defense wasn't spectacular, but it did well enough to win. The offense was the real problem: four giveaways and a turnover on downs led to 20 Clemson points. On offense, the Terrapins had just 82 yards rushing, and at one point quarterback C.J. Rowe was 2-of-18 passing in the second half. Maryland has a week off, then hosts Syracuse on Nov. 9.
A word for the Big Ten teams not playing today:
Michigan is building a few run-option plays for the Michigan State game next week. Option One: pray.
Darrell Hazell finished the incantations that would reflect any harm Ohio State inflicts on Purdue back to the Buckeyes, much like Harry Potter and He Who Must Not Be Named.
Indiana thought about shoring up its rush defense against Minnesota next week, shrugged and changed the channel.
Wisconsin cursed its misfortune of playing Ohio State on the road and voters being too lazy to account for its fluke loss to Arizona State.
With Week 9 behind us, Week 10 is shaping up to be a succulent three course meal. First the compelling desperation of Northwestern vs. Nebraska, followed by a refreshing course of Wisconsin and Iowa running each other into the ground. And for the main course, the succulent battle between Michigan and Michigan State. (Illinois-Penn State and Minnesota-Indiana are involved but unimportant; they're the Big Ten's napkin and coaster.) See you all there.