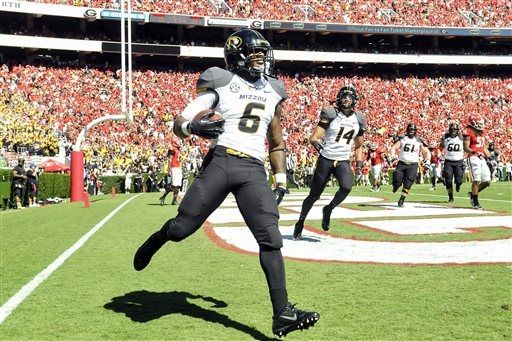 Last year's contest between both teams in Columbia, which was Missouri's debut season, was an uneven contest characterized by an unstoppable Georgia running game and pass rush, and a Missouri team decimated by injuries.
That script flipped this contest. Georgia was limping into this contest after an exhausting win last week in Knoxville. Missouri, which lost a defensive end to the first round of this year's NFL Draft, had the unstoppable pass rush. Missouri overwhelmed Georgia in Athens, 41-26.
To make matters more interesting, Missouri finished the game without James Franklin. Franklin, the star quarterback for Missouri, suffered what appeared to be a shoulder injury on a QB draw. Redshirt freshman, and Kenton, Ohio native, Maty Mauk finished the game for the Tigers.
This is Missouri's first road win against a top ten team since a 1981 upset of the Sooners in Norman. Missouri returns to Columbia to start a challenging three-game homestand that includes Florida, South Carolina, and Tennessee.