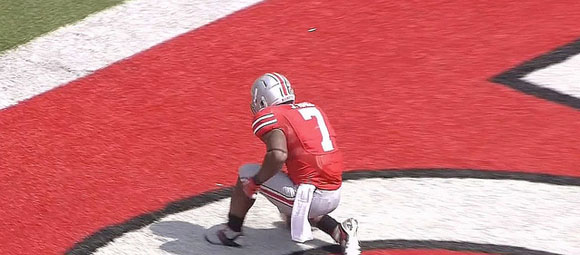 History keeps repeating itself in the Ohio State backfield.
In 2011, it was Carlos Hyde who benefited from a suspension to another running back. Boom Herron missed the season's first six games. During Herron's sideline sequester, Hyde ran wild.
The week before Herron's return Hyde rushed for 108 yards at Nebraska. One week later, Herron was back, and Hyde received three carries. Herron didn't have to work his way back. Instead, he was simply handed the starting running back position.
Disgruntled and baffled, Hyde went to Twitter and threatened to transfer. Cooler heads prevailed, but Hyde's carries still plummeted.
The next season featured a new head coach and new offensive gameplan. Jordan Hall was pegged as the Chosen One at tailback, meaning Hyde would once again have to prove himself through an unwavering work ethic. That is until a freak accident in late July thrust him into Braxton Miller's running mate.
Miller-Hyde 2012 won in a landslide, rattling off 12 wins to complete just the sixth perfect season in Ohio State history. Perhaps a shard of glass to Hall's foot changed everything.
The roles changed in 2013. Spring practice did not include a competition at running back, not after Hyde gained 970 yards and scored 16 touchdowns. He was fine-tuning his skills and technique in hopes of becoming Urban Meyer's first 1,000-yard running back. This time it was Hall who would be pushed to the background.
Everything changed in the early morning hours of July 20 when Hyde was involved in an altercation with a female at a Downtown Columbus bar. He was suspended for the first three games of the season, relinquishing his starting role to Hall. 
In four games, Hall scored a Big Ten-best eight touchdowns and rushed for 427 yards. He ran for a career-high 159 yards against Buffalo and topped it two weeks later at Cal with 168 yards. Hall touched the ball on 32 percent of the Buckeyes' offensive plays in the first three games. The numbers were too good for Meyer to ignore, plus he'd always held Hall in high regard.
But his carries fell to four against Florida A&M, Hyde's first week back, and one versus Wisconsin. Hyde received 22 total carries in the two games.
"Jordan Hall has got to be involved," Meyer said Monday. "That was a decision we kind of made. We thought and we knew it was going to be very hard to run in there the way they play their defensive line. Those are our top two backs, and we are working on that now. So I want to make sure we get Jordan Hall involved."
The depth chart tells that story. Hall was first on the all-important document last week and remains so this week. The coaches were certainly thrilled to see glimpses of the old Hyde; he gained 85 yards on 17 carries against Wisconsin. But offensive coordinator Tom Herman said he fell back into old habits calling plays, those of 2012 when Ohio State rode Miller and Hyde to 12 wins. With a double-digit lead, the Buckeyes opted to curtail the passing game, throwing just eight passes in the second half. Those carries went to Miller and Hyde.
Ohio State faces another ranked opponent this week in No. 16 Northwestern, and according to Meyer, Hall will be part of the gameplan. The Buckeyes could use Hyde and Hall as a 1-2 punch and sprinkle in Dontre Wilson while also letting Miller use his legs. The options on offense are multiple, with a loaded backfield and plethora of receivers.
"Is it difficult? No, it's actually awesome," Meyer said. "It's not as difficult as the other one where you don't have the puzzle pieces of the checkerboard that you like. We have several."
The season opener showed that Hall and Miller can coexist on the field. A majority of Hall's success did come with Kenny Guiton on the field, though. Guiton is a facilitator of the football and gets most of Ohio State's offensive weapons involved. With Miller at quarterback, the need for Hall in the backfield declines because of Miller's dynamic running ability. A power runner becomes the back of choice.
Still, Hall's versatility makes him a valuable commodity in the offense. Wisconsin's defense just didn't present the right opportunity for him. Hyde's wrecking ball style fit the bill. But not every Big Ten game will be played with the physicality of the 1970s and 80s.
"The plan was to increase Carlos' role, there's no doubt about that," Herman said. "I don't think we went into the game and said, 'Hey, Jordan Hall's going to get one carry.' That's not what we intended. That's my fault.
"He's such a good kid. He's not going to stand there and say, 'Put me in, coach.' We've got to do a better job [this week] of making sure that we chart how many plays he's in, how many times he's touching the football. Because he's good enough and he deserves that. We failed him a little bit there. But it certainly wasn't by design."
As Herman alluded to, Hall isn't a guy that's moping on the sideline or in the locker room. You won't see him post negative remarks on Twitter or gripe to the media. He's a senior leader whose sole focus is winning football games and being a contributor in practice, meeting rooms and games.
"Jordan is a veteran guy. He's doing a great job of showing us that he is handling it well," offensive lineman and captain Jack Mewhort said. "That's the great thing about Jordan. I'm not worried about him doing any of that negative stuff in the locker room, because he's a great guy."