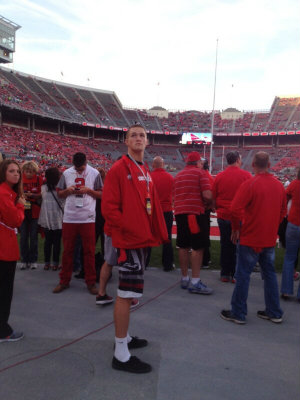 It was a surprisingly eventful week for the Big Ten on the recruiting trail. Not all the events were positive, however. Rutgers lost a commitment from three-star cornerback Deion Hallmon.
With many of the Big Ten teams on bye weeks, their coaches were able to hit the roads to visit some of their top remaining targets. 
Iowa, Maryland, Michigan State and Wisconsin were able to land 2014 recruits in the past seven days. With four new pledges, we saw some movement in our B1G football recruiting rankings. Wisconsin moved up to fifth, pushing Penn State down to sixth.  
The Buckeyes hosted a huge recruiting weekend. Prospects raved about the atmosphere at Ohio Stadium. Urban Meyer didn't land any commitments, but this weekend will surely help them with four-star tight end Mike Gesicki. It doesn't look like anyone will be able to catch them in our B1G football recruiting rankings.  
Now, on to the rankings:
14. Indiana
The Hoosiers were fairly quiet on the recruiting scene. They were on a bye, so their coaching staff had time to go out and visit some of their top prospects. Indiana continues to bring up the rear and it's not looking like that will change this week. 
Commitments: No new commitments this week. 
Visitor news: Indiana will return to action this week against Penn State. The Hoosiers don't currently have many official visits scheduled for this weekend, but one prospect scheduled to visit is Davi'on Riley. Riley is a 2014 tight end prospect from Florida and has offers from Indiana, Miami, UConn, Duke, Kentucky, Louisville, Tennessee, Oregon, Michigan State, among others.
Quite a few underclassmen are expected to visit Bloomington this weekend, including '15 tight end Austin Dorris of Shadyside (Ohio) High School. Dorris, who visited Ohio State earlier this season, has an offer from Ohio. 
13. Minnesota
Despite having only six commitments, Minnesota has put together a decent class. It will continue to be near the bottom of the recruiting rankings, mostly because of the small number of expected commitments. Jerry Kill has done a solid job, but now he must close on some of the three-star prospects that he has been chasing. 
Commitments: No new commitments this week. 
Visitor news: Minnesota hosted quite a few prospects on official last weekend. The Gophers brought a few Florida prospects to town, including '14 Florida commitment JC Jackson. The loss and poor weather could not have helped recruiting. 
The Gophers will head to Ann Arbor this weekend, which means no visitors will be on campus. 
12. Purdue
Darrell Hazell and Purdue fall to 1-4 on the year with their lone win coming against Indiana State. This is not an encouraging sign for recruits considering the Boilermakers. It doesn't look like things will be getting better either with Nebraska, Michigan State and Ohio State their next three opponents. Hazell has struggled in his season as head coach at Purdue. 
Commitments: No new commitments this week. 
Visitor news: The Boilermakers hosted some underclassmen for their game against Northern Illinois. Purdue looked terrible, but 2015 receiver Charlie Fessler told me he had a good visit. He recently visited Ohio State and is still looking for his first offer. 
Purdue has a bye week, which will allow their coaches to get on the road to recruit. 
11. Illinois
While the Illini have had a solid season on the gridiron, they have not had as much success on the recruiting trail. If Illinois can continue to win games, recruits will begin to take notice. Tim Beckman could take a few pointers from head basketball coach John Groce, who has led Illinois to a great recruiting class. 
Commitments: No new commitments this week. 
Visitor news: Illinois dominated Miami (OH) is front of a few recruits. 2015 tight end Miles Boykin attended the blowout. Boykin, a four-star from Illinois, is expected to be a high major recruit. Ohio State has shown interest, while Michigan State and Ole Miss have already offered. 
The Fighting Illini will travel to Lincoln to take on Nebraska this weekend.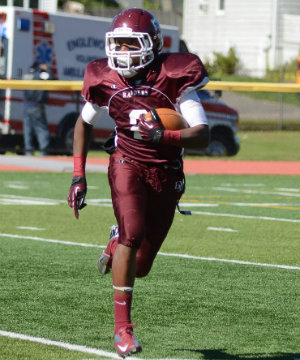 10. Maryland
Maryland picked up a highly-rated commitment, but it wasn't enough to move them up in our rankings. As of late, Maryland has started to recruit better. The Terrapins are expected to finish very strong and perhaps land a top five class in the Big Ten. 
Commitments: The Terrapins picked up a commitment from four-star receiver Juwann Winfree this week after he recently took a visit to Maryland. Winfree was told he would be the only wide receiver that Randy Edsall would take in this recruiting class. The highly-rated prospect held offers from Georgia, Pitt, Michigan, South Carolina and over 20 others. 
Visitor news: The #25 ranked Terrapins will travel to Florida State this weekend. No visitors will be in town. 
9. Iowa
A three-star commitment helped Iowa hold off Maryland for the ninth spot in our rankings. Kirk Ferentz will look to turn Iowa's 4-1 start into some recruiting success. Things are about to get tougher with a four game stretch of Michigan State, Ohio State, Wisconsin and Northwestern.
Commitments: Kirk Ferentz picked up commitment number 14 from three-star cornerback Marcel Joly committing to the Hawkeyes. Fresh off an official visit, Joly knew Iowa was the right fit for him. The Maryland product held offers from Maryland, Old Dominion, Temple and Vanderbilt. 
Visitor news: The Spartans will travel to Iowa City, which should make for a solid game for three-star corner Jalen Embry to take in. Embry, who names a top two of Iowa and Wisconsin, will officially visit this weekend. This will be a good opportunity for the Hawkeyes to impress the Detroit native. 
8. Nebraska
Nebraska's coaching staff spent most of the bye week visiting recruits at their high schools. Their coaching staff stopped to see numerous prospects committed elsewhere, including Dallis Todd, Erik Brown, Chance Waz and Fred Warner. The Cornhuskers have struggled to recruit with this class, but being able to steal one of those prospects would definitely help. 
Commitments: No new commitments this week.
Visitor news: Nebraska isn't expecting to host many visitors because who really wants to watch a 11 a.m. kickoff between Illinois and Nebraska? The SAT will also prevent some prospects from making college visits this weekend.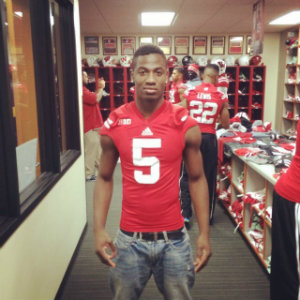 7. Northwestern
Northwestern spent their bye week preparing for the Buckeyes and visiting many of their top prospects. This weekend is important for the Wildcat's recruiting efforts and you shouldn't rule out a commitment. It's been a while since Pat Fitzgerald last landed a commitment in the '14 class. 
Commitments: No new commitments this week.
Visitor news: Northwestern will host Ohio State this weekend. The atmosphere is expected to be electric with it being homecoming week and College GameDay coming to Evanston. The Wildcats top recruits Garrett Dickerson and Parrker Westphal could be in attendance this weekend. Expect NU to host quite a few prospects for this huge recruiting weekend. 
6. Penn State
With Wisconsin picking up a new commitment, the Nittany Lions fall a spot in our latest rankings. The lessened scholarship sanctions have allowed Bill O'Brien more flexibility with the '14 recruiting class. Penn State has already began to reach out to a few more prospects since the news. These lessened penalties is good news for the Big Ten. 
Commitments: No new commitments this week.  
Visitor news: The Nittany Lions will travel to Indiana this weekend. No visitors in Happy Valley this weekend. 
Ohio State fans will be paying close attention to Mike Gesicki's visit to Penn State on October 12th. 
5. Wisconsin
A new commitment helped bump the Badgers up a spot to fifth in our recruiting rankings. Wisconsin has some recruiting momentum on their side. The Badgers aren't expecting a commitment in the next week, but you can never entirely rule it out. Gary Andersen has put Wisconsin in a good spot for a solid finish to their class. 
Commitments: The Badgers added a commitment from three-star safety Lubern Figaro during the last week. Wisconsin surprised many with this commitment since most thought the Spartans were the leader. Figaro's official visit on September 21st helped seal the deal. The Badger's 14th commitment had offers from Michigan State, Boston College, UConn, UMass, Syracuse, Vanderbilt and a few smaller schools.
Visitor news: Wisconsin will be off this weekend. There will probably not be any prospects visiting Madison this weekend, but the coaching staff will be out visiting their top remaining targets. 
4. Michigan State
The Spartans commitment no. 16, but it wasn't enough to move them up in the rankings. Michigan State's class is starting to fill up and most of their remaining targets are three-stars. With a strong finish, Mark Dantonio could land his best class at MSU despite missing out on Jamarco Jones, Lawrence Marshall and Drake Harris. 
Commitments: Anthony Wayne (Ohio) punter Jake Hartbarger committed to Michigan State over offers from Oklahoma, Iowa State, Miami (Ohio) and Toledo. Hartbarger was unrated by most networks, which is typical for special teams players. The Spartans now have 16 commitments in their 2014 class. 
Visitor news: Michigan State will be traveling to Iowa, so it's doubtful the Spartans will host any visitors this weekend.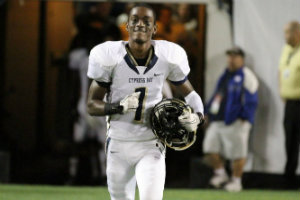 3. Rutgers
Rutgers holds onto their third place ranking despite losing one of their top commitments. Deion Hallmon, a three-star corner from Florida, re-opened his recruitment after just a brief time as a Scarlet Knight commitment. While he is still considering Rutgers, he plans to visit other schools. The Knights class now stands at 22. 
Commitments: No new commitments this week.
Visitor news: ​The Scarlet Knights will be on the road until October 26th. No visitors are expected until then. 
2. Michigan
The Michigan coaches enjoyed their bye week by traveling across the country on recruiting trips. The coaching staff stopped at numerous Ohio high schools, including Glenville, St. Edwards, St. Vincent St. Mary, Trotwood Madison. The Wolverines' staff was also expected to check in on Da'Shawn Hand and Malik McDowell. 
Commitments: No new commitments this week.
Visitor news: Michigan will return to action this week, with Minnesota coming to town. The Wolverines will probably try to hold off any official visits for when Ohio State rolls into town. That will be a "can't miss" game. 
1. Ohio State
Ohio State had a huge recruiting weekend, but no immediate commitments came from the visits. Of the 2014 visitors, the Buckeyes appear to be in good shape for Mike Gesicki, Marshon Lattimore and Erick Smith. It has been a little while since the last commitment, but Gesicki could change that in late October. 
Commitments: No new commitments this week.
Visitor news: The Buckeyes will be on the road this weekend. After a huge recruiting weekend, the staff will get a week off from visitors. 
Here are some of the recruits' reactions of their visits this weekend. 
---
Rankings Overview
| No. | School | Commits | Scout ★ AVG | Rivals ★ AVG | 247 ★ AVG | ESPN ★ AVG | Overall ★ Avg |
| --- | --- | --- | --- | --- | --- | --- | --- |
| 1 | Ohio State | 18 | 3.72 | 3.61 | 3.89 | 3.72 | 3.74 |
| 2 | Michigan | 16 | 3.56 | 3.47 | 3.44 | 3.86 | 3.58 |
| 3 | Rutgers | 22 | 3.00 | 2.91 | 2.95 | 3.18 | 3.01 |
| 4 | Michigan State | 16 | 3.20 | 3.13 | 3.40 | 3.29 | 3.26 |
| 5 | Wisconsin | 14 | 3.21 | 3.00 | 3.07 | 3.21 | 3.12 |
| 6 | Penn State | 12 | 3.33 | 3.25 | 3.33 | 3.42 | 3.33 |
| 7 | Northwestern | 13 | 3.08 | 3.08 | 3.31 | 3.31 | 3.20 |
| 8 | Nebraska  | 12 | 3.08 | 3.00 | 3.08 | 3.25 | 3.10 |
| 9 | Iowa | 14 | 2.71 | 2.71 | 2.79 | 2.86 | 2.77 |
| 10 | Maryland | 11 | 3.09 | 3.09 | 3.00 | 3.44 | 3.16 |
| 11 | Illinois | 12 | 2.53 | 2.75 | 2.67 | 3.00 | 2.74 |
| 12 | Purdue | 8 | 3.00 | 2.63 | 2.88 | 3.00 | 2.88 |
| 13 | Minnesota | 6 | 3.33 | 3.00 | 3.17 | 2.80 | 3.08 |
| 14 | Indiana | 10 | 2.90 | 2.60 | 2.60 | 3.00 | 2.78 |