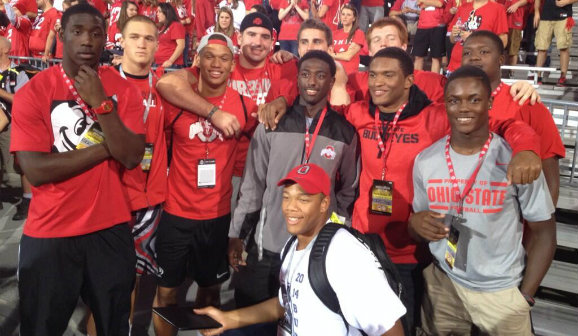 Many of the Buckeyes' commitments were in Columbus on Saturday night for the Wisconsin game. Before heading to Columbus, the future Buckeyes had to get some work done on the gridiron. 
Once they arrived at Ohio State, there was still some work to be done. A few of the Buckeyes' top remaining targets visited, including Mike Gesicki (pictured), Marshon Lattimore and Erick Smith. The commitments spent a lot of time with the uncommitted prospects, trying to put in the good word for Ohio State. 
Buckeye pledges went a combined 14-4 this weekend, with one loss coming from injured Kyle Berger's high school team. They often fill up the stat sheets, but two commitments stood out from the rest. Also, one uncommitted prospect also had a very impressive defensive stat line. Continue reading for more on how the Buckeyes' commits and targets did this past week. 
Noah Brown dominates in Victory
Noah Brown visited Ohio State this weekend, but he had some work to do on the field before heading to Columbus. The Pope John product shined at receiver, leading his team to a 35-3 win on homecoming day. It's not everyday where a high school receiver will manage to score four TDs, however, Noah Brown is not like most high school receivers. The future Buckeye finished with 204 yards receiving while scoring four of his team's five touchdowns. 
A member of Ohio State's "Dream14" recruiting class, the 6-foot-3 New Jersey native will give the Buckeyes a big target at receiver. Many of the receiver commitments have come from smaller guys, such as Curtis Samuel, Parris Campbell, Terry McLaurin and others. Since Ohio State has recruited a surplus of receivers, Brown might have to wait to make a big impact on the field. 
Here are some highlights from the 35-3 win: 
Malik Hooker Does Everything
Ohio State commitment Malik Hooker's early season performance raised some questions of whether or not he was an Ohio State caliber recruit. Many people quickly forget that Hooker is only in his second year of high school football and that his team relies on him heavily to carry the load. The future Buckeye carries the ball, catches passes, returns kicks and plays defense for New Castle High School. Lately, he has quieted the doubters. 
In a 47-13 win, Hooker finished with three TDs, all in the first half. The versatile athlete returned a 99-yard return for a TD, had a long reception for a score and also a rushing TD. Many have mentioned Malik Hooker as the top athlete in the Pennsylvania area. While he stars on offense for his high school team, Hooker is expected to find himself at safety in college. 
He shocked most Buckeye fans with his commitment, but he is a welcomed addition to "Dream14." After his visit for the Wisconsin game, he tweeted he is "100X more excited to come there (Ohio State) after that game!" While he might not be ready to make an immediate impact, Hooker has the potential and high ceiling to be an outstanding player for the Buckeyes. 
Raekwon ​MCMillan: A "Must get?"
The five-star linebacker is Ohio State's top remaining target. McMillan has not disappointed this season. In his most recent game, he finished with 18 tackles, including six for a loss. While he is being recruited as a linebacker, he also plays running back for Liberty County. In a 31-0 win, Raekwon finished with 62 yards and a touchdown. 
There is no questioning the Buckeyes interest since Urban Meyer follows him on Twitter. The Georgia product continues to name Ohio State as his leader, but the Buckeyes have to fight off the SEC for his services. Ohio State is not heavily pursing other linebackers at this point, making McMillan a "must get". 
High School Football Review
| Position | Player | School | Opponent | Comment |
| --- | --- | --- | --- | --- |
| QB | Stephen Collier | Lee County (Ga.) | Eastman Dodge County (Ga.) | Won 28-14. 11-25 for 167 yards and a TD run. |
| WR | Parris Campbell | St. Vincent-St. Mary (Ohio) | at Akron Hoban (Ohio) | Won 41-6. Finished with 16 carries for 82 yards and a score. Scored on a 78 yard INT return.  |
| WR | Terry McLaurin | Cathedral (Ind.) | at Louisville Trinity (Ky.) | Lost 35-30. McLaurin was held to 2 catches for 33 yards and 9 yards on three rushes.  |
| OT | Jamarco Jones | De La Salle (Ill.) | Westchester St. Joseph (Ill.) | Team won 42-7 as he continues to recover from shoulder surgery.  |
| OT | Kyle Trout | Lancaster (Ohio) | at Pickerington North (Ohio) | Racked up pancakes in a 38-6 loss. |
| OG | Marcelys Jones | Glenville (Ohio) | Cleveland John F. Kennedy (Ohio) | Glenville rolls over JFK with an easy 53-7 win.  |
| OG | Demetrius Knox | All Saints Episcopal (Texas) | Dallas Episcopal School (Texas) | Won 48-13.  |
| DE | Jalyn Holmes | Lake Taylor (Va.) | at Norfolk Maury (Va.) | Blasted Maury 56-0. Holmes had 4 catches for 74 yards, TD.  |
| DE | Dylan Thompson | Montini Catholic (Ill.) | at Aurora Marmion Academy (Ill.) | No stats listed in a 27-3 win.  |
| OLB | Kyle Berger | Ignatius (Ohio) | Paramus Catholic (N.J.) | Berger is out for the season. Ignatius lost 44-10.  |
| OLB | Dante Booker | St. Vincent-St. Mary (Ohio) | at Akron Hoban (Ohio) | Booker had at least one sack in the win. |
| CB | Damon Webb | Cass Tech (Mich.) | Detroit Central (Ohio) | Webb had a punt return for a TD and a 60 yard TD reception in a blowout win. |
| S | Malik Hooker | New Castle (Pa.) | Bridgeville Chartiers Valley (Pa.) | Won 47-13. Had a rushing, passing and returning TD.  |
| ATH | Noah Brown | Pope John XXIII (N.J.) | Morris Hills (N.J.) | Had 204 yards, 4 TDs receiving in a 35-3 win.  |
| ATH | Sam Hubbard | Moeller (Ohio) | Cincinnati St. Xavier (At University of Cincinnati) | A 20-17 win keeps Moeller undefeated.  |
| ATH | Lonnie Johnson | West Side (Ind.) | Arlington (Ind.) | Two TDs in a 60-0 win. |
| ATH | Curtis Samuel | Erasmus Hall (N.Y.) | at Bronx Lehman (N.Y.) | Won 47-0. |
| K | Sean Nuernberger | Oldham County (Ky.) | at Mt. Washington Bullitt East (Ky.) | 4/4 on touchbacks, 3/3 on PATs and a 63 yard punt in a 38-21 loss.  |
| TE | Mike Gesicki | Southern Reg (N.J.) | at Toms River North (N.J.) | 35-7 win. A hurt ankle didn't prevent Gesicki from playing.  |
| OT | Chad Mavety | Nassau C.C. (N.Y.) | at Lackawanna College (Pa.) | N/A |
| OT | Damian Prince | Bishop McNamara (Md.) | at Archbishop Carroll (D.C.) | Won 48-13.  |
| DT | Thomas Holley | Abraham Lincoln (N.Y.) | New Utrecht (N.Y.) | Double and triple teamed in a 26-6 win.  |
| ILB | Raekwon McMillan | Liberty County (Ga.) | Hephzibah (Ga.) | 18 tackles, including 6 for a loss, and 62 yards rushing with a TD in a 31-0 win. |
| S | Erick Smith | Glenville (Ohio) | Cleveland John F. Kennedy (Ohio) | Glenville wins 53-7.  |
| ATH | Marshon Lattimore | Glenville (Ohio) | Cleveland John F. Kennedy (Ohio) | 65 yard TD catch in a 53-7 win.  |
| ATH | Eric Glover-Williams* | Canton McKinley (Ohio) | Uniontown Lake (Ohio) | Glover-Williams left the game with an ankle injury. He returned, but wasn't 100%. |