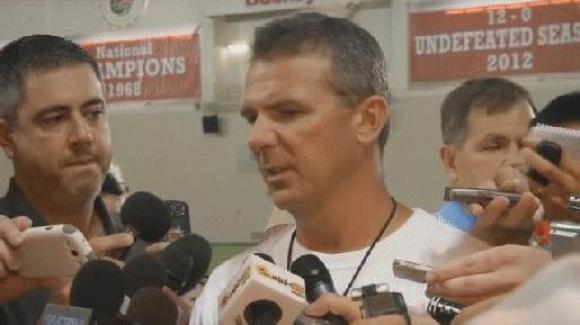 Wednesday nights usually aren't big on news when Ohio State head coach Urban Meyer meets with the media. That trend came to a screeching halt this evening, when Meyer announced Braxton Miller would "probably" get the start at quarterback Saturday against Wisconsin.
In doing so, Meyer said Miller was close to 100 percent. The previous weeks of practice featured a quarterback that was noticeably injured. That isn't the case as the Buckeyes prepare for the Badgers. Meyer said if you didn't know Miller had been hurt earlier in the season, watching him this week wouldn't give way to any suspensions.
Miller will be wearing a knee brace, but Meyer was confident it wouldn't be restrictive. Technology has made it possible for quarterbacks to wear braces with virtually zero bulkiness.
Notes:
It's difficult sitting Kenny Guiton, Meyer said. But he'll be ready to go. Meyer said Guiton is a leader and understands the situation.
Meyer believes Adolphus Washington will play Saturday night. Meyer said the defensive front seven is a big concern. Nearly the entire group is in its first season starting and Wisconsin's rushing attack is unlike anything they've faced the first four weeks.
How important is this game? Even Meyer admitted the staff looked ahead last week and started breaking down Wisconsin film.
Meyer said he liked the result Ohio State's rivalry uniforms had last season – a win over Michigan. He got serious, too, saying both current and former players raved about the uniforms. Obviously, recruits also enjoy the new-age look.
Bradley Roby: "We know we're the kings. Simple as that. Last question."
Roby said it doesn't look like Miller has missed a step, whether he's running the ball or throwing.
"When someone takes what's yours, the next time you see them it's going to be a fight." -Roby on Wisconsin. He added that this game is certainly a rivalry.
The players had nothing but good things to say about playing in night games. The atmosphere is the biggest plus. Roby said the crowd has an opportunity to get drunk during the day, which amps things up.
Roby said games like Saturday's are why he came back for his junior season. He said everyone will be watching because it will be one of the few games on TV at the time.
The Silver Bullets take pride in slowing down smash-mouth teams. They embrace the opportunity. Roby said the unit's No. 1 goal is stopping the run.
Tight end Nick Vannett on Miller: "He's back. He's definitely back."
Vannett complimented the Buckeyes' receivers – WRs and TEs – on being able to do a wide array of things on the field. They're all-around receivers – they can catch, block, run routes, etc. Vannett said being able to do it all makes it more challenging for defenses.
Noah Spence said prepping for Wisconsin is like preparing for a fight. The Buckeyes know both teams are going to be physical and try to out-muscle the other.
Spence said you have to prepare mentally when you go against Wisconsin because they try and wear you down with the run game.
This week's practice has been the most intense as far as aggressiveness and hitting, according to Spence.
"They hot." –Spence on the uniforms
The Leo position changed names to Viper this season. Spence showed his approval. "It sounds cool. It's hot."