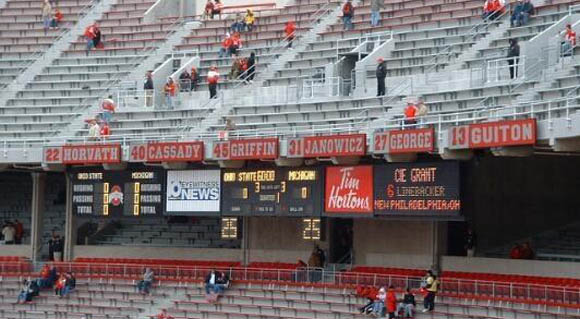 SUNDAY
Stat: Each of Ohio State's 7 touchdowns against Cal was scored by a backup.
And Ohio State retired #13.
MONDAY
Braxton Miller passed his entire walk to class completely unnoticed.
Stock Watch: Rent-A-Fence reached its all time high.
OSU Student Wellness began offering free whatever you want.
And our 'twinterview' with TE Jeff Heuerman revealed that the only people who say his name correctly on the first try are Panda Express employees.
TUESDAY
Students across campus were prepared for midterms if being prepared for disaster counts.
We asked readers: Pants or shorts today? Or alternate between the two? The unanimous response was that zip-off cargo jeans were the way to go.
Braxton Miller was wondering why his locker had been cleared out.
Carlos Hyde was happy to finally hit the field again.
And a university mandate moved all Oval preachers to the South Oval.
WEDNESDAY
The presidential search committee released the notes from its first meeting.
Commentary: The engineering career fair was a great place for people who can't socialize to search for jobs by socializing.
It was discovered that the weird roommate had been living secretly in the basement this whole time.
And Carlos Hyde's reinstatement requirements were leaked.
THURSDAY
A board member on his smoke break reported that the smoking ban was working great so far.
A biology major who hates life right now was thinking about maybe switching majors.
A report found that a total of $14.87 remained on the collective BuckID account of the entire freshman class.
And every facebook machine at the library was already taken.
FRIDAY
An assignment due by the end of class was started during class.
If healthy, backup quarterback Braxton Miller was expected to start against FAMU.
We listed a FAMU ticket in our classifieds for free and received zero offers.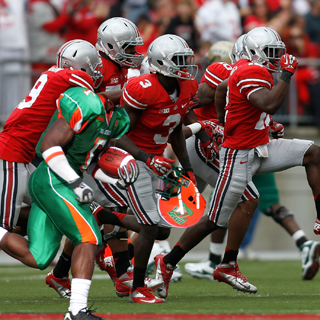 And campus Cleveland fans were too drunk to know, but the Indians gained control of a playoff spot.
SATURDAY
Kenny Guiton was named the starter against FAMU but only because Braxton Miller was still hurt right coach? Right?
OSU's return defense finally just appeased the student section's bloodlust.
Urban Meyer admitted he was trying to score 69 points.
And Braxton Miller was denied entrance to a party.
---
The Fake Lantern is the fake student voice of The Ohio State University. You should follow them on Twitter: @TheFakeLantern.