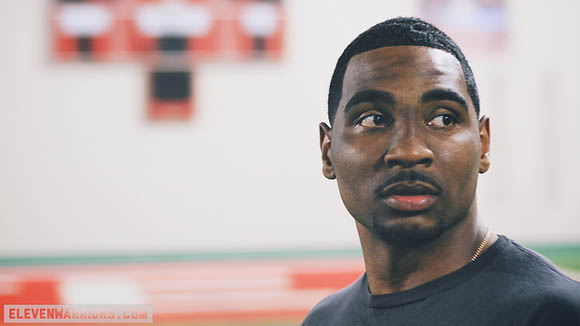 Braxton Miller is one step closer to playing on Saturday, though head coach Urban Meyer continues to be cautious. Miller will practice Tuesday on a limited based, according to Meyer, with Wednesday possibly revealing whether he will play on Saturday.
"I'm fairly optimistic," Meyer said Tuesday on the Big Ten Teleconference.
Ohio State's dynamic quarterback did not practice on Monday, only receiving treatment at the Woody Hayes Athletic Center. Miller did throw on Tuesday morning.
Kenny Guiton will be ready to go for the Buckeyes if Miller is sidelined. Guiton actually suffered a hand injury against San Diego State that went unnoticed by fans and media. He took a hit, which left his hand "very swollen," Meyer said. It was wrapped on Monday, but Meyer indicated Guiton would be 100 percent on Saturday.
Defensively, Meyer is anxious to see how Ohio State's depth holds up against an offense that can be called quicker than fast-paced. True freshman quarterback Jared Goff leads the nation in passing and the Bears can run as many as 100 plays per game.
"That will be a factor in the game," Meyer said.
Brady Hoke:
You can't make this quote up from Brady Hoke prior to Tuesday's Big Ten Teleconference: "Saturday is a glazed donut game, starts at noon. We like those games."
Michigan was impressive during the first half of Saturday's win against Notre Dame. The second half gave way to some sloppy play. Hoke said the Wolverines did enough things poorly that the team has plenty to work on.
Michigan is now 16-0 at home under Hoke.
Hoke said there is not a set number of runs for Devin Gardner. On Saturday, the Wolverines ran five called QB runs.
Jake Ryan is expected to return sometime in October, according to Hoke.
Gary Andersen:
Wisconsin is 2-0 and hasn't given up a point yet, albeit against very weak competition. Andersen realizes it will be much tougher this week at Arizona State.
Andersen said the trip to Arizona is a huge opportunity in recruiting for the Badgers. Wisconsin will leave on Thursday to help acclimate with the time change.
"I've gone the other way. Don't think it's too much different." Andersen previously coached at Utah State.
There are four Big Ten-Pac 12 games on Saturday. Andersen said it's a big day for the Big Ten to showcase itself.
Bo Pelini:
On UCLA's offense: "They create space. They create room for their playmakers. It's all about getting you in one-on-one matchups."
Pelini said the defense vs. offense matchups come down to execution. A year ago, when UCLA beat Nebraska, the Cornhuskers had a poor day tackling. The game plan is better this year, Pelini said, and he feels like the Black Shirts are better equipped to slow down the Bruins.
Last season, Nebraska traveled to UCLA to play in the Rose Bowl. It's UCLA coming to Nebraska and Memorial Stadium this season. Both venues are historic. "We have great fans. It's always loud here. This place is all about college football and college athletics."
Different season, different team this year, according to Pelini. There's respect for UCLA in the Cornhusker locker room, but the team isn't looking to get revenge.
Pelini said Ameer Abdullah has the ability to run fast, make people miss and have power. "It's fun to see him step up."
Mark Dantonio:
"We need to continue find a rhythm offensively." That said, Dantonio is very happy with the play of the defense.
Defensive end Shillique Calhoun was named Big Ten defensive player of the week. Dantonio said his redshirt year was big in progression.
Connor Cook and Damion Terry are the top 2 quarterbacks this week. Terry is a true freshman. Dantonio is worried about burning a possible redshirt year.
"We're looking for somebody to seize the moment."
Kirk Ferentz:
Ferentz deemed the Iowa-Iowa State series as a "great rivalry." He said it's great for the state and unique to have a rival be an in-state BCS school.
"We can't expect to win if we don't clean penalties up."
Jerry Kill:
Minnesota is 2-0, but the Gophers have had trouble completing the football. Kill blamed a majority of that issue on wide receivers dropping the ball. Holding on to the ball has been an emphasis in practice this week.
Minnesota's leading receiver has 51 yards in two games. Opponents were UNLV and New Mexico State. Not exactly stout competition.
Markus Jones was the Big Ten special teams player of the week after returning a punt for a touchdown. Kill said Jones is very explosive and got his speed back to where it was as a freshman. Could make major impact this season.
Tim Beckman:
Illinois' win over Cincinnati Saturday was the biggest in the Beckman era. He said it was big for the team to finally see a reward and what it takes to beat a quality opponent.
Illinois plays Washington at Solider Field Saturday. It'll be big in the recruiting efforts for the Illini. Beckman is excited to play a really good team and be in the atmosphere of a pro stadium.
Beckman said he was shocked when he heard about the allegations at Oklahoma State. He said he hasn't been contacted by anyone. Beckman was the defensive coordinator at Oklahoma State prior to being hired by Toledo.
Nathan Scheelhaase has played great the first two weeks. Beckman said Scheelhaase's injury last year was much more severe than people realize. Said this is evidence how efficient he can be when healthy.
Darrell Hazell:
Quarterback Rob Bolden has been solid, but Hazell said he must continue to get better for Purdue to be at the level Hazell wants.
Purdue had 18 communication miscues against Cincinnati in Week 1. It only happened four times in a close win over Indiana State.
Safety Landon Fletcher broke his leg. Hazell called it a big loss. Anthony Brown will take his place.
Hazell said Akeem hunt continues to get better as an all-purpose player. Said he's someone Purdue needs to depend on late in games.
Bill O'Brien:
Penn State has struggled on third down. O'Brien said it's a problem that needs to improve. Poor execution has held the Nittany Lions said, O'Brien said.
O'Brien coached under George O'Leary at Georgia Tech. Said he owes his success to O'Leary. O'Brien's dad will be at the game Saturday just so he can say "hi" to O'Leary.
Defensive coordinator John Butler is quick-minded and hardworking, according to O'Brien.
"Any time you rush for 250 yards, it's a good game."
Pat Fitzgerald:
Northwestern had night games the first two weekends, so Fitzgerald had them practice at night. They're finally playing early this week and with the heat wave today, Fitzgerald had an early morning practice. It was welcomed by all.
Fitzgerald said Cal's offensive game plan for similar to what Sonny Dykes ran at La. Tech. Northwestern had to make some adjustments.
Pat Fitzgerald said he was very impressed with Cal true freshman QB Jared Goff. "He's going to be a really special player in that offense."
Kevin Wilson:
Indiana's run game was inconsistent at times last season. It's opened up the passing game more this season. Wilson said running back Tevin Coleman was too hesitant and thought too much a year ago.
Indiana lost to Navy last week. "We came out and got punched in the mouth."