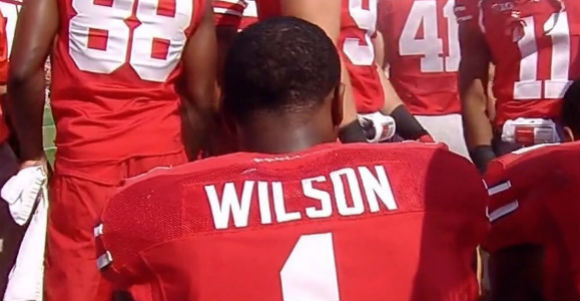 Throughout fall camp, Ohio State freshman Dontre Wilson's hype grew to legendary status over the course of just a few weeks. We heard players and coaches raving about the 5-foot-8, 180-pound running back from DeSoto, Texas. 
The buzz grew to levels that made some people – myself included – wonder if it all wasn't just some big smoke screen. How good was Wilson, really? Would he cut against the grain and see significant playing time as a true freshman? How would he even be used? At running back? Receiver?
It's only two games into the 2013 season and these questions are starting to get answered, and skeptics such as myself are beginning to believe.
Wilson has shown his explosive speed and dynamic shiftiness in space in just a few early touches. In his debut against Buffalo, Wilson saw the field in a limited capacity, but made good use of his chances. He carried three times for 11 yards and caught a pass for 18 yards. One of his carries resulted in a lost fumble (he is a freshman, after all).
He also returned a kickoff for 51 yards in the season opener. What was immediately apparent, aside from his blazing speed, was the way it appeared that any time Wilson touched the football, he was a threat to score.  Very few players in football strike that kind of fear into opposing defenses.
Wilson saw the field a bit more in Week 2 against San Diego State. He took care of the football this time, and finished with 51 yards on just five carries (10.2 YPC), scoring his first career touchdown. Ohio State Offensive Coordinator Tom Herman took advantage of Wilson's speed on the play, clearing out the defenders on the left side and allowing his freshman to jet into the end zone.
"When I saw the end zone I had to get there," Wilson said.
The frosh also returned a kickoff for 25 yards and caught three passes, though only for six yards, owing to poor blocking help by Buckeye receivers, including a couple by fellow freshman James Clark in the fourth quarter.
Who was the last Buckeye freshman who looked so dangerous? You probably have to go back to Ted Ginn Jr.'s first season for that, back in 2004. And, although it's possible Ginn has greater straight-line speed than Wilson, it appears that Ohio State's rookie hits top speed quicker and is much more slippery in space.
"I'm way faster than a lot of people. Now, I have to go out and prove it." – Dontre Wilson
Wilson knows his speed an elusiveness are his greatest attributes, and he plans to exploit them.
Because Urban Meyer is Ohio State's coach, a lot of people like to throw around the name "Percy Harvin" when discussing the weapons in the Buckeye offense. A comparison to a player like Harvin is a difficult load for anyone to carry. Yet Wilson might just be able to pull it off. Harvin scared opposing defenses to death pretty early in his career. Similarly, Wilson is a player that defenses must respect whenever he checks into the game.
Over the arc of his Ohio State career, we'll all find out just how fair (or unfair) it is to compare Wilson to Harvin. But just the fact that he's already making that discussion seem reasonable is cause for Ohio State fans to celebrate.