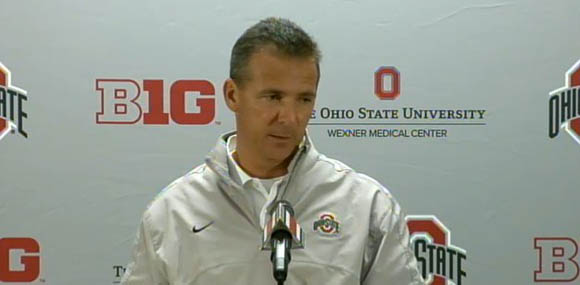 Ohio State will be making its first trip to California since beating Oregon in the 2010 Rose Bowl behind a strong effort from Terrelle Pryor. Athleticism from the quarterback was one of the difference makers that New Year's Day in Pasadena. It's something the Buckeyes hope to repeat in Berkeley.
Braxton Miller suffered a sprained knee ligament early in the first quarter Saturday and never returned. On Monday, head coach Urban Meyer said Miller will be a day-to-day decision for Saturday's game with Cal. He was a little stiff today and feeling the effects of a sprained MCL, but Meyer said if he's ready to go, he will go, saying, "We're not holding anything back."
CHAMPIONS: Jack Mewhort, Jeff Heuerman, Philly Brown, Evan Spencer, Kenny Guiton, C.J. Barnett, Bradley Roby, Michael Bennett and Ryan Shazier.
PLAYERS of the GAME: Guiton (offense), Bennett/Shazier (defense), Armani Reeves (special teams).
SCHEDULING NOTE: Ohio State-Florida A&M will be a noon kick next week.
Quick bits from Meyer's Monday press conference:
The kickoff team continues to earn raves from Meyer: "One of the best performances I've seen."
Meyer said "there's a lot of respect for Kenny Guiton." He mentioned that he was one of the leading vote-getters during captain voting and said he was unsure if a backup quarterback had ever been elected captain anywhere before.
Ohio State used a little more six- and seven-man protection and it worked. Meyer was really pleased with the protection.
Meyer: "The defensive line is playing at a really high level right now. I don't want to jinx them, though." Meyer credited Mike Vrabel, saying the group played like Vrabel coaches.
Barnett graded out at 95, Roby at 99 for the SDSU game.
Lot of things to fix on defense: "We were too soft on zone coverage."
Meyer on Cal: "I hear the new stadium is incredible. Jeff Tedford is one of my closest friends and he's been talking to me about it for years. It's going to be a great atmosphere."
Meyer said Braxton Miller was a day-to-day decision, confirming its an MCL sprain of the left knee. He said he met with Braxton today and he's a little stiff. "If he's healthy to go, he'll certainly go. We're not saving anything."
Miller was called "fearless" by Meyer. He said he was injured on a play that was a pass "all the way." Meyer said Miller wanted back in the game and wants to go Saturday, but they'll know more tomorrow morning, mentioning the first 48 hours are huge for an injury like this.
The team will leave Friday morning and stay in Oakland to prep for Saturday's game.
Meyer on the drop in the polls: "It doesn't impact us and I can't explain it." Said in the end, everything works out and the best teams will be up there.
If something should happen to Guiton, Meyer said Cardale Jones would be the guy at quarterback. On J.T. Barrett: "He has made progress."
Cal's defensive coordinator was at Wisconsin last season, so he'll be plenty familiar with Ohio State's offense.
Cal's offense: "The ball comes out so quickly on screens and quick passes, so how do you get to the quarterback?" Meyer mentioned the rotation of defensive linemen being the key because the Cal offense will wear them out.
Meyer on Philly Brown as a high school running back and his evolution as a wide receiver at Ohio State: "I bet he was a terrible running back and you can tell him I said that." Also: "I'm a big Philly Brown guy right now and I wasn't." Meyer mentioned how Brown is doing all of the little things, including work ethic and leadership.
Meyer called the four receiver bunch that led to Guiton's 44-yard touchdown run the "Aztec formation." Meyer again mentioned it giving other teams something to prepare for, taking time away from core prep work.
On Cal RB Brendan Bigelow's huge day against Ohio State last year, Meyer called the tackling "horrific" and praised Luke Fickell and Everett Withers for their fundamental work on tackling work with the team.
Updates from Co-Defensive Coordinator and Safeties Coach Everett Withers
Withers points out that the Cal offense is completely different from last season – personnel, scheme, etc.
The Ohio State defense has watched a lot of Louisiana Tech tape, because new Cal coach Sonny Dykes had the nation's top offense at Tech last season.
Withers said freshman Vonn Bell continues to grow, but that Tyvis Powell remains way ahead of him.
Saying that, Ohio State may use two players at Star Saturday, due to Cal's offense and the fact that Ohio State wants to develop the depth and talent at the position.
As he did at Louisiana Tech, Dyke runs a jumbo wishbone a few times per game, so the defense is looking at that package.
Updates from Co-Offensive Coordinator and OL Coach Ed Warinner
Warinner said he's working hard to establish depth on the offensive line, saying any chance the second-team guys can rotate in, he wants them in.
The game plan doesn't change when Kenny Guiton enters the game, according to Warinner. He mentioned the run Guiton scored on being designed for Braxton.
Warinner said center Corey Linsley is now 100% and that although he wanted to play more in both games, the score didn't warrant it. He could have played more if needed.
The staff is happy with backup center Jacoby Boren's development, but he lacks the experience of Linsley.
Warinner said Billy Price's move to the offensive line has been smooth, calling him a "natural." Warinner also said it would be ideal to redshirt Price at center, putting a year between him and Boren.
Taylor Decker struggled in the opener (to be fair, Khalil Mack was on the field) but Warinner praised him for bouncing back against San Diego State.