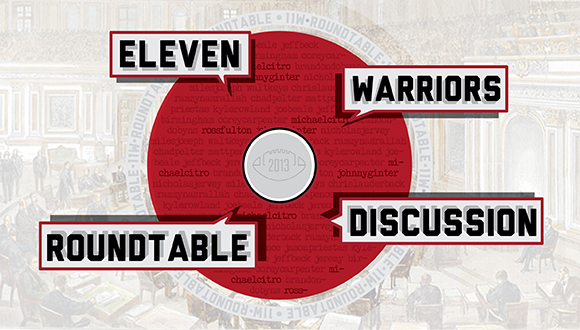 We've got one week behind us, and my-oh-my are we ready for another. Once again you've come to the right place for your pre-game primer. We're cycling through the Eleven Warriors crew for all of the answers, and this week you've got Michael "Citronella" Citro (squashes opponents like bugs...working nickname), Ross "The Body" Fulton and Johnny "Ginsu" Ginter. Let's pop this off.
Were your expectations met for the Buffalo game? Why or why not?
Michael: Yes and no. I expected a much better start from Ohio State and they came roaring out of the gates. However, I also expected the Buckeyes to be relentless and I don't think you could reasonably argue that they kept up their intensity, particularly when you consider they were outscored by a MAC school over the final three quarters.
Ross: Yes and no. I would have obviously liked to have seen Ohio State not have a let down after getting out to an early lead. It also became difficult to judge because of injuries to starters such as Corey Linsley. But Braxton Miller demonstrated improvement as a passer and the defense played fairly well given they were largely missing the few returning experienced starters. The Buckeye offense also demonstrated they can have a tough one-two punch with Jordan Hall and Carlos Hyde once he returns.
Johnny: Yes and no. I didn't really expect anything spectacular because, you know, gotta shake the mold off, but I was hoping that the team would have fixed their problem with giving a full game's worth of intensity.
What was your favorite moment of last week's game?
Michael: It was the opener, so the whole thing, really. But I especially loved it when Ohio State finally unleashed the Braxton. Miller appeared under orders to not expose himself in this game, at least in the first half. When he broke off that 40-yard run, it was a sign that he wasn't going to let the game get any closer.
Ross: Seeing the Buckeye offense click in jumping out to a 23-0 lead.
Johnny: Braxton Miller scrambling. I am a total sucker for dodging, dipping, diving, ducking, and dodging, especially from quarterbacks.
What was your least favorite moment of last week's game?
Michael: The obvious answer is Khalil Mack's pick six. But instead I'll say Dontre Wilson's fumble. It provided a spark for the Bulls and maybe eroded Wilson's confidence a bit. I think without that he probably sees more snaps, as well.
Ross: Seeing starters drop like flies with cramps and other ailments.
Johnny: The Mack INT return for a touchdown. As soon as I saw his blur I knew that Mewhort had whiffed on his block and that bad things were about to happen.
The defense only had one sack against Buffalo, do you expect that to change against San Diego State?
Michael: I do expect it to change, because with Bradley Roby back in the lineup, I don't see Ohio State playing such soft corner coverage. If the quarterback has to hold the ball longer, it increases the chances of Spence, Washington or Bosa getting to him. I also think the Buckeyes will work more blitz packages in as the season goes on.
Ross: I am not so much concerned with sack totals as I am with whether the defense is making life uncomfortable for the opposing quarterback. That being said, my guess would be yes only because San Diego State uses more of a pro-style passing scheme.
Johnny: Yes, I think they'll be much more aggressive on the edge with blitzes now that Roby is back in the fold.
Week 2 marks the return of Bradley Roby and Rod Smith. What would you like to see out of both players this Saturday?
Michael: A pick six from Roby and 100 yards and a score out of Smith would be nice. I'd settle for typical lock-down coverage from the former and some strong between-the-tackles runs from the latter.
Ross: Roby to be Roby. As to Smith, if the coaches think he is good enough to play, then to get some carries so that we can get more of a rotation at tailback.
Johnny: Rod will likely be relegated to special teams duty, but I want to see Roby continue to live up to the hype as a shutdown corner that we've built up for him.
With the aforementioned return of Smith, how will Jordan Hall's role change, if at all?
Michael: I think Hall will still be the primary tailback, at least to start the game, but we might see some two-back sets with Smith, as we saw with Hyde and Smith last year.
Ross: Perhaps some but not as much as people think. I am of the opinion that Hall is a good tailback and his quickness is a good fit for Meyer's inside zone play. Hall may play a bit as the H receiver in the slot, but I expect him primarily at tailback. 
Johnny: I don't think it will, to be honest. You don't take out a dude who racks up 159 yards on the ground. Instead, you keep letting him pound away at opponents until his feet are little nubs and his brain is a fine powder in his skull. That's the Dantonio way! 
Who do you predict to win offensive champion of the week? Defensive?
Michael: I have a good feeling about Philly Brown this week on offense. On defense, I like Ryan Shazier to have a big game.
Ross: Philly Brown and Roby. 
Johnny: Miller and Roby. Dude's good, and I think they take some of the self-imposed shackles off Miller this week.
What's your final score prediction?
Michael: Ohio State wins 38-20.
Ross: 42-13
Johnny: 52-6. I think this is the performance that people wanted to see from the Buckeyes last week.
The journey to Mars is estimated to take between 150-300 days. If you could only choose one current Buckeye player to make the trek with you, who would it be?
Michael: I wouldn't want anyone healthy to miss any games, so I'd invite one of the injured guys…maybe Adam Griffin or J.T. Barrett.
Ross: Is there a female on the team???
Johnny: Probably whoever can put up with my nasty midnight farts the most. I'm not opening up that airlock for anything.