The Big Ten is coming off some of the strongest and most nationally appealing seasons in conference history.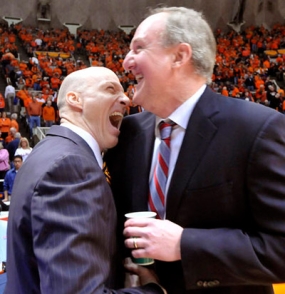 In 2011-12, five schools had an overall winning percentage over .700 and Ohio State made the Final Four. Last season, seven schools made the NCAA Tournament, Trey Burke won the almost every National Player of the Year award and led his team to the title game.
Both could be considered banner years, but it hasn't necessarily translated into recruiting success for the conference, as a whole.
Perhaps it takes more sustained success or just some more time to truly feel the impact of the on-court success. To be fair, Indiana has a tremendously talented group of freshman, while the Buckeyes are bound to put together a top 10 – possibly top-five 2014 class.
Ohio State is a big man away from making the 2014 class one of Thad Matta's best. Here's what the conference is up to with their 2014 recruiting classes, including one of the two newcomers:
Illinois
2014 commitments: Michael Finke (Champaign Ill.), Leron Black (Memphis, Tenn.)
It's true; Bruce Weber went about four years before landing his first real, impact guy.
That was guard Demetri McCamey, who is rather polarizing among Illini fans, apparently. Add in Mike Tisdale, Brandon Paul, Jereme Richmond (now facing up to seven years in federal prison), and Myers Leonard (left after two years) and you have the ingredients for a program to repeatedly finish in the middle of the conference.
New coach John Groce is off to a better start on the two fronts Bruce Weber received the most criticism for – recruiting Chicago and building depth, overall. He landed freshman and four-star guard Kendrick Nunn, who had offers from a wide range of high-major schools.
Groce isn't experiencing a let down with his 2014 class, either. Michael Finke is extremely lanky but a good perimeter shooter. The real prize here is Leron Black. He committed to the Illini, Sunday, giving Illinois a chance to build one of the Big Ten's top classes.
They're still technically in on Cliff Alexander and Jahlil Okafor, but their best chance to fill their last open 2014 scholarship might be with Quentin Snider. He recently moved his Champaign visit up to this weekend.
Indiana
2014 commitments: none
At this point, the Hoosiers should have no problems recruiting. Funny thing is, they don't have a single 2014 commit.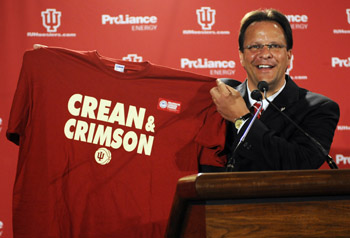 They missed out on Leron Black, Jaquan Lyle, Trevon Bluiett and Theo Pinson, among others. So, I guess it's time to call their 2014 class a success and cut down the nets?
Seriously, though, they can "salvage" a tremendous recruiting class. That depends on a couple of factors. They have a chance to land Austrailian point guard prospect Dante Exum, provided that he doesn't go to the NBA and become the top pick in the draft.
Outside of Exum, the Hoosiers might land five-star guard Isaiah Whitehead and center Goodluck Okonoboh (competing with Ohio State for his services). The last time Tom Crean didn't bring in at least one five-star talent was 2010. Of course, Victor Oladipo was in that class.
Indiana fans are probably tweaking right now – because that's what they do when everything isn't going their way – but they'll likely have another strong class.
Iowa
2014 Commitments: none
The Hawkeyes are expected to make a run at an NCAA Tournament bid, after making the NIT championship game last season.  Like the Indiana, Iowa has yet to receive a commitment from a 2014 recruit.
Still, they're throwing everything they have at Chicago Heights (Ill.) point guard Tyler Ullis, who visited the Iowa campus last weekend. The 5-foot-8-inch Ullis is also considering Kentucky and Michigan State.
Maryland
2014 Commitments: Melo Trimble (Arlington, Va.), Dion Wiley (Oxon Hill, Md.), Trayvon Reed (Burlington, N.J.), Jared Nickens (Norristown, Pa.)
Once Maryland officially enters the conference, they will have one of the Big Ten's top classes. Right now, 247Sports ranks the Terps 2014 class as the third best in the country, behind North Carolina and Ohio State.
Last year, they were plagued with poor backcourt play. Incoming freshman Roddy Peters and 2014 commit Melo Trimble will ease those concerns. With those two, they could have the best backcourt in the Big Ten upon arrival.
Trimble is a pure, knock down shooter and can do his fair share of ball-handling. Reed might have the best potential of the group. The long armed, 7-foot-1-inch center received a comparison to Dikembe Mutombo, thanks to "Never Nervous" Pervis Ellison.
Wiley adds aggressiveness and another element to stretch the defense, while Jared Nickens is a natural scorer with a solid pull-up jumper.
Michigan
2014 commitments: Ricky Doyle (Fort Myers, Fla.), Austin Hatch (Pasadena, Calif.)
John Beilein is still after a few highly ranked recruits, such as James Blackmon Jr. and Devin Booker. Currently, they have two commits that aren't particularly highly rated.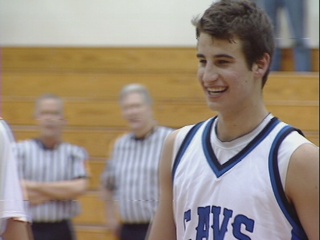 Forget about what the rankings say about Austin Hatch. Ignore the fact that he'll be a Wolverine.
He hasn't played in two years because he's been recovering from injuries sustained during a plane crash. That's the second time in his life he's survived a plane crash. If you're not rooting for him, stop reading this, look in the mirror and ask yourself "is this the type of human being I am?"
Hatch reclassified to join Ricky Doyle, who recently received a fourth star from ESPN. He seems to be a dependable player in the post, but he also fits the mold of a Beilein big man. As UMHoops writer Carl Bleich said, Doyle "has showcased a smooth mid-range jump shot in the past that indicates that he is comfortable offensively outside of the paint."
Michigan State
2014 Commitments: none
Tom Izzo has followed up an underwhelming 2013 class with. . . nothing, so far. Michigan State fans aren't worried – mainly because the Spartans will compete for the Big Ten and national titles with the group they have now.
After this season might be of some concern if they don't pick it up on the recruiting trail. All hail the mighty Izzo, but Gary Harris might declare for the NBA Draft, plus Keith Appling and Adreian Payne will be gone after this season.
Izzo is after Jahlil Okafor, who is planning on taking an unofficial visit to East Lansing. ) As is the case with Ohio State, they probably don't have a shot unless there's a fallout between him and Tyus Jones.
Outside of Okafor, they're also after Tyler Ullis – visiting this weekend, – Quentin Snider, Devin Booker, Reid Travis, Jaylen Johnson and Cliff Alexander. All of them are top 60 recruits, but experts get the sense that they're leaning elsewhere – at least if you consult 247Sports' crystal ball.
Minnesota
2014 Commitments: none
Any new coach at a major program is pressured to successfully recruit, almost immediately. Richard Pitino, is under as much stress as anybody.
The new Gophers coach has a lot of talent to choose from, but not much time. It's the most hyped class in Minnesota high school history, featuring top ranked point guard Tyus Jones, five-star guard Rashaun Vaughn and four-star forward Reid Travis.
Pitino has to be one hell of a "used car salesman" to land one of them, considering what he has to sell and who he's up against. They're competing against blue bloods and high-major programs for all three of them.
The best shot of landing an in-state player might be J.P. Macura. He's a three-star talent and – through no fault of his own – won't please the fan base, but he's a more realistic option.
---
This is part one of a two part series. The rest of the Big Ten will be featured in next Thursday's piece.