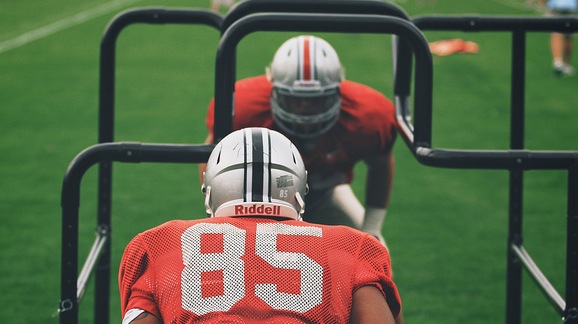 Ohio State enters Saturday's game with San Diego State as the second-ranked team in the nation. The Buckeyes are coming off an undefeated season and sit squarely at the table, along with Alabama, as national title contenders.
Yet, head coach Urban Meyer insists Ohio State is playing catch-up. 
"Some people think we're the hunted," he said. "I don't feel that way at all. We're the hunter. Everybody wants an angry football team. Everybody wants a team on edge and a hungry team. If you're a hunter, that usually equates to being hungry."
Meyer and his staff have managed to keep the Buckeyes aimed toward besting and respecting opponents. A 40-20 win over Buffalo served as both evidence of how good Ohio State is and evidence of how far it still has to go.
The first quarter was a period of bliss for fans. Touchdowns on three straight possessions, trickeration on two-point plays and a glimpse of an improved Braxton Miller and freshman speedster Dontre Wilson. A 23-0 lead put the game out of reach before the first 15 minutes were over.
The final three quarters led to the question marks. Buffalo outscored the Buckeyes 20-17 while cramps overtook the Ohio State bench. Several players said the quick lead contributed to the sloppy play. Instead of keeping the foot on the gas, they eased into the rest of the game.
Don't expect that to become a routine. On Saturday, Ohio State welcomes back two starters on defense and a regular contributor on offense. It's meant an extra competitive week in practice. Just how Meyer wants it.
"If there's competition, there's no complacency," he said. "Every coach, if you say, 'What do you want in your program?' He would say, 'To be three-deep at each position.' Every day, those kids go out and really practice or else they won't play. If you don't have that, that's when complacency can set in."
It's only the first week of September – and the AP Poll doesn't factor into the Buckeyes' postseason plans – but an expert motivator like Meyer is sure to let the team know there's some disrespect among the media. It could lead to 60 minutes of relentless effort, which doesn't bode well for San Diego State.
"If there's competition, there's no complacency."
Ohio State spent last Saturday tinkering with the playbook and toying with various formations to see how they stack up against a live defense. This week has been the time to reevaluate those plays and modify them. Offensive coordinator Tom Herman said Wilson would receive a condensed set of plays in the opening weeks that specifically utilize his attributes. Consider those wide receiver plays.
"He's more of a receiver right now," Meyer said on Wednesday.
It's not a giant shock to the system. The Buckeyes are deep at running back, and that doesn't include suspended starter Carlos Hyde. The backfield became a concern during fall camp when Hyde and Rod Smith were both suspended. But Jordan Hall's career-high performance, plus the use of numerous other backs, quickly put those fears to rest.
In line with the never satisfied, always compete motto of his head coach, Hall's first words when speaking to reporters this week included talk of improving.
"I've got a lot to get better at," he said. "There's a lot of work to do personally and as a team."
Meyer said Hall will start again this week with the second-team running back remaining undecided. The return of Smith, the inevitable return of Hyde and depth at the position could spell a role change for Hall. He could move into the hybrid position and shift into the backfield every so often, or Ohio State could keep him in the backfield full-time.
The options have kept Hall going 100 percent in practice. There are only so many footballs to go around, and this year marks the final chapter in Hall's career. He knows constant production will result in touching the ball.
"I'm always a firm believer if a running back gets the hot foot and gets in the rhythm during the course of the game, then it does that back an injustice for me to take him out at that time when he's got a rhythm going," running backs coach Stan Drayton said.
Said Hall: "There's only one ball. When you get the opportunity, you have to make it happen with that opportunity. It is difficult. There are running backs who didn't get on the field. We know when we come onto the field, you've got to make plays and make things happen."
For the Buckeyes, the competition never stops. Every practice, every carry and every play presents an opportunity to stand out and highlight yourself.
"These guys get what they deserve," Drayton said.