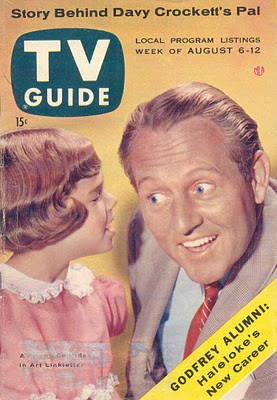 After an exciting first week of college football that saw FCS upsets galore and a top ten showdown that sent this Georgia fan into tear-filled hysteria, the TV Guide returns to provide you a viewing schedule of the games of interest this weekend.
This week's matchups lack the star power that is now associated with the opening weekend. If Week 1 is at least casually dotted with marquee games to open the season, Week 2 is almost entirely cupcake matchups. Many of these will either be regionally televised, or on networks like Fox Sports 1 and the Pac-12 Network, both of which have limited availability.
However, you will have some viewing options around the 3:30pm ET kickoff between Ohio State and San Diego State. There are not many, but enough to keep your attention.
This week's TV Guide cover features Art Linkletter. Before kids were saying the darndest things on television to Bill Cosby in the late 1990s, they were saying them to this 1934 graduate of San Diego State Teachers College, now known as San Diego State University.
Here is your schedule for this weekend.
Thursday
Florida Atlantic @ East Carolina (Fox Sports 1, 7:30pm ET). This week's Thursday slate is surprisingly dull. This is odd, considering that Thursday is usually associated with #MACtion or, at the least, a conference game involving two somewhat recognizable teams from either the ACC or what is now known as the American Athletics Conference. Further, both college football games are on networks with limited availability. The first is this Conference-USA contest, pitting the O-1 Florida Atlantic Owls against an East Carolina team that needed everything it had to beat an Old Dominion team that is in transition between FCS and FBS.
The second game will be contested between Arizona State and Sacramento State on the Pac-12 Network at 10:00pm. Odds are, you do not have this network. It might be easier for you to watch the Broncos host the Ravens on NBC instead. That game starts at 8:30pm ET.
Friday
Wake Forest @ Boston College (ESPN2, 8:00pm ET). Your weekend begins in earnest with these two teams that routinely rest near the bottom of its table in its division, whichever division in the ACC that is. I think its the Legends Division. Wake Forest limped out the gate against Presbyterian, one of the worst teams in FCS, before cruising to a 34-7 win against the Blue Hose. Boston College needed much more effort than that in Steve Addazio's debut. Boston College struggled through the entire game, but eventually secured a 24-14 win against Villanova. Both are among the last teams you will recall when pressed to name all the members of the Atlantic Coast Conference and, yes, you will watch this game anyway.
Central Florida @ Florida International (CBS Sports Network, 8:00pm ET). How bad does a game have to be to make a conference game between Wake Forest and Boston College the marquee game of the night?
Saturday
Florida @ Miami (FL) (ESPN, 12:00pm ET). Saturday's noon slate is underwhelming. It is basically this game and a bunch of games involving Big Ten teams against patsies. The SEC gets a lot of grief for cupcake scheduling, a claim that is and isn't true. It's true that scheduling the November games against FCS cupcakes is grotesque and everyone involved with that practice should feel bad. It isn't true in the sense that teams like Alabama, Georgia, and Louisiana State play anyone anywhere (in addition to rounding out schedules with bottom-tier FBS and FCS teams).
Really, this comment about non-conference scheduling in the SEC is applicable to Florida. Florida has not left the state to play a non-conference game since 1991, a loss at Syracuse. It will travel to Miami, but is now trying to walk from any obligation to play the Hurricanes, even occasionally. Florida's athletic director has said that the only way he could envision the Gators and Hurricanes playing again is if it were a neutral site game. Since this is a home game for Miami, isn't this objectively a "neutral site" game?
Cincinnati @ Illinois (ESPN2, 12:00pm ET). What was that comment I made about most of the games at noon involving Big Ten teams against patsies? This game will feature a team that wishes it were in the Big Ten against a Big Ten patsy. In the highly likely event that Cincinnati wins, and wins comfortably, expect Cincinnati's fans to boast of their team's domination of two Big Ten teams that might win five games this season, combined.
South Florida @ Michigan State (ESPNU, 12:00pm ET). South Florida did not just lose to a FCS team at home last week, it was manhandled by McNeese State in a 53-21 blowout loss at Raymond James Stadium. I have no doubt you also saw Michigan State's game against Western Michigan on Friday night as well. The Spartans managed only twelve points of offense (six of those points coming from field goals) in the debut of Bollman Ball. It was bad in all facets too. Michigan State fans are already lamenting this offense could be the worst it has ever been under Mark Dantonio (and a follow-up affirmation). This game has the makings of a car wreck that I probably have to see happen for myself.
Eastern Michigan @ Penn State (Big Ten Network, 12:00pm ET). Check your availability to see what game you will get on Big Ten Network. My guess is it will be this game. It is the only Big Ten game on this network at this slot not involving an FCS team.
Oregon @ Virginia (ABC/ESPN2, 3:30pm ET). Oregon's traveling touchdown show comes to Charlottesville to play the Hoos, which sweat out a 19-16 win against Brigham Young's tough defense last week. Virginia fans in attendance will hope for a better result than the last game in which it hosted a team from the Pac-12 conference. That game ended in a 52-7 win for the visiting USC Trojans in 2008. Expect history to repeat itself.
San Diego State @ Ohio State (ABC/ESPN2, 3:30pm ET). This is what you're watching. Eleven Warriors will have you covered tomorrow with a thorough preview of this game.
Toledo @ Missouri (ESPNU, 3:30pm ET). You won't be watching Gary Pinkel host a MAC team he used as a platform to audition for cushier gig at a program like Missouri (which he started coaching in 2001). You may see the highlights from this game in the probable event that Toledo wins. Toledo was competitive, if outmatched, in its loss to Florida last week.
South Carolina @ Georgia (ESPN, 4:30pm ET). How tough was Georgia's Clemsoning at Clemson in Week 1? Beyond the fact that it reduced that one Georgia fan to tears (to which I can't hyperlink enough), it may have ended Georgia's national title aspirations in the first week of the season. A win against Clemson may have been necessary to propel Georgia forward against a rough start to the season that includes this game and a visit from LSU in Week 4.
Georgia gets a cupcake (North Texas) next week, but has the distinct possibility of beginning the season 1-3 after being one play removed last season from a national championship game berth. South Carolina has won four of the last six against Georgia, including three straight. Steve Spurrier owns Georgia, whether he is patrolling the sideline in Gainesville or Columbia.
Syracuse @ Northwestern (Big Ten Network, 6:00pm ET). Indiana hosts Navy and Nebraska hosts Southern Mississippi, both on Big Ten Network at this time slot. My guess is this is the game you will get. Northwestern comes home to Evanston after a quality road win against California, which saw Collin Ellis win national defensive player of the week honors for his two pick-sixes. Syracuse's Big Ten schedule continues to Week 2, after dropping a close game to Penn State in MetLife Stadium.
Louisiana Lafeyette @ Kansas State (Fox Sports 1, 6:30pm ET). Louisiana Lafayette is not a FCS team. That means Kansas State's probability of winning the game goes up, doesn't it?
UAB @ LSU (ESPNU, 7:00pm ET). I'm torn between thinking that SEC teams hosting cupcakes at night is kind of lame, and wanting Ohio State to do it at least once, just to see what it feels like. The last time Ohio State did something similar was its Thursday night season kickoff against Marshall in 2010. The atmosphere for that game was great.
Texas @ Brigham Young (ESPN2, 7:00pm ET). The college football fan in me adores games like these that bring together two teams from two distinct parts of the country for a contest that resembles, in spirit, a random exhibition game you would play in your EA Sports video game. The higher profile program (Texas) visiting Provo in this leg of the series, which started in 2011, makes the game that much more interesting. Brigham Young travels to Austin next year.
West Virginia @ Oklahoma (FOX, 7:00pm ET). Did you know Oklahoma played a football game last week? Honest to God, I forgot that their season started last week too. That's what's become of Stoops' program in Norman. It's not that I expect the Sooners to be a non-issue come November. It's the case that I've already forgotten that the Sooners are still around. Meanwhile, West Virginia, the darling of the 2011 football season, needed everything in its power to hold off William and Mary last week in a 24-17 victory. The luster came off Dana Holgorsen's program in a hurry.
Notre Dame @ Michigan (ESPN, 8:00pm ET). This is the only game of the week involving two top 25 teams and is getting ESPN's College Gameday for the morning. I think enough has been said about this matchup elsewhere. Notre Dame is walking from its series with Notre Dame in order to be quasi-ACC, with Brian Kelly allegedly tossing shade in Michigan's direction as Notre Dame prepares to conclude the series next year in South Bend. Meanwhile, Brady Hoke has meat sweats.
Can Michigan duplicate its feat from last year of completing five straight receptions (to Notre Dame defenders) on five straight passing attempts? Probably not. I expect Michigan to win big this game.
Washington State @ USC (Fox Sports 1, 10:30pm ET). If you're curious, or are awake past midnight, you might find this game worth your while. Mike Leach showed a new wrinkle to his offense last week: a willingness to run the ball. Washington State, by far the country's worst rushing offense last season (29.08 yards per game), ran for 120 yards against Auburn last week.