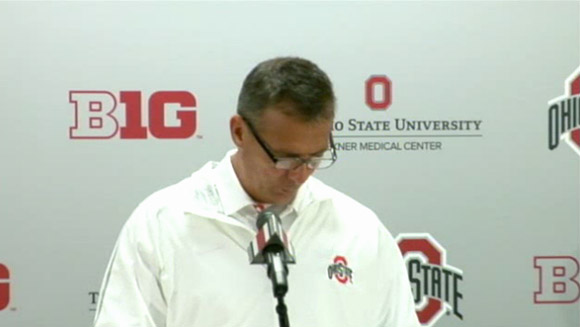 The season is now in full swing. Ohio State will prepare for a game the rest of the season. The old adage says teams improve the most from the first to second game. If true, San Diego State might be in trouble.
The Aztecs lost by three touchdowns to lowly Eastern Illinois last Saturday and could come to Columbus shorthanded. It's not the scenario Rocky Long saw playing out during the summer. A regroup is in order.
The same can be said for the Buckeyes. They are 1-0, and the coaches and players were pleased with the season-opening performance. But improving is never far away from their thoughts. Both lines were underwhelming, while each position group had minor glitches than could use corrections.
That process already began in the wee hours of Sunday morning, and it will continue throughout the week. Perfection is rarely attainable. Don't tell that to the Ohio State coaching staff, though. They are on a mission to find it. 
First up, Championship performances from Buffalo game:
Offense: Jordan Hall (offensive player of the game), Philly Brown and Chris Fields.
Defense: Christian Bryant (defensive player of the game), Noah Spence and Doran Grant.
Special teams: Ron Tanner (special teams player of the game) and Vonn Bell.
Next, Ohio State's players of the week for the 40-20 win over Buffalo:
Offense: Jordan Hall
Defense: Christian Bryant
Special Teams: Ron Tanner
Meyer touched on the Buffalo game, what to expect with San Diego State and a few personnel issues.
During his opening statement, Meyer went out of his way to praise special teams: "Kickoff unit was fantastic." Among those highlighted was freshman Vonn Bell, with Meyer mentioning his play on kickoffs.
Meyer: "Very pleased with our win. Very pleased with our fast start. Not very pleased with the lull in the second quarter."
Meyer said it looks like C.J. Barnett will be back for the San Diego State game and that center Corey Linsley "should play more." Meyer also said Rod Smith is on target following his one-game suspension. Meyer said he hopes he earns right to carry ball because that frees up Jordan Hall to help us in other places.

Meyer on San Diego State and their lackluster opener: Eastern Illinois was "outstanding" and that

SDSU

 plays a 3-3-5 defense, built on "chaos" with blitzes and plenty of pressure. Meyer said he felt San Diego State stepped outside of their comfort zone having to pass so much in a game they fell behind quickly in. Said he knows

SDSU

coach Rocky Long, has coached against him and believes him to be an excellent coach.

When asked about whether Roby would return to his starting corner spot, Meyer said Roby

is competing for a spot, but has not been named a starter. Meyer mentioned that we will probably see "Armani OR

Roby

" on depth chart, depending on how practice goes.

On Chris Fields: "I admire Chris Fields. He wasn't in the top 50 for playing in the game last year. He's the same talent but he's playing his tail off."

When asked about the two-point conversions converted in the Buffalo game, Meyer reiterated that it makes defensive coaches work on it and they are cheap points opportunities

. He said the staff got the idea from Oregon in the Fiesta Bowl and have been working on it since February.

Urban on press coverage: New guys means tendency to play cautious on coverage.

Roby

returning frees up Armani Reeves to play special teams where he's a beast. Urban said they didn't play as much bump and run but we should see more soon.

When asked about Johnny Manziel, Meyer said,

 "In this day in age, everything gets exploded. You have to remember that these are 19 and 20-year-old young men and I know when I was that age, I did some things I wouldn't be very proud of." Meyer went on to mention the social media explosion and the proliferation of cell phones, before saying his heart always goes out to the player.

Meyer on Roby's return

: "He made a decision to come back and I don't know if he even announced why, but it's because he came in with a group of players and he wanted to finish. I think that's admirable." Interestingly, Meyer said that Roby has a lot of people in his ear and that he thought Roby may have had a case of buyer's remorse. On the incident in Bloomington, Meyer said that once the tape came out, he knew it wasn't assault and that it wasn't anything major.

Meyer was asked about Kerry Coombs taking over special teams duties from him. He said Coombs is a tremendous motivator and a "little bit more organized than the previous special teams coach." Meyer said he had so much going on because he devotes a lot of time to the offense and he wanted to be fair to the special teams, so Coombs stepped in.

Meyer on Buffalo LB 

Khalil

Mack: "His stock in the drat just went up a little bit after playing us. He manhandled a few guys." And: "He could play anywhere in America."

When asked about the overall performance of the offense, Meyer said the offense graded out very average in the 40-20 win. Meyer said he had high expectations and wants to score every time they have the ball. "I'm disappointed when we don't score."

On issues that plagued the team in the opener: 

"Complacency is certainly not a problem this week." Meyer went on to mention how having Roby and Barnett back will not only help the defense but bolsters the depth of the team, allowing players like Armani Reeves, considered one of the team's best special teamers, to shine on special teams.

Meyer on Dontre Wilson: "Dontre played well, except he laid it on the ground, which was terrible. He won't play much if that happens again."

On what to tell Curtis Grant about the penalty he earned for continuing to play without a helmet: "You tell them to stop."

When asked about Armani Reeves at corner, Meyer said, "He got exposed there for a minute, but I expect him to continue to get better. He's a tough kid."
Updates from running backs coach Stan Drayton:
Drayton said he felt really comfortable with Jordan Hall and that the plan wasn't for Hall to have so many carries, but the flow of the game called for it. Drayton also said that Hall has been cross-trained at running back and H-back. With Rod Smith's return, Drayton said Hall's role in offense could evolve.

When asked about Bri'onte Dunn's lack of carries (zero), Drayton mentioned that Dunn was a hard worker and that the easy way to earn more playing time is by making plays on special teams.
On Rod Smith's return from a one-game suspension, Drayton said it will likely change the order of the RBs. He said Smith is a guy that can run through defenders and that kind of runner was missing Saturday. Drayton said Warren Ball was the first running back off the bench because he peformed well in practice.
Drayton on Dontre Wilson: "That kid is not afraid of anything."
Drayton hinted at Carlos Hyde making his return on special teams, saying he will have to earn his way back on offense.
Updates from cornerbacks coach and special teams coordinator Kerry Coombs:
Coombs said he's incorporated Mike Vrabel into special teams coaching, mentioning his past experience and enthusiasm helping the unit.
Coombs said that Bradley Roby, Armani Reeves and Doran Grant will all share first-team reps this week in practice. The idea is to get all three of them game-ready.
When asked about Armani Reeves' performance Saturday, Coombs said he thought it was "average" but liked the effort. Coombs was glad Buffalo never completed a deep ball.
A key stat from Saturday: Zero punt return yards. Coombs thinks freshman punter Cameron Johnston's distance can improve, but no returns makes Coombs (and Meyer) happy.
Coombs said Meyer has taught him to become "totally immersed" in the lives of recruits, knowing everyone in the family, school, etc.
When it was his turn to speak about Dontre Wilson, Coombs replied, "I'll be honest with you. I don't think he lacks a lot of confidence in himself."
Coombs mentioned Roby was scouting San Diego State last week, watching film while his teammates prepared for Buffalo.
Asked about Devan Bogard, who missed the second half of the 2012 season with a knee injury, Coombs said, "I think he's back to 100 percent." 
---
Here's video of Meyer's opening statement and Q&A session, courtesy of Ohio State.