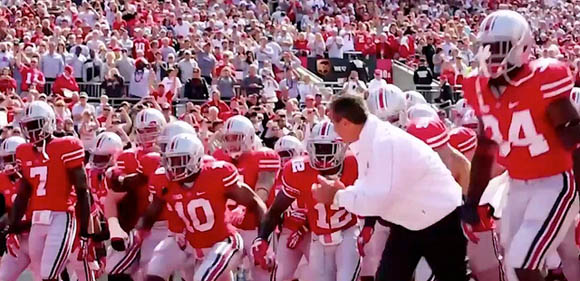 College football's season openers differ drastically from other sports. When the Major League Baseball season begins and the NFL kicks off, every team has hopes of winning a championship. It isn't like that in college football. Teams across the country might have expectations for a winning season, but not everyone is thinking national title.
Case in point: Buffalo, Ohio State's opponent on Saturday. The Bulls have struggled since Turner Gill left after leading the program to a MAC title five years ago. Jeff Quinn has them on the upswing, but all goals stop at winning the MAC East. Saturday's game will have no bearing on that.
For Buffalo, it's collect a hefty paycheck, don't have any injuries and don't embarrass yourself.
"It's almost like it's a sense of urgency," said senior wide receiver Alex Neutz. "It's a sense that this is a bowl game or bust kind of season. The only way to cap off my career is a MAC Championship and a bowl game. I think we've all set this in and it's the only thing that's going to satisfy us."
The scenario in Columbus is far different. A trip to even the Rose Bowl – for the Rose Bowl Game, not the national title – would be viewed as a letdown. Everything is on the Buckeyes' side to make a national championship run.
Step 1 is Buffalo.
Opponent Breakdown
The outlook for Buffalo begins on defense, where it not only has the services of a possible first-round draft pick in linebacker Khalil Mack, but also 10 players who have started. Still, Mack is where the opposing game preparation begins.
He was a tour de force for the Bulls last season, finishing with 94 tackles, including 21 for loss and eight sacks. He's never failed to have at least 14 tackles for loss in a season and is credited with 11 forced fumbles. He's a one-man wrecking crew much like Purdue's Ryan Kerrigan, who almost singlehandedly beat Ohio State in 2009.
"They have one of the best linebackers [in the country]," said Meyer, referencing Mack. "He's No. 2 on the board as far as the NFL Draft. No. 46, tremendous player."
Mack was lightly recruited because he only played one year of high school football, so he accepted his lone scholarship offer. Now he's a Butkus Award candidate and a lesson for coaches that taking a chance can pay off in a big way.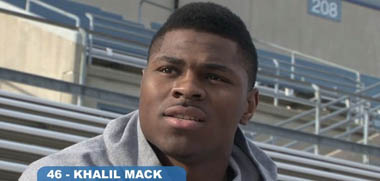 "The attention he gets is great for the program," Quinn said. "Allow your play on the field to speak to the scouts. He's a great teammate, the kind of guy who makes others better."
The linebackers playing alongside him – Lee Skinner and Blake Bean – have no choice but to improve. The focus on Mack means they need to be sharp.

Buffalo defensive coordinator Lou Tepper is a familiar name and face to Ohio State fans. He spent nine years at Illinois, including six as head coach. Tepper's last trip to Ohio Stadium resulted in Eddie George's career day of 314 rushing yards.
The Bulls use a unique 3-3 base defense, one of just three FBS schools that use the formation. In Tepper's first season last year, it wasn't until the midpoint that the defense started feeling comfortable with the schemes. They would end the year with the MAC's second-best defense overall and against the pass.
"Not that our scheme's better than anybody else's, I don't mean that, but it's a little like getting ready for the wishbone," Tepper said. "If you've got five days to do it, we gain an advantage."
Ohio State quarterback Braxton Miller said Wednesday that he wants to throw the ball as much as possible Saturday. That could prove difficult due to Najja Johnson and Cortney Lester in the defensive backfield. The duo makes up the top tandem in the MAC. They finished 1-2 in interceptions in 2012.
Where Buffalo has a noticeable weakness is on the defensive line. Defensive end Colby Way is the only returning starter, though lineman Kristjan Sokoli has reportedly been a surprise player during fall camp.
The Bulls return every skill position starter on offense and quarterbacks Joe Licata and Alex Zordich. Neutz had 1,000 yards receiving last year and running back Branden Oliver rushed for more than 800 yards, despite missing five games. Oliver averaged 5.5 yards per carry, while backup Devin Campbell was no slouch, rattling off 4.4 yards per carry. He's a versatile weapon as a pass-catching threat. 
Licata will be the starter at quarterback after taking over for Zordich near the end of 2012. Quinn was much happier with how Licata controlled the offense. The evidence was in his record as a starter, 3-1. Don't be shocked if Buffalo flashes the pistol formation.
On special teams, the Bulls have a pair of Central Ohio cousins in Tyler Grassman and long snapper Corbin Grassman. They'll have some pressure on them this season as the Bulls finished near the bottom of the country in net-punting in 2012. But the main concern there is the coverage unit.
"That team last year saw a way to win some key games, but this year's team needs to learn how to win a championship," Quinn said. "And that's the mind-set of those players in there."
Buckeye Breakdown
Offense, offense, offense. That's the name of the game these days. It's no different in Columbus. But Urban Meyer is eyeing improved play from the Ohio State defense as a main factor in the team's success in 2013.
It used to be a given that the Buckeyes would roll out 11 starters, some new, and the unit would continue to put up gaudy statistics, placing them among the best in the country. The last two years have resulted in a far different picture. In last year's undefeated season, Ohio State surrendered 23 points and 359 yards a game.
"One thing about the Ohio State defense, for a decade there, it was about as good a defense as there was in America," Meyer said. "For the last two years, it hasn't been that way. So I'm anxious to get it back there to the Ohio State level."
In November, the Silver Bullets ranked as the second-best unit in the country. The hope is the foundation has been laid and improving upon that will follow. There are seven starters missing from that group, though, including a handful of leaders that carried the team through adversity.
Youth and inexperience dot the depth chart, but the coaches remain confident in the finished product. The defensive line has become a strength with Adolphus Washington and Noah Spence reeking havoc on the ends. Linebacker Ryan Shazier is one of the top defenders in all of college football, although the guys beside him are shall we say green. The secondary, along with the offensive line, is the most veteran group on the team.
Even with John Simon, Zach Boren, Etienne Sabino and Johnathan Hankins cashing NFL paychecks – some larger than others – the defense is pegged to be improved.
"I'm very comfortable with who they are as people and the way they practice," Meyer said. "However, there is nothing to gauge it upon other than practice."
That's why the jury is still deliberating.
One crack in the armor came in practice this week, with backup defensive lineman Tommy Schutt going down with a broken foot. It caused moments of panic for Meyer and the defensive staff. That is until Chase Farris came to save the day, performing at such a high level in one practice that it settled nerves and reestablished depth on the D-line.
"The game is won up front, whether it's offensive line or defensive line," said defensive coordinator Luke Fickell. "We've got eight or so guys who can roll in there and we've got some young guys with incredible talent. We're going to put some heat on those guys as well. I can assure you this – these guys are going to rely on each other and have faith in each other."
With doubts about the linebackers, the quality of defensive line play could ease the pressure. On Monday, Meyer said it's the one area Ohio State is trying to solidify.
"We want to be an aggressive defense," he said. "So we're playing some more man coverage than we did a year ago because I think we have the personnel to do that - just more aggressive."
The dime formation will mean one less linebacker on the field – Curtis Grant in favor of Josh Perry. It puts the onus on sophomore Armani Reeves, who will be starting his first career game in place of the suspended Bradley Roby. With five and six defensive backs on the field – the brainchild of Everett Withers – the objective is to overtake opponents with athleticism, speed and ferociousness.
"I think we're going to be a faster defense and hopefully more aggressive," Meyer said. "Last year we started the season as a bend-but-don't-break defense, where it seemed we were always on our heels. That's not the kind of defense that anyone wants."
How it Plays Out
Bucknotes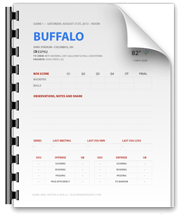 Bucknotes are your guide to Saturday's action. Download, print and become the smartest Ohio State fan in the room.
The theme of the game will be Ohio State's offense. Braxton Miller will be running and throwing with successful results. The running backs will get their share of yards, as well. Buffalo's defense should be stingy in the MAC, but not against one of the top teams in the country.
You can bet with Urban Meyer firing a warning that slow starts aren't acceptable this season that the team will heed that message.
Miller will draw attention from fans – everyone wants to see the improvement with their own eyes. But Dontre Wilson and the defensive line will steal the show. Much like Maurice Clarett did in 2002, Wilson has the potential to set the tone in his first career game.
It's not entirely unrealistic for Wilson to get 10 touches. That means 100 total yards is within the realm of possibility. If he nears or eclipses the century mark, expect the hype to reverberate with a mighty cheer.
Adolphus Washington, Noah Spence and the rest of the rebuilt D-line also have the ability to send notice to the rest of the country that the Silver Bullets are back.
---
ELEVEN WARRIORS STAFF PREDICTION: Ohio State 56, Buffalo 10