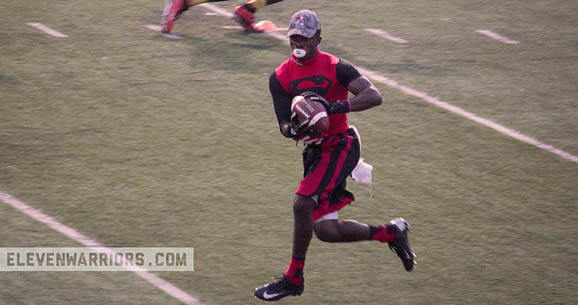 Ohio's top junior, Eric Glover-Williams, has committed to Ohio State today, per a number of viable sources. This is the Buckeyes first commitment in the 2015 class. 
The eric glover-williams File
Size: 5-11/165
Position: ATH
Class: 2015
School: Canton McKinley (Canton, Ohio)
Composite Rating: 4-star
247Sports Rank: 4-star
Scout Rank: 4-star
ESPN Rank: 4-star
Rivals Rank: NR
Glover-Williams has long been considered an Ohio State lean since being offered by the Buckeyes. Ohio State beats out Arkansas, Cincinnati, Illinois, Kentucky, Michigan State, Nebraska, Pittsburgh, Tennessee and West Virginia for his commitment. 
At Ohio State's Friday Night Lights in July, Glover-Williams stood out with his play – and his Superman shirt – at wide receiver and cornerback. Of note were several battles he engaged in with fellow future Buck and class of 2014 cornerback Damon Webb of Detroit's Cass Tech. Following the event, the Canton McKinley product told Eleven Warriors that Urban Meyer said he wants him to be the face of the 2015 recruiting class. 
Although he played quarterback last season (as seen below), he is expected to be a wide receiver/hybrid at the college level. 
Birm's Take
The commitment of Glover-Williams means that the Buckeyes won't be waiting long into the summer or the fall to nab their main offensive target in 2015, as they had to in 2013 and 2014 with Dontre Wilson and Curtis Samuel, respectively. Glover-Williams is electric with the ball in his hands and provides a legitimate homerun threat each and every time he touches the ball, whether in the backfield or lined up the slot or even out wide. While he's physically "smaller" than you might like in the Big Ten, Glover-Williams is physical off the line and has an excellent ability to find the ball at its high-point as a receiver. 
An enormous talent with an enormous amount of confidence, Glover-Williams excels in many of the game's non-physical areas. He's got intangibles that can't be taught and and exudes confidence in everything he does, and there's no doubt that he may rub some people the wrong way because of his confidence, which could be perceived as arrogance.  
The bottom line with Eric Glover-Williams is that if he wanted to play cornerback, he's got All-American potential at cornerback, if he wants to play wide receiver, he could be an All-American at wide receiver. With two full years of high school football ahead of him, Glover-Williams will get plenty of time to refine his skills at wide receiver, making sure that he's polished entering Ohio State in the summer of 2015.