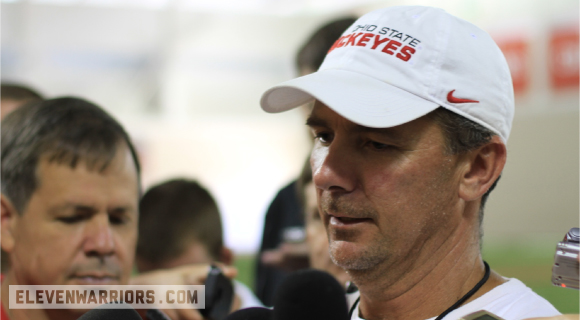 There have been murmurs of suspensions for Rod Smith throughout the week. On Saturday, head coach Urban Meyer put an end to the speculation, announcing that Smith will be suspended for the season opener versus Buffalo.
Meyer did not elaborate on the incident, only saying it dates back to February. Smith was in line to be the starting running back in Carlos Hyde's absence, according to Meyer. But now he'll fall down in the pecking order.
"If it wasn't for a mistake in February then he'd be maybe the starter, because we want Jordan to play both spots," Meyer said. "It's his last call. It's the 11th hour for Rod Smith. He needs to perform."
There has also been a dose of closure on the month-long case involving Bradley Roby. Meyer said the cornerback will be suspended at least one game after Roby was arrested at a Bloomington, Ind., bar. The charges were reduced on Friday, and Meyer hinted that the reduction lessened Roby's suspension, though he left open the possibility that there could be further punishment.
"He'd be suspended for more than one if it didn't show that," said Meyer, referencing a video that indicates Roby was shoved. "He was there, and he shouldn't have be there. Will he play in the first game? No."
Many pundits across the country have criticized Meyer for his leniency when it comes to punishing players. This summer, however, has resulted in Meyer ignoring what the court of law says and doing the right thing instead.
There are only two ways players will learn, he said. You take money or playing time from them, hence the yanking of scholarships and team suspensions.
Blake Thomas' career is over because of a neck injury. J.T. Moore will move to tight end.
The newest "official" members of the Buckeyes are defensive lineman Michael Hill and newly minted offensive lineman Billy Price. Both have shed their black stripes.
The team held a scrimmage Saturday morning. After the scrimmage, which concluded nine practices in six days, Meyer said Ohio State is not ready to play a game.
Linebackers are the biggest priority. Meyer said there's a lot of improving that needs to be done.
Ryan Shazier said the unit is thinking on the field instead of playing. Players are stressed about doing everything right. It has the opposite effect, though, and they begin overthinking every action.
The Buckeyes ran 50 plays in the scrimmage, with Devin Smith being the MVP. Meyer said the big-play wide receiver had his best all-around performance.
Shazier elaborated, saying the offense is definitely better than the defense at this point. He also noted that the offensive skill players are noticeably better compared to last season.
Joe Burger, not Josh Perry, started alongside Shazier in the scrimmage.
When Perry was asked about the linebackers, he said the whole units has a ways to go. Depth is the biggest concern.
Shazier added five pounds of muscle to his frame during the offseason.
Another player who's been impressive during came: offensive lineman Marcus Hall. Of the returnees along the line, Meyer felt he was the low man. That isn't the case any more. Meyer said he's "accelerated" his improvement.
Before his injuries last season, Jordan Hall was the player mentioned most by Meyer. He continuously talked about how great a playmaker he was. Well, that hype is retuning. Meyer said Hall will be "very valuable" this season.
Meyer has raved about Braxton Miller's leadership qualities in recent weeks. Today, though, he said the QB still has to make strides in that area.
Taylor Decker is the no-doubt-about-it starter at right tackle. Meyer is very pleased with where he's at now compared to the spring (obviously). Andrew Norwell and Corey Linsley still aren't up to speed. It's not all bad, though, because the Buckeyes have been able to add some depth, mainly Pat Elflein and Jacoby Boren.
Meyer raved about Noah Spence. He said the dynamic defensive end is a high character guy, everything you want in a player. "I love Noah Spence," Meyer said.
Spence said he's working on becoming a leader since the D-line is so young and inexperienced.
Get this: Spence weighed 227 pounds last season. He's up to 255 now, which is where he will stay.
Spence said he wants to cut down on mental mistakes last season. He made some last year, but who doesn't as a freshman?
Adolphus Washington is the roommate and best friend of Spence. The two are always competing against each other for tackles and sacks, and the trash talk continues in their living room.
Two young guys that have caught Spence's eye are Jamal Marcus and Tyquan Lewis.
The team is not worried about rankings, according to Michael Bennett. They are taking it one game at a time. Bennett said preseason rankings are irrelevant. Game 14 is all that matters.
Spence said Ohio State will have a target on its back every week. You can't get caught up in how good people say you are. They may have gone undefeated last season, but Spence said they didn't accomplish their goal: winning a national championship.
Perry said there's a greater sense of urgency this season.
In the scrimmage, Bennett said the quarterbacks and wide receivers were really on point.
The defensive line should be a strength on D this season. At the moment, however, Bennett said guys need to start trusting each other. They can all do the tasks and the chemistry is there to be a great unit.