There are still a few months before college basketball's early signing period for 2014 recruits, but everyone is already starting to wonder when Thad Matta will land the big man this class needs.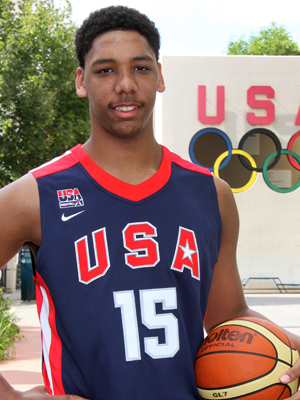 With four commitments already in the fold, Matta has been searching to find a big man to take up the Buckeyes' last remaining, open scholarship.
There is still time remaining, but the highly rated center targets appear to be leaning towards other schools. The struggle to land an elite big man is confusing after sending Greg Oden, Kosta Koufos, Byron Mullens and Jared Sullinger to the NBA. 
While getting a highly regarded big man would be nice, is it crucial for Matta to land a center? In 2014, Amir Williams and Trey McDonald will be returning for their senior seasons, but there's no depth outside of those two. If the Buckeyes fail to land a center in 2014, landing two in 2015 would be necessary. 
LaQuinton Ross could declare for the NBA after this season, leaving the Buckeyes with two open scholarships. It is possible they could decide to bank the scholarships for the 2015 class, but it appears the staff is pressing to add at least one more prospect for 2014 (check out our basketball scholarship breakdown for more on the potential open roster spots). 
Here is a rundown of the big men targeted by Ohio State for their 2014 class:
Jahlil Okafor // Center // Whitney Young High School (Chicago, Il)
The 6-foot-10, 270-pound center is considered one of the top prospects in the nation. Okafor and fellow top recruit Tyus Jones remain adamant about being a package deal in college. Since Okafor will most likely attend the same school as Jones, you can almost certainly rule out Ohio State. 
Okafor recently announced his five official visits and Ohio State was surprisingly missing from the list. However, he does plan on making an unofficial visit to Columbus this fall. 
Failing to land an official visit is a blow to OSU's chances. They were already fighting an uphill battle because of the Jones package deal. If the Buckeyes want to have any chance at landing Okafor, they must be able to convince him to give up the package deal. Duke appears to be the safe bet on where Okafor and  Jones will end up. 
Myles Turner // Center // Trinity High School (Euless, TX)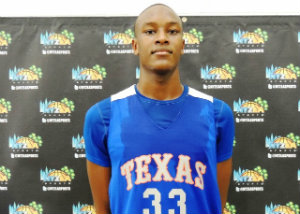 Myles Turner's stock has skyrocketed after an excellent AAU season. The 6-foot-10, 223-pound Turner saw his ranking jump into the top ten. 
Ohio State made Turner's final eight schools, but it appears they have a lot of ground to make up after joining his recruitment late. ESPN's Jeff Goodman puts Ohio State last on Turner's list.
Playing with commit D'Angelo Russell is an attractive option for the big man. Ohio State is expected to get an official visit from Turner in September. The staff must absolutely blow him away if they want to pry him away from Kansas and others. 
Elbert Robinson // Center // Lakeview Centennial High School (Garland, TX)
The recruit that Ohio State might have the best chance at landing is Elbert Robinson, but even that chance might not be great. The massive center (7'0/322) is yet another highly rated prospect the Buckeyes are after. 
Ohio State has already made his top/final three along with Georgetown and Louisville. It appears Louisville is currently focusing their attention on other prospects, but Robinson has repeatedly mentioned he would like to visit. Georgetown appears to be the favorite, but Robinson has yet to visit Columbus. If Ohio State gets a visit from the massive center, the Buckeyes could be a factor in his recruitment. 
Goodluck Okonoboh // Center // Wilbraham & Monson Academy (Boston, MA)
Goodluck Okonoboh (6'9/213) is probably the best shot blocker and defender in this class. The 6-foot-9-inch, 213 pounder might lack the ideal size for a center, but he compares well to Nerlens Noel. Ohio State offered pretty late, which probably makes them a long shot to eventually land his commitment. 
Indiana seems like the early favorite to land him, but Kentucky could be a threat if they miss out on Turner, Okafor and others. Ohio State doesn't appear to be much of a threat and it is possible that the Buckeyes won't make his next cut or get an official visit from the defensive-minded center. 
Payton Dastrup // Center // Mountain View High School (Mesa, AZ)
Dastrup is a unique prospect with a unique situation. Since he is a practicing Mormon, he plans to take a two year mission trip before he attends college – as his father recently told Eleven Warriors.
Therefore, Dastrup might actually be considered a member of the class of 2016. The 6-foot-9, 220-pound big man could be better suited for power forward, but he could play center if needed. 
Ohio State joined his offer list pretty late, but still managed to sneak into his final seven with BYU, Florida, Kansas, Virginia, Arizona and UCLA. With his Mormon ties, BYU is considered one of his favorites along with hometown Arizona. 
---
It's not clear which big man Ohio State will land, if any. Failing to sign a highly-rated big man would be a disappointing finish to a great class. There are still a few months until the early signing period opens, so the staff has time to make up ground for these recruits or potentially land a prospect not mentioned here. It is a situation that will be closely monitored going forward.