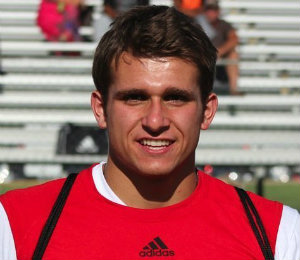 It was another slow recruiting week for the Big Ten, but there were still a few storylines.
The "gentleman's agreement" is definitely not in existence – especially after Brady Hoke flipped a recruit from Penn State. Meanwhile, Iowa loses their top commitment to Alabama, leaving many wondering why Kirk Ferentz still has a job. Finally, Rutgers surprised many by pulling four-star wide receiver Saeed Blacknall, who also had offers from Alabama and LSU. 
As a result, we have a shift in the middle of our rankings, with Iowa falling two spots with their recent decommitment. The Hawkeyes' fall allows Nebraska and Illinois to each jump one spot in the rankings
Despite Michigan's recent commitment, Ohio State still holds the top spot in our rankings. It doesn't appear any other school will be able to challenge the Buckeyes or Wolverines for the top two positions. The "Big Two, Little Twelve" is still holding form. 
Now, on to the rankings: 
14. Maryland
Maryland has not received a commitment since June 25, but that is expected to change before the season begins. Four-star defensive end Jesse Aniebonam is expected to commit to the Terrapins, Aug. 23. Aniebonam checks in at 102 in 247Sports' rankings and holds offers from Alabama, Clemson, Florida, Florida State, Ohio State, South Carolina, Virginia Tech, among others. 
While Maryland checks is last in our rankings, expect the Terrapins to trend upwards. They have the potential to finish in the top third of our rankings if they can land five-star corner Jalen Tabor and five-star lineman Damian Prince. Tabor is leaning their way on the crystal ball, while Prince's recruitment could turn out to be an Ohio State-Maryland battle. 
13. Indiana
It has been about three weeks since Indiana last picked up a commitment, and that didn't change this week. The Hoosiers' class is heavy up front, as six of their top seven commitments are lineman. 
How Indiana's class will finish is not clear, however. It looks like IU will find themselves near the bottom of the rankings going forward. 
12. Minnesota
Minnesota's class of six commitments remains steady in our rankings. The Gophers plan to have a small class in 2014, so the low number of commitments shouldn't be shocking. 
Most of the Gophers remaining targets are three-star guys. Considering the size of this class, look for Minnesota to remain near the bottom of our rankings. 
11. Purdue
It hasn't been too long since the Boilermakers secured a commitment from four-star safety Drue Tranquill. Shortly after his commitment, Notre Dame offered, leaving Tranquill considering his options. It appears he will eventually flip his commitment to Notre Dame. That loss would bump Purdue down a couple of spots in our rankings. 
Darrell Hazell has not landed a single commitment from Ohio in this class. Many expected him to help Purdue recruit in Ohio, but Kentucky, Louisville and others have out-recruited the Boilermakers.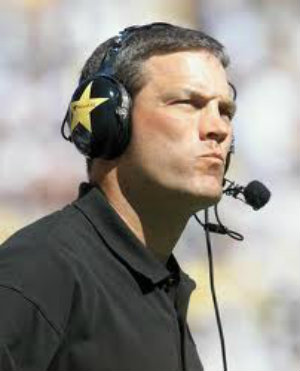 10. Iowa
Iowa drops two spots in the rankings after losing their top commitment – offensive lineman Ross Pierschbacher – to Alabama. It is concerning to see Iowa lose a long-time, in-state commitment to the SEC. While no one can argue that Alabama is a better football school than Iowa, it speaks volumes that an in-state commitment quickly jumped ship. 
For the $20 million Kirk Ferentz is owed, you'd expect better results in recruiting than this. 
9. Illinois
Illinois moves up a spot this week, despite not picking up a commitment. Unlike Indiana, Illinois' class is made up of mostly skill players, including four wide receivers, two running backs and a quarterback. 
With another rough season, Tim Beckman could be looking for a new job after only two seasons in Champaign. 
8. Nebraska
Nebraska also moved up a spot after Iowa's fall. It has been over a month since the Cornhuskers' last commitment, but the wait could be close to over. Three-star defensive lineman Peyton Newell is scheduled to announce, Aug. 30, between Kansas, Kansas State, Nebraska and South Carolina. He is expected to pick Nebraska. 
Surprisingly, Nebraska is having a down recruiting year after a 10-4 season. It'll be interesting to see if the Huskers will be able to flip four-star receiver and Oklahoma commit Dallis Todd. He is expected to make an official visit to Lincoln during the season.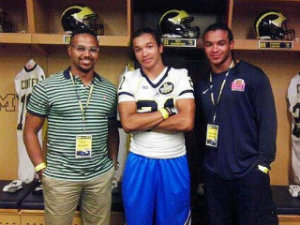 7. Wisconsin
It has been a month since the Badgers last commitment. Gary Andersen has done a solid job with his first recruiting class. It's far from complete, but it seems to resemble a typical Wisconsin recruiting class. Their classes are usually ranked in the middle of the pack, with quite a few lineman. One thing that sticks out in this class is a commitment from a highly-rated, dual-threat quarterback. Quarterback recruiting was a weakness for Wisconsin under Bret Bielema. 
Four-star offensive lineman Damien Mama listed Alabama, BYU, Florida, Notre Dame, Ohio State, UCLA, USC and Wisconsin as his top eight, Sunday night. Mama previously stated that he plans to visit Wisconsin with five-star Joe Mixon. Getting both of these highly-rated prospects on campus would be huge for the Badgers. 
6. Northwestern
Like most Big Ten teams, Northwestern has waited over a month for a commitment. The wait will continue for another week. 
Four-star corner back Parrker Westphal could be a name to watch for Wildcat fans. Many considered Westphal a Michigan lock. However, it looks like Michigan might run out of room in their class. Northwestern could be the beneficiary in this situation, but would have to fight off Vanderbilt, Michigan State and others for his commitment. Two recent crystal ball predictions have him going to Northwestern.  
5. Michigan State
Curtis Blackwell's hiring as recruiting coordinator has already paid off for the Spartans. Michigan State landed a commitment from 2015 quarterback Jayru Campbell, of Cass Tech. They also thought they landed a commitment from 2015 lineman Kyonta Stallworth, but there appears to be some confusion whether or not he actually committed. Some sites still list him as a commitment, despite him claiming he did not commit. 
Expect the Spartans to have a strong finish to their 2014 class and finish in the top four or five in our rankings. 
4. Penn State
Penn State just barely holds onto the fourth spot after losing a commitment from three-star linebacker Jared Wangler. The Michigan legacy recruit recently accepted Michigan's scholarship offer. The Nittany Lions now have 12 commitments, leaving three open scholarships for Bill O'Brien. 
Defensive tackle Thomas Holley, tight end Mike Gesicki and athlete Dravon Henry are a few of the highly-rated prospects that Penn State is going after to fill out their class.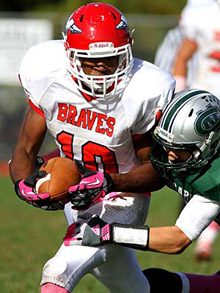 3. Rutgers
Rutgers had a successful week by pulling four-star receiver Saeed Blacknall away from Alabama and LSU. Blacknall gives them 21 commitments. 
The Scarlet Knights could be in store for a strong finish, with three-star running back Jonathan Hilliman and four-star receiver Noah Brown starting to trend toward Rutgers. Five-star athlete Curtis Samuel recently visited Rutgers, but Ohio State remains the team to beat. 
2. Michigan
Michigan remains second in our rankings after flipping linebacker Jared Wangler from Penn State. The three-star legacy recruit committed to Michigan a week after being offered. 
Scholarship numbers are getting tight in Ann Arbor. Michigan has 16 commitments and many are expecting the Wolverines to take about 19 signees. Two spots are reserved for five-star defensive linemen Da'Shawn Hand and Malik McDowell. Four-star safety Montae Nicholson is another name to keep an eye on, as many believe the Wolverines lead. Parrker Westphal could find himself on the outside looking in, as numbers get tight. 
1. Ohio State
Ohio State holds onto the top spot for another week. Buckeye fans are patiently waiting for a commitment from five-star athlete Curtis Samuel. His commitment could come at any time, with the Buckeyes as the favorite. 
Like Michigan, Ohio State has 16 commitments. However, the Buckeyes are expected to take 22 or 23 commitments. If everything plays out as expected, Ohio State should be able to hold onto the number one spot in our Big Ten football recruiting rankings. 
---
Rankings Overview
| No. | School | Commits | Scout ★ AVG | Rivals ★ AVG | 247 ★ AVG | ESPN ★ AVG | Overall ★ Avg |
| --- | --- | --- | --- | --- | --- | --- | --- |
| 1 | Ohio State | 16 | 3.69 | 3.38 | 3.81 | 3.69 | 3.64 |
| 2 | Michigan | 16 | 3.50 | 3.40 | 3.44 | 3.86 | 3.55 |
| 3 | Rutgers | 21 | 2.95 | 2.86 | 2.95 | 3.14 | 2.98 |
| 4 | Penn State | 13 | 3.33 | 3.33 | 3.33 | 3.42 | 3.35 |
| 5 | Michigan State | 14 | 3.14 | 3.07 | 3.43 | 3.31 | 3.24 |
| 6 | Northwestern | 13 | 3.00 | 3.08 | 3.31 | 3.31 | 3.18 |
| 7 | Wisconsin | 11 | 3.27 | 3.09 | 3.09 | 3.27 | 3.18 |
| 8 | Nebraska  | 11 | 2.64 | 2.82 | 3.00 | 3.30 | 2.94 |
| 9 | Illinois | 12 | 2.54 | 2.75 | 2.67 | 3.00 | 2.74 |
| 10 | Iowa | 11 | 2.73 | 2.73 | 2.82 | 3.11 | 2.85 |
| 11 | Purdue | 8 | 3.00 | 2.71 | 2.88 | 3.00 | 2.90 |
| 12 | Minnesota | 6 | 3.33 | 3.00 | 3.17 | 2.80 | 3.08 |
| 13 | Indiana | 10 | 2.80 | 2.60 | 2.60 | 3.00 | 2.75 |
| 14 | Maryland | 8 | 2.50 | 2.63 | 2.75 | 3.33 | 2.80 |