Thad Matta has done well locking down the state of Ohio in recruiting. While some have got away, like Columbus native and All-American for Michigan, Trey Burke, there is not much to debate regarding Matta's ability to land Ohio's top prospects.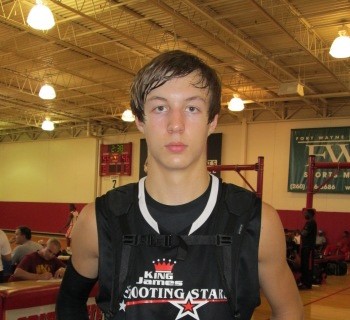 Ohio State does not necessarily rely on Ohio for their talent. The basketball talent in Ohio has been up and down, sometimes producing no Ohio State caliber prospects. Aaron Craft, Alex Rogers (former walk-on) and Marc Loving will be the only three scholarship players from the Buckeye State for the upcoming 2013-2014 season. 
When Ohio has produced elite talent, Thad Matta has been successful landing it. Jared Sullinger, Byron Mullens, Kosta Koufos, Marc Loving, Jae'Sean Tate and Aaron Craft are just a few of the in-state prospects Thad has landed during his time here at Ohio State. With some of the nation's elite talent hailing from Ohio in the upcoming classes, in-state recruiting will be more important than ever.  
Here are four of the nation's elite underclassmen who play ball in Ohio: 
Luke Kennard - 2015 // Guard // Franklin (Ohio)
Luke Kennard is a household name in basketball recruiting circles, but should college football recruiting experts take notice as well? The multi-sport athlete stars on the gridiron in the fall and the basketball court the rest of the year. Louisville has offered Kennard the opportunity to play quarterback, while Ohio State, Kentucky, North Carolina, Michigan, Indiana, Notre Dame, Louisville and others have offered a full basketball scholarship. The 6-foot-5 guard/quarterback has the ideal size for both positions in college. No decision has been made on which route he will take in college, and he could possibly play both sports at the college level. 
Ohio State has ground to make up for Kennard. Losing out on one of the top in-state prospects would be a blow for the Buckeyes. It's not every day that a five-star basketball prospect hails from Ohio, making it even more important to land Kennard. As one of the nation's top shooters, Kennard would be able to step in and compete for a starting spot right away, despite some concerns whether or not he has elite athleticism. If he decides to go the basketball route, Kentucky looks like the team to beat for his services. An offer from Urban Meyer would make things interesting, but there hasn't been too much buzz on that front. 
Carlton Bragg - 2015 // Forward // Villa Angela St Joseph (OHIO)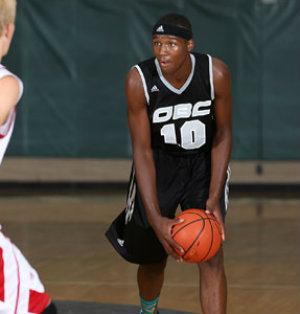 Carlton Bragg is undoubtedly one of the top prospects in the 2015 class. The five-star power forward has the ability to step out and shoot the three and the ability to finish in the post. The 6-foot-8, 180-pound forward is an ultra-athletic, versatile athlete. He doesn't have the weight for the four position yet, but he still has plenty of time to hit the weights before he heads to college. 
Bragg has drawn rave reviews this summer and his stock has skyrocketed. Ohio State, Indiana, Michigan State and Illinois are some of the schools that have offered early on, while Duke and Kentucky have been closely monitoring Bragg this summer. Ohio State lost Bragg's main recruiter when Chris Jent returned to the NBA, but the Buckeyes remain in the mix for the top ten overall prospect. Kentucky will be a threat if they decide to offer, which it appears is very possible. 
The Buckeyes have room to take at least four or five recruits in the 2015 class with Bragg and Kennard heading their list. Losing both prospects to Kentucky would really ramp up the pressure on Matta to land top prospects from other states. Ohio State has recruited well out-of-state, however, that was mostly due to the lack of in-state talent. If the Buckeyes want to be considered amongst the nation's elite basketball schools, we must be able to keep our elite talent in-state. 
V.J. King - 2016 // Forward // St. Vincent St. Mary's (OHIO) 
King is not focusing on recruiting since he hasn't even started his sophomore year yet. Ohio State was one of the first schools to contact the five-star prospect. Dante Booker Jr. and Parris Campbell have been in his ear about the Buckeyes, I'm sure. Expect the Buckeyes to be major players in his recruitment.Yet another five-star from Ohio, V.J. King could have the most potential of them all. The rising sophomore already holds offers from Ohio State, Michigan, Illinois, N.C. State, Georgetown, West Virginia, Wisconsin, and others. 
On the hardwood, King is smooth, a good shooter and lets the game come to him. He needs to continue to work on staying focused and being engaged for the entire game. As a freshman, he tended to disappear during stretches which is typical for a young prospect and not something anyone should be too concerned with.
The sky is the limit for King. It will be interesting to see if he can reach his potential. 
Willie Jackson - 2016 // Forward // Garfield Heights (OHIO)
Willie Jackson might be a name that Buckeye fans aren't too familiar with yet, but that should change going forward. Jackson plays on the same high school team as Ohio State 2014 commitment Dave Bell, so it is safe to assume the staff is well aware of him. Illinois, Iowa and Wisconsin are schools that were impressed enough to extend an early offer. Michigan State and Ohio State are two schools that have been in contact.  
The Cleveland product is not as highly rated as the other three names that were discussed, but there is no doubt in my mind that he is Ohio State caliber. There is a chance that he will not earn an offer, but I feel that he has the tools to be a David Lighty type of player for the Buckeyes. 
Willie Jackson is a plus defender with the ability to slash to the hoop. His jump shot needs to improve, but he has plenty of time to work on it. His film shows a lot of him working well in the paint, so there is a possibility that he could grow into the four position. 
These prospects are only going to be sophomores or juniors, but Thad Matta is already going toe to toe with some of the top coaches in the nation for their commitments.