The 11W Community Interview is truly of the people, by the people, and for the people. You submit the questions, vote on them, and then we pass the top ones on to the biggest names in the world of Ohio State athletics.
When Jalyn Holmes chose to commit to Ohio State in mid June most had predicted that the Norfolk (Va.) Lake Taylor High School star defensive end was destined for Florida State. Something happened on Holmes' way to Tallahassee however — he visited and fell in love with Ohio State — and has since taken an active role for the Buckeyes as they try to finish out their 2014 class in style. Holmes has been aggressively recruiting some of the biggest names that Ohio State is still pursuing, and the nation's third-ranked defensive end is looking forward to his days in Columbus.
Jalyn Holmes is the focus of this week's 11W Community Interview, so take a moment to get to know this future Buckeye.
Jalyn, was Ohio State your favorite before your visit or was seeing the campus and the facilities a difference maker for you? If so what really stood out to you about that visit?  - RaiderRed
JH: Ohio State was in my top three before I visited, so I loved a lot about it before I was even there. I hadn't planned on committing until the All-American game, but the coaches there at Ohio State — really just the entire thing that Ohio State had to offer after football — made me fall in love with it. It felt like home there, I didn't want to leave and I had only been there two days.
Ohio State has had some great athletes at the defensive end position over the years, one being Mike Vrabel. How did Coach Vrabel's involvement in your recruitment impact your decision to become a Buckeye? - Hovenaut
JH: Recruiting is a real dirty business, honestly. So many coaches tell you what you want to hear all the time and coach Vrabel and Coach Zach Smith both kept it honest with me all the time. They are men I would like to play for because they are great people, and that's really how they impacted things. It's not just about football.
What are you looking forward to most about being a Buckeye? - Killer Nuts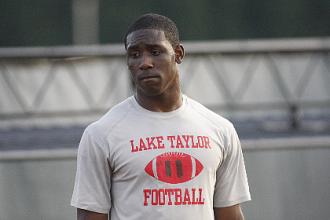 JH: The chance to compete in front of Ohio State fans, honestly. They are the best fans in any sport and being able to be there for them is what I am looking forward to the most.
Have you been able to get to know some of your fellow 2014 Buckeyes recruits and if you have, who have you been in touch with the most? - Sin City Buckeye
JH: Our class talks every day in some way, generally through a group message. They are all great guys, we have a great class. We are all on the same page and we know what our goals are, that's how we recruit other players too. We want great people in our class. We all support each other and we all care and that's going to bring in other great players.
How upset were you about your commitment being leaked before you wanted to announce? - Route4Buckeye
JH: When it first happened I was a bit disappointed, it was supposed to stay between the coaching staff and myself until I got home and talked to my teammates. My teammates and coaches mean everything to me so it upset me a bit, but once I saw how the Buckeye fans reacted it made things a bit easier. My mom was much more upset than I was. I wouldn't say we were cool with it, but it happened and that's how it goes.
Being a smaller DL class this year, have the coaches told you specifics on where they want you to play or plans for you? And have they given you any areas to improve or techniques to work on during your senior year?  - 2002OSUBuck
JH: I'm not a complete player yet, I can get better in a lot of areas. I need to use my hands better and improve in all sorts of ways. They see me as at the "viper" position, which is another reason I chose Ohio State. The way they want to use me in their defense is something I am comfortable with.
What is the best and worst thing you see in your upcoming move from high school to college? - GoBucks96
JH: The best thing is the chance to meet new people, and not just through football. I am looking forward to being on my own for the first time ever, too. I am honestly looking forward to scoring a touchdown and jumping into the crowd (laughs), I'm going to do that if I score. I love Buckeye Nation. The worst thing? I'm not looking forward to the cold weather, but I'll deal with that.
What are your goals for when you step on campus, both personally and team wise? - KAREEMABDULJACOBB
JH: My goal is to just make sure that I earn the respect of the upperclassmen at Ohio State, to show people that I am a good dude and someone that will be a great teammate. I have no goals about personal stats because I don't care about that, I only care about wins. We want to win the national championship.
Oreos or baked cookies? - BassDropper 
We all support each other and we all care and that's going to bring in other great players.
JH: (Laughs) I chose the baked cookies. I am addicted to Oreos, so I wanted to explore my options. People thought I was talking about football.
I just want to let you all know how much I love Ohio State, the fans, the opportunities on the field and after football. I really believe that the fans at Ohio State will have my back no matter what. It's awesome to see the value of the program at Ohio State, you can notice it just by how many old players still hang around. It's a special place. Thank you all and I look forward to being a Buckeye.
Follow us on Twitter @2014bucks and visit 2014bucks.com.