The 11W Community Interview is truly of the people, by the people, and for the people. You submit the questions, vote on them, and then we pass the top ones on to the biggest names in the world of Ohio State athletics.
Welcome back to Sunday night and with it, the next phase in the 11W Community Interview series, this week featuring the latest Ohio State commitment from the 2014 recruiting class, Chicago De La Salle Institute offensive lineman Jamarco Jones.
Jones committed to Ohio State on June 28th, selecting the Buckeyes ahead of rivals Michigan and Michigan State, each of which came on strong in their attempts to lure Jones in the final month of his recruitment. This past weekend, Jamarco was one of 11 Ohio State commitments that traveled to Columbus to take in Friday Night Lights at the Horseshoe. Whiles Jones did not work out at the camp, his presence — as well as his fellow Buckeye commitments — showcases their efforts to tighten their bonds as a group.
Let's talk to Jamarco Jones, 2014 Buckeye commitment.
What was your biggest factor in choosing a college that best fit you, and what was it about Ohio State that sealed the deal? - WeZBuck28
JJ: I wanted to go somewhere that will give me an opportunity to earn a great degree, compete for National Championships and a place I felt comfortable being. I felt Ohio State could give me all of these things, so choosing the Buckeyes made sense.
Which position on the line do you fashion as the your spot? - GoBucks96
JJ: Left Tackle. That's where I feel mosts comfortable and that's where the Ohio State coaches see me.
You picked Ohio State over MSU and Michigan in what seemed like a close race.  Was there one deciding factor in picking OSU, or was it the total OSU package that helped you cast your vote?  - Buckskin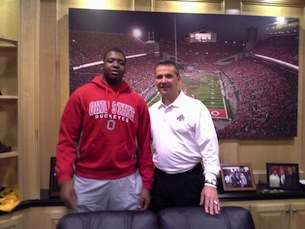 JJ: It was a very hard decision for me that took me until the day before to make my final decision. I chose Ohio State because it had the best overall opportunity for me to grow academically, athletically and also as a person.
What advice would you give any younger players who may be experiencing the recruiting scene in the next few years? - KeithMC33
JJ: I would tell them to not listen to outside sources when it comes to their decision. Pick the school and the coaching staff they feel most comfortable with.
Can you tell us about Core 6? What do the do for you? Does it cost to be a member? Other things you would like us to know about it. - ODeez330
JJ: Core 6 is a great place to train year round. It gives us the opportunity to workout and compete with the best players in the area, which is a big benefit. We are able to do multiple things, like position training or just regular workouts. 
While it's obvious players come to a program with a desire to play, what do you bring to the table that will make you a viable candidate to start, even as a true freshman? - Sox33OSU
JJ: I bring the athleticism needed nowadays at the tackle spot to go along with the size and skill. I'm going to work so hard to get better every day, and that is what I believe makes me a candidate to start.
What is Jamarco Jones like away from the football field? - MN Buckeye 
I chose Ohio State because it had the best overall opportunity for me to grow...as a person.
JJ: Away from football I'm a regular kid, I guess. I like to hangout with friends, play basketball and just have fun. 
Many feel that playing well on the offensive line is all about physical power.  How does mental strength play a roll in your game particularly in a Coach Meyer style offense.  - BuckGuyFan1
JJ: In any style as an offensive lineman you have always be mentally prepared at all times. At my school I have to make all the line calls for everyone so I read defenses and make our calls. You have to understand personal, defensive concepts and things like that which can become very hard when you're tired so it does take quite a bit of mental toughness.
Are there other OL prospects in this class you want to team up with? - Urban Nation Army
JJ: I'm trying to recruit Demetrius Knox right now. I would love for him to join our class, I think that we could be a great offensive line class.