Allow me to hack into the dreams of six college coaches, Inception style: Tyus Jones dribbles to the top of the key, while Jahlil Okafor steps up, sets a screen, and barrels down the lane to receive a pass from Jones.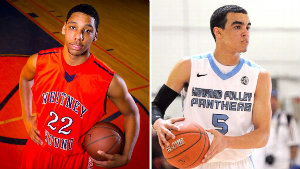 Each day, the dream becomes one step closer to reality. Pundits have popularized the phrase "package deal." Okafor and Jones embrace the term and continue to insist they'll be committing to the same school in the fall.
That pick and roll combination would make Baylor, Duke, Kansas, Kentucky, Michigan State and Ohio State instant national title favorites in 2014-15.
It's why the intrigue surrounding these two won't subside – in addition to the unprecedented nature of two highly ranked, unrelated players selecting the same school.
Although Duke is widely considered to be the favorite to land both, it doesn't mean the other four schools are completely out of the running, nor are they poor fits for the pair:
Baylor
Together, Jones and Okafor have visited one school and disclosed plans to check out another school – Baylor.
After separate, unofficial visits and in-home visits with five common schools in the spring, the pair revealed Waco, Texas would be their next stop. Also helping the Bears' cause is Houston native and five-star forward Justise Winslow, who might visit the school with Jones and Okafor.
Over the past six years, head coach Scott Drew plucked numerous recruits out of his talent-rich state of Texas – topping the University of Texas (something, something, Mack Brown recruited him as a safety). That momentum translated into two Elite Eight appearances.
With another top 20 recruiting class incoming, Drew has the pieces in place to surround Jones, Okafor and Winslow – but they desperately need Jones to bolster their backcourt.
As OurDailyBears.com writes, the late August visit from Jones, Okafor and possibly Winslow, will be the most important weekends in Baylor basketball recruiting history.
Duke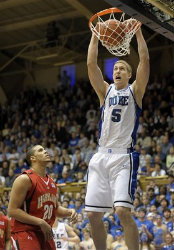 Duke is the only school to receive an on-campus visit from Okafor and Jones. Part of the reason why they've been installed as the favorites is the duo's visit to Durham, N.C. in October of 2012.
On behalf of USA Today, Okafor blogged about last year's trip to the Blue Devils' "Countdown to Craziness."
"I talked to Coach (Mike) Krzyzewski a lot about the plans he had for me if I were to come to Duke and I loved everything he was saying," Okafor wrote. "Tyus was watching Coach K's interaction with Quinn Cook, since Quinn's running the point, and I was watching everything that Mason Plumlee was doing. I was really impressed with him."
There's no denying Coach K's success at Duke: four NCAA titles, 11 Final Four appearances, and nearly 900 wins as the Blue Devils coach.
However, a common criticism of Krzyzewski is his inability to develop the classic back-to-the-basket big man. It doesn't concern Okafor.
"I don't like when coaches say: 'Don't go to Duke and end up setting screens.' That's a major turnoff to me," he wrote. "Plus, I don't know what they're watching because I've never thought big men did that at Duke…They put lots of big men in the league so that's just a lie when people say that." 
Winslow is considering Duke, as well – as if they needed another reason to be considered the preferred destination for the Jones and Okafor "package deal."
Kansas 
The third program to appear on Jones, Okafor and Winslow's combined list is the Jayhawks.
This isn't undeniable evidence they will all pick the same school, however.  Okafor told SI.com's Seth Davis that Winslow isn't necessarily going to join him in college.
"We would like [Winslow] to go to school with us," Okafor said, "but it's so hard to find three different families and have all the situations add up."
Regardless, head coach Bill Self is still searching to fill major holes on the 2014-15 roster. Behind Andrew Wiggins, the Jayhawks incoming freshmen are arguably as talented as Kentucky's hyped class. 
Wiggins is almost assuredly headed to the NBA, and incoming freshman center Joel Embiid – one of the top two centers in 2013 – might declare, as well. If that's the case, it will leave KU with a thin front line and landing a center will become a necessity for their 2014 class.
In May, Okafor wrote about his interest in the Jayhawks.
"A lot of people say that Kansas doesn't want a freshman to just come in for a year and have a huge impact, then leave," Okafor said. "I've never believed that, but I know Andrew [Wiggins] will prove that it's not true... I'll definitely be watching close to see how they handle a player of his talent level." 
Right now, Kansas could use an upgrade at point guard. Unless Naadir Tharpe or freshman Frank Mason makes a huge leap, they probably wouldn't beat out Jones – who made an unofficial visit to Lawrence in February –  for the lead guard role in 2014.
The Jayhawks have made up significant ground on Jones and Okafor already. If they close out like they did with Wiggins, the Jayhawks will reload in 2014
Kentucky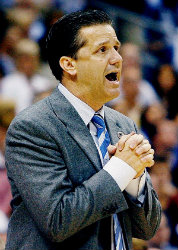 If Duke is the prohibitive favorite, consider Kentucky a dark horse in Okafor and Jones' recruitment.
Sure, they don't know exactly how many scholarships they'll have for 2014, and they already have a commitment from the second-ranked center in the class, Karl Towns Jr. Jones and Okafor are still considering joining "Big Blue Nation."
UK offered Winslow last week, becoming one of the four schools considering all three.
While Okafor has yet to visit the campus, Jones went to Lexington in January.
"I definitely see what people mean when they say that Kentucky fans show a lot of love, because they definitely let me know that they wanted me down there," Jones wrote, for his USA Today blog. "…it just showed me how big the program is to its fans. I love that."
No coach has the recent pedigree of producing point guards like Calipari. He's also helped produce two big men, who went on to become the number one overall pick and number six pick in the last two NBA drafts.
Calipari's recruiting and player development skills – even after only one year – make the Wildcats the top annual destination. It's why they're still in the running for Okafor and Jones.
Michigan State
The Spartans 2013 class is a slight disappointment, considering their aspirations for Jabari Parker. He ended up going to Duke, leaving Michigan State with two three-star recruits.
Tom Izzo will always get the most out of what he has. This year, he has an experienced squad, likely to finish among the top two in the Big Ten. After this season is a mystery. Keith Appling and Adreian Payne are seniors and Gary Harris might jump to the NBA.
Izzo would love to make a splash on the 2014 recruiting scene with the nation's top duo. One of the nation's top recruiting analysts believes they will have a difficult time convincing Jones, however. 
"Behind the scenes I don't know if Michigan State can get both of those guys, but I think they can get one of them," ESPN's Dave Telep told the Detroit News. "…it's gonna be a tougher road with Tyus Jones… the point guard they have the best chance with is Tyler Ulis."
Okafor might be a better bet, as Telep implied, especially if they're able to land his AAU teammate, Cliff Alexander. Although, that is not a necessity for Alexander – who told the Lansing State Journal the chances of him and Okafor ending up on the same college team are "very slim."
Ohio State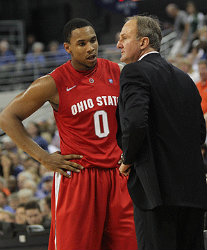 Even without Okafor or Jones in 2014, Thad Matta will put together a top-10 or possible top-five class.
The perception is that the Buckeyes have cooled on Tyus Jones and vice-versa.  If the offer to Kaleb Joseph is any indication, Matta still is intent on adding another point guard to the class.
Unlike many other schools pursuing Jones, the Buckeyes don't have an immediate need at point guard. Shannon Scott will be a senior in the 2014-15 season and D'Angelo Russell can handle the position – although both are capable of playing off the ball.
On the other hand, the Buckeyes pitch to Okafor is simple. They could use another big man, and he would fill a similar role as Greg Oden or – a more direct comparison – Jared Sullinger.
Surrounding Okafor with a lineup of Amir Williams, Sam Thompson, Shannon Scott and LaQuinton Ross (if he doesn't go to the NBA – a number of wings available to fill his spot, if he does) is incredibly tantalizing.
However, it's doesn't seem to be realistic without bringing in Jones. Both remain adamant about going to college together.
"We're pretty sure of it," Jones told USA Today's Jason Jordan. "I definitely see why people would think we're just talking. So many guys have said things like this before, but we're serious."
---
For the record, Okafor also lists Arizona and Illinois. Jones is still looking at Minnesota. Those are the only three schools in which there is no current, common interest.