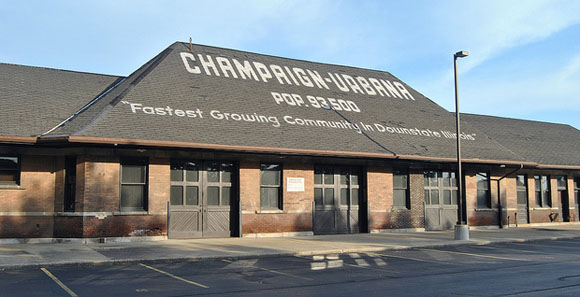 Towards the end of the season, Ohio State will travel to the Twin Cities for a football game. No, not the ones you are thinking of. In this case, I'm talking about the twin cities of Champaign and Urbana in Illinois, home of the University of Illinois. This is a place where once upon a time the Buckeyes had a lot of trouble winning games. Not so much anymore.
Everyone remembers how many times Ohio State fell to Michigan during the 90s, but most have forgotten that the Buckeyes lost 5 straight to the Illini from 1988-1992, and 6 out of 7 including the home loss in 1994. But after that, they took out their frustrations on Illinois in a big way from 1995-1998 and since then playing at Illinois has not offered many challenges.
This year's Illini squad is not expected to be very good, and so making a four-and-a-half hour trip to see a likely blowout might not appeal to those who like to see a sporting contest. Others might be a bit nostalgic for the old days when Woody ruled the roost and every team other than That School Up North could look forward to a bloody beating every time OSU came to town, and so for them the trip might be worthwhile.
Unlike the trip to Purdue two weeks prior (two road games sandwiched around an off week in November), this one is probably not a day trip, unless you enjoy the idea of 9 hours on the road in one day. That being the case, you might have an opportunity to check out some of the surrounding area either during the day or at night, depending on when you get in and when the game starts (starting time has not been announced yet). There are some interesting places to visit and enjoy during your time in the area assuming you don't mind scuttling around a bit between the two cities.
DURING THE DAY
The University of Illinois was originally located in Urbana, but grew so much that it spread to Champaign as well, mostly due to the train station that was located there. The school's campus is laid out in such a way that it is considered almost a work of art in itself (see note #9 here), with it's quadrangles and notable architecture. In particular, the Foellinger Auditorium is a landmark on the campus, along with the nearby "Alma Mater" sculpture. Other campus structures of interest to architecture buffs are Altgeld Hall, Illini Union, Lincoln Hall (with the bust of President Lincoln), the Natural History Building, Noyes Lab, and the English Building.
Speaking of Lincoln, he spent a lot of time in the area during his lawyer days, and there are several shops and locations in and around the train station area in downtown Champaign where you can find historic markers and notations. Susan B. Anthony gave a speech called "Work, Wages, and the Ballot" in the same area, at the location where Barrett Hall formerly stood. There's a monument to her somewhere in the vicinity of where Neil and Church streets intersect. If you're a fan of classic rock music, there's also a street in the area named after the band REO Speedwagon. 
If you're into local history, you could visit the Champaign County Historical Museum to see how the area grew from nothing to where it is now. The younger members of your family might appreciate a trip to the Orpheum Children's Science Museum. For general history and a taste of how early Americans lived, you can check out the Museum of the Grand Prairie. A trip to the Japan House in Urbana will probably expand your cultural horizons a bit.
If you are willing to travel about 20 miles to the west, you will be treated to all sorts of history in the town of Monticello. The Monticello Railway Museum will allow you to feel what it was like to travel the old railroad. Monticello is also another important area for Lincoln buffs, as the former president visited there quite a bit during his days on the 8th Judicial Circuit Court of Illinois. There is also Historic State Street, where many old homes have been preserved, especially those that make up "Millionaire Row". 
PLACES TO EAT
Our own Vico lives in the area, and he recommends having breakfast at Courier Cafe, lunch at Crane Alley, and dinner at Black Dog Smoke & Ale House, all of which are in Urbana. What is Black Dog? In this case it's not the old Zeppelin tune, but one of the 5 best BBQ joints in the country. I'm getting hungry just thinking about it.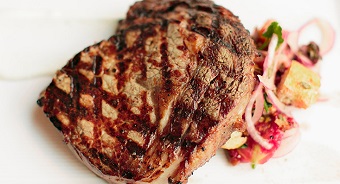 If you are on a budget (and who isn't these days?), you could get your BBQ fix over at Po Boys BBQ, or you could go for Chinese at Peking Garden. Cheapskates that are into ethnic grub will want to check out Zorba's (Greek and Mediterranean), Za's Italian Cafe, or El Torero (Mexican). For dessert, go over to Apple Dumplin' Family Dining and get one of the dumplings, or you could try Jarling's Custard Cup for some frozen custard.
If money is no object, there are some sophisticated options for your dining pleasure. KoFusion is a Japanese restaurant in Champaign that features organic meat, wild caught seafood, and various types of sushi. Bacaro, also in Champaign, is an upscale Italian restaurant with a rather impressive wine selection. Big Grove Tavern in Urbana Champaign is a relative newcomer, but they've already earned a sterling reputation for their "New American" style cuisine with a focus on local "farm-to-table" produce. For a good steak at a more reasonable (but not cheap) price, try The Ribeye.
NIGHT LIFE
There is a surprisingly large selection of bars and clubs in the area, and not just the usual campus fare that Ohio State students are intimately familiar with. Sure, the Campustown area has their share of that, but in the downtown areas you can find a bit more variety. In Champaign: if you're into the Irish Pub scene, try Mike & Molly's (seriously). For a more upscale (or snobbish) atmosphere, check out Soma Ultralounge. If you're into the swanky, cocktail style lounge, take a trip to Boltini. There's also the aforementioned Bacaro if you don't mind high prices; if you're a cheapskate, better head on over to the Brass Rail (a classic dive).
In Urbana: Bunny's Tavern is a "Cheers"-style good-time bar. The Iron Post is a dive bar with live music (mostly Jazz and Open Jam style fare) almost every night. If you're into Country Music, mosey down yonder to the Rose Bowl (wishful thinking maybe?). For a live DJ playing old-school hip-hop, bust a move over to Red Star Liquors. The aforementioned Vico favorites Black Dog and Crane Alley are also popular night destinations in Urbana, mostly due to their amazingly wide beer selections.
I hope you had as much fun reading this as I did writing it. Almost makes me want to make the trip. Almost.