One thing that the 2013 Ohio State football team will be looking to avoid is another poor showing in West Lafayette. Despite the fact that Purdue has not been a consistent contender for the championship of the Big Ten over the past 9 years, Ohio State has lost 3 of 4 games at Purdue during that span. Especially painful was the 2009 "Purdue Harbor" loss, which doomed OSU's chances of a berth in the BCS championship game.
Ohio State is a Big Ten best 39-13 on the road in conference games since 2000, but 4 of those 13 losses have come at Purdue. Meanwhile, at home they have not lost to the Boilermakers since 1989, but they nearly took it on the chin against a mediocre Purdue team at Ohio Stadium last season. As a result, there will be considerable interest both locally and nationally when the Buckeyes travel to West Lafayette once again on November 2nd.
Many OSU fans will make the trip to Purdue, for a number of reasons. First and foremost, it's not a terribly long drive and there will not be a lot of traffic. Second, if the Boilers are not having a great season then the tickets will be plentiful and easily available, both in advance and on game day. Finally, since it is basically a day trip, most fans will not spend the night either in West Lafayette or in Indianapolis (65 miles to the Southeast), and so it will not cost a lot of money.
However, if you do decide to spend a night or two in the area, you will find that there are several attractions that are either educational or entertaining. Not only that, but if you arrive early, you might be able to check out a few of them before you even go to the game because tailgating at Purdue is not exactly at the same level as at Ohio State.
DURING THE DAY
The time of the game has not yet been announced, but assuming that Purdue is mostly out of Big Ten contention at this late point in the season, it might be safe to assume that it will be a 12:00 noon start (as the last two OSU games there have been). Still, if you leave Columbus (or wherever) early enough, you should have time to check out a couple of the local attractions.
For history buffs like me, the Tippecanoe Battlefield Park is a place that might be interesting. It is located in the sister city of Lafayette, just across the Wabash river. The park features a monument to the battle fronted by a statue of former U.S. president William Henry Harrison. Harrison, you might recall, claimed Ohio as his adopted home state (he was born in Virginia), thus making this a special treat for Ohio natives. 
If it turns out to be a late afternoon game, you could check out one of the unusual lunch spots in the city. Specifically, you might wander over to Harry's Chocolate Shop, which is not really a chocolate shop but a glorified bar and grill. There you can take in a personal pizza, a burger, or one of their peculiar brands of french fries such as "I.U. Road Kill". Either that, or you might check out the double cheeseburger served up at the oddly-named Triple XXX Family Restaurant.
If you're into flowers and you don't mind going on campus, as you can visit the school's famous Horticulture Gardens. If architecture is your thing, stroll over to the Cary Quadrangle, also on campus, or you could visit the nearby John Christian House (a.k.a. Samara) designed by Frank Lloyd Wright. If you want to commune with nature, the Celery Bog at the Lilly Nature Center is the place to go.
AT THE GAME
Purdue plays their home games at Ross-Ade Stadium, which was dedicated in 1924 and was named after two guys who donated a lot of money to the project. Of all the schools in the Big Ten, Purdue ranks near the bottom in terms of how full their stadium is on a weekly basis. In 2012, they ranked 55th out of 120 FBS teams in attendance at just over 43,500 on average. So not only will tickets be readily available, they will probably be cheap as well.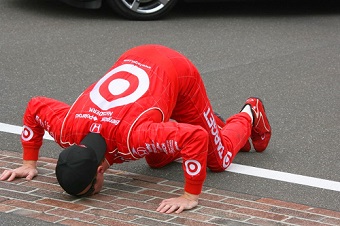 The playing surface at Ross-Ade is Prescription Athletic Turf or PAT, a sort of grass/turf compromise that allows them to play on a natural surface while still maintaining control of drainage and temperature. The PAT system was developed at Purdue and Ross-Ade was the first stadium to utilize it. The net effect of playing on natural grass is that play will be relatively slow, especially in November when OSU plays there.
Parking at the game is available in intramural sports fields located just southwest of the stadium. Tailgating is allowed and the rules are relatively relaxed. That said, Purdue fans are not known for their raucous antics or spectacular feasts at the game. This is a basketball school, and it shows on football game day.
NIGHT LIFE
If you decide to stay for the evening and you're looking to get out a little, then you'll probably want to head over to Indianapolis. There are plenty of reasonable hotels in the Indy area and the night life is far superior to what you will find in a sleepy college town like West Lafayette.
For a mix of food and dancing, try Ike & Jonesy's, but if you just want to kick it up, try The Vogue. If your taste is more sophisticated, you might try Sensu. If you just want a meal at a fancy restaurant, you can check out Cerulean, Napolese, or Delicia. For live music, you have plenty of choices depending on your taste: The Slippery Noodle Inn for Blues, The Chatterbox Jazz Club for Jazz, The Tin Roof for Rock.
Of course, the main thing that will make your trip to the area worthwhile is a victory by the men in scarlet and gray. Assuming they take care of business as expected, you can do whatever you like after the game and the celebration will be just as sweet.