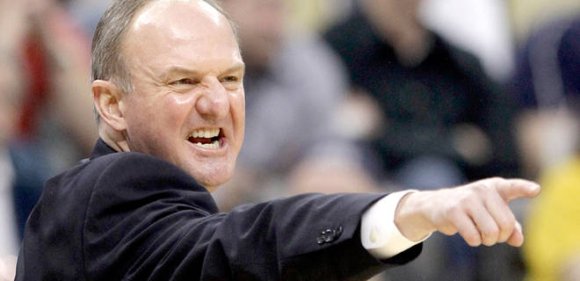 On Thursday night, Thad Matta will turn on the television and (hopefully) watch Deshaun Thomas become his latest Ohio State player to be selected in the NBA Draft. 
Most mock drafts have Thomas, the lefty scoring machine out of Fort Wayne, Indiana, going somewhere in the 2nd round with Draft Express interestingly slotting him as the 48th overall selection, to the Los Angeles Lakers. 
For even the most casual Ohio State basketball fan, Matta is known as an elite recruiter though his X's and O's have drawn criticism from time to time. The small group of detractors point to his lack of a national championship despite having a couple loaded rosters and attempt to remind us that Fred Taylor remains the gold standard in Columbus. 
No question, in 18 years at the helm, Taylor carved out a legacy yet to be matched by any of the five Ohio State coaches since his departure in 1976, winning the school's lone national championship as part of three straight appearances in the NCAA championship game (1960-62) but Matta, just nine seasons in, is well on his way to challenging Taylor's throne. 
Obviously, the chief reason for Matta's success has been a tireless effort to seek, attract and secure commitments from the nation's elite high school prospects. Because it's easy to get spoiled by a man that continues to stock Ohio State's roster with top-notch talent that he subsequently develops into NBA draft picks, I decided to examine how Matta stacks up against his predecessors in Columbus when it comes securing recruits, polishing their skills and sending them on to the League. The results are pretty staggering. 
THAD MATTA'S NBA DRAFT PICKS

| PLAYER | YEAR | ROUND | OVERALL | TEAM |
| --- | --- | --- | --- | --- |
| G. ODEN | 2007 | 1 | 1 | Portland Trail Blazers |
| M. CONLEY | 2007 | 1 | 4 | Memphis Grizzlies |
| D. COOK | 2007 | 1 | 21 | Miami Heat |
| K. KOUFOS | 2008 | 1 | 23 | Utah Jazz |
| B. MULLENS | 2009 | 1 | 24 | Dallas Mavericks |
| E. TURNER | 2010 | 1 | 2 | Philadelphia 76ers |
| J. DIEBLER | 2011 | 2 | 51 | Portland Trail Blazers |
| J. SULLINGER | 2012 | 1 | 21 | Boston Celtics |
| D. THOMAS | 2013 | ? | ? | ? |
Assuming Thomas is a 2nd round pick, that will give Matta a total of nine NBA draft picks over his first nine seasons in Columbus with seven of those players selected in the first round. Even more impressive, three of those first rounders include a #1 overall selection in Greg Oden, a #2 selection in Evan Turner and Mike Conley's selection at #4 in 2007. 
It's also worth noting that nearly half his NBA draft picks were recruited to Columbus from out of state. Oden and Conley committed to Matta out of Indianapolis while Turner came to Columbus via Chicago and Thomas hails from Fort Wayne, Indiana. I'm pretty sure I tasted Tom Crean's tears after typing that which only adds to Matta's mystique. 
While Thad has yet to capture a national championship despite a few trips to the Final Four, he hasn't exactly squandered the talent. Matta's Buckeyes have nearly owned the highly competitive B1G conference, winning either/or the regular season conference crown or the conference tournament championship in six of his nine seasons at the helm.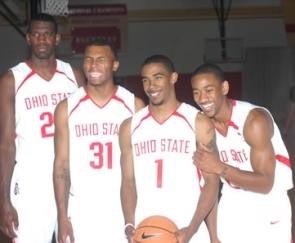 In total, Matta has racked up 250 wins at Ohio State, boasting the highest winning percentage in school history at 77%.
In one of the more interesting statistical nuggets on Thad, he is one of just two coaches in the history of big time college basketball to win 20+ games in his first 13 seasons as a head coach (Mark Few, Gonzaga: 13). Even the biggest Thad basher has to appreciate the consistency with which Matta produces competitive seasons. As Woody said, You Win With People, and that's exactly what Matta has done. 
Matta's success on the recruiting trail can be traced to a few key variables beyond the usual hard work and tireless hours turned in by any legit coaching staff in America.  
First, he brought with him a style of play that gives kids freedom and space to explore their individual talents while still focusing on the elements of unselfish team play. It has been argued, at times, that a lack of structure and reliance on set plays has worked to the team's detriment in the past but as Jim O'Brien showed us, an over reliance on set plays not only turns players into robots but that style is also deemed unattractive to the nation's best prospects. 
Second, Matta leads the program in a way that creates a family atmosphere not just among the players but the players and coaches. This isn't exactly a revelation or necessarily unique in college basketball today but there can be issues with finding the right balance. 
O'Brien, for example, was so rigid that only his stars seem to have much freedom and his teams, while exceeding the sum of their parts on the floor, never appeared to show the same chemistry as those produced my Matta. Conversely, Randy Ayers swung too far the other direction and as a result, at times, the inmates ran the asylum. 
Matta has also separated himself from previous coaches in OSU history but showing a continued willingness to go head to head with programs like Kansas, Duke, Kentucky, Louisville, in addition to the upper crust of the B1G in an attempt to land the biggest fish. He's certainly lost his fair share of those battles but even in defeat, kids see a guy that is shooting for the stars, not just sitting back waiting for leftovers to shake out. 
As you'll recall, showing almost a prideful disinterest in top national talent was a staple of O'Brien's recruiting efforts. As a result, he churned out some recruiting classes that left much to be desired. Remember the 2002 class of Shun Jenkins, Charles Bass (off the glass) and Ricardo Billings? I could go on an on but how would you react if Matta pulled in a similar trio of three star prospects in 2015?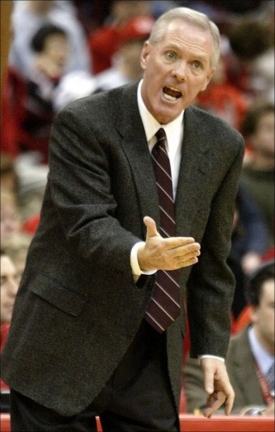 Another key factor in Matta's success is how he has approached running the basketball program at a football school. Instead of willingly taking a back seat, he embraces the football program's success and prestige, often ensuring kids can take in an Ohio State football game while they are on a visit in addition to openly talking about the success of the program and coaches like Jim Tressel and Urban Meyer. 
Matta's stewardship combined with Ohio State's decision to throw a ton of money at the basketball program via continued facility upgrades has the school knocking on the door of becoming a football and basketball school. Frankly, it's virtually already there when it comes to national exposure and on-field/court output. If anything, it's the lack of true year-round fan interest and support that creates the gap.  
Still, Matta soldiers on, redefining how Ohio State basketball coaches are evaluated, creating greater expectations for recruiting and on-court success, and rewriting Ohio State's record books in the process. 
Having encapsulated Matta's success at churning out NBA talent, I spent a significant amount of time examining the recruiting efforts of Ohio State's previous head coaches and it truly is incredible how Matta has turned the tide in Columbus. 
O'Brien, Matta's predecessor, spent seven seasons in Columbus before NCAA troubles sent him packing. If you count the vacated 1999-2002 seasons, he produced a 133-88 record (60%) and exactly zero 1st round NBA selections. Now, he did send Michael Redd to the league (2nd round, 43rd overall) and he had a solid professional career but the only other two draft selections he produced were Scoonie Penn (2nd round, 57th) and Ken Johnson (2nd round, 48th). Those three selections occurred in a two-year window. Before and after, O'Brien, as briefly touched on earlier, spent his time going after 2nd tier players, maximizing their talent and producing solid yet far from spectacular results. 
Randy Ayers spent eight years running the show before O'Brien and he turned out just one NBA draft pick. Lawrence Funderburke, after transferring from Indiana, played a few seasons at Ohio State before the Sacremento Kings took him in the 2nd round (51st overall pick) of the 1994 NBA Draft. Ayers did at least target bigger fish than O'Brien, but too often they were the blue chips with baggage and that contributed to his ouster following the 1997 season. Remember the days of Gerald Eaker shooting out a teammates tires or Charles "Killer" Macon stealing gas? Those situations, combined with impending opening of the Schott did little for Ayers' job security. 
Gary Williams was projected to be a savior of sorts when he arrived on the scene back in 1987, and he did change the culture and style of play for the better, but when his alma mater came calling, Williams bolted to Maryland with just a three-year stint in Columbus. He did recruit Jimmy Jackson to Ohio State (with Ayers' help) and Jackson stayed with his commitment despite Williams' departure. Jackson went on to be selected with the 4th overall pick of the 1992 NBA Draft by the Dallas Mavericks. 
In total, the combined 18 years of the O'Brien-Ayers-Williams era at Ohio State yielded just five total draft picks, including only one 1st rounder, compared to the aforementioned eight total picks and seven 1st rounders produced in the first nine seasons of Matta's stint. 
Eldon Miller spent 10 seasons in Columbus leading up to the hire of Williams and honestly, I was a little shocked at how much success he had at sending guys to the League. I was aware that the main knock on Miller was as a strategist and that he brought some outstanding players to Columbus but in chart form, it looks even better than I thought:
ELDON MILLER'S NBA DRAFT PICKS

| PLAYER | YEAR | ROUND  | OVERALL | TEAM |
| --- | --- | --- | --- | --- |
| K. RANSEY | 1980 | 1 | 4 | Chicago Bulls |
| H. WILLIAMS | 1981 | 1 | 14 | Indiana Pacers |
| J. SMITH | 1981 | 3 | 54 | San Diego Clippers |
| C. SCOTT | 1981 | 6 | 126 | Golden State Warriors |
| C. KELLOGG | 1982 | 1 | 8 | Indiana Pacers |
| G. WAITERS | 1983 | 2 | 39 | Chicago Bulls |
| T. CAMPBELL | 1984 | 1 | 20 | Detroit Pistons |
| B. SELLERS | 1986 | 1 | 9 | Chicago Bulls |
| D. HOPSON | 1987 | 1 | 3 | New Jersey Nets |
Miller totaled a very respectable six 1st round selections and nine picks overall though two of those came in rounds that don't exist today. The NBA Draft had 10 rounds back in Miller's day meaning Jimmy Smith (3rd round, 1981) and Carter Scott (6th round, 1981) would've been forced to go the free agent route if they came out in 1988 or beyond. Bottom line, Miller produced some players but if Matta has disappointed you with some underachieving performances in the Big Dance, then Miller would've driven you to the brink of insanity with his zero conference championships, four Dance bids and three NIT appearances including an NIT championship in his final season. 
I hesitated to even look at Fred Taylor's acumen when it came to sending players to the professional ranks since the game of basketball, both collegiately and professionally, was different than the modern era in so many ways. The collegiate level was far more regionalized from a recruiting perspective and the amount of truly competitive programs was a far cry from the current environment. Still, Taylor's success is special in that he recorded that one national championship season in school history while also producing the best player in school history in Jerry Lucas. 
During his 18 seasons in Columbus, Taylor sent five players to the NBA as 1st round selections (Siegfried, Lucas, Havlicek, Bradds, Hosket) and produced 16 NBA picks overall though only two went as high as the 2nd round in addition to the five 1st rounders. So, in half the years, Matta has already produced two more 1st rounders than Taylor and he's right on pace to turn out the same number of career draft picks. 
Buoyed by past success, Matta isn't resting on his recruiting laurels. Thad welcomes a pair of four stars this fall in Marc Loving and Kameron Williams and his 2014 haul is drawing strong reviews with a few more big time players yet to decide. 
Regardless of where those chips might fall, there's no question Thad Matta is the orchestrator of Ohio State basketball's renaissance and is well on his way to cementing a legacy as the best talent acquirer and producer in school history in addition to being just a national title shy of making him the finest overall coach in school history.