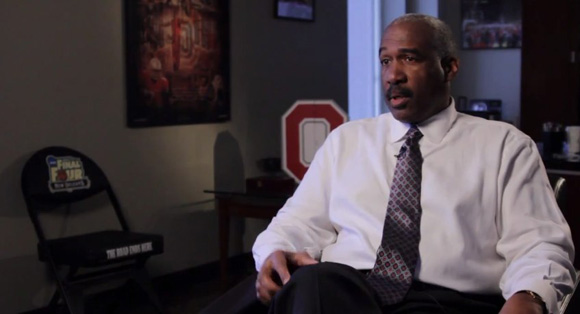 Ohio State athletic director Gene Smith has been named to a group of 10 athletic directors that will meet regularly with NCAA president Mark Emmert to discuss issues facing the organization. The Wall Street Journal, which broke the news of the informal council Saturday, has the full list of members.
The athletic directors on the council will include Mitch Barnhart at Kentucky, Gene Bleymaier at San Jose State, Greg Byrne at Arizona, John Currie at Kansas State, Dave Heeke at Central Michigan, Warde Manuel at Connecticut, Dan Radakovich at Clemson, Gene Smith at Ohio State, Peter Fields at Division I-AA Montana State and Peg Bradley-Doppes at Division I-AAA Denver (the non-football division).
As the report goes on to note, a mid-1990s "shift in NCAA structure empowered university presidents to manage college sports" but Emmert is spearheading a trend to move decisions back into the hands of athletic directors, a group that is more closely involved with the day-to-day issues facing college athletics.