There are currently 10 players in Ohio State's 2014 recruiting class. When National Signing Day 2014 rolls around, the class will have around 20 members.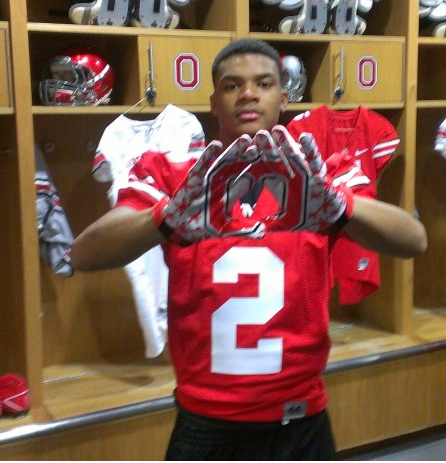 You, fan of math, have realized that we're at the halfway point of this class, which has the makings of a top-10 class nationally if the next few months go according to plan.
Of the 10 future Buckeyes, four are expected to play on the offensive side of the ball when they arrive in Columbus:  WR Lonnie Johnson, OL Marcelys Jones, OL Kyle Trout, and WR/ATH Parris Campbell.
There are also four defenders the Buckeyes have in this class so far. Those four: DE Dylan Thompson, LB Kyle Berger, LB Dante Booker Jr., and CB Damon Webb.
Sam Hubbard, who plays linebacker for Cincinnati Moeller, could easily end up on the offensive or defensive side of the football when he arrives in Columbus next summer. He could slide into the tight end slot on offense or play defensive end, linebacker, safety, or Star if the Ohio State coaching staff decides playing defense is best for his career at Ohio State.
German born kicker/punter Sean Nuernberger is the lone specialist in the class. He'll be the only specialist in this class come signing day.
Join me after the jump to take an in-depth look at the first 10 commitments of Ohio State's 2014 recruiting class. 
OFFENSE
WR Lonnie Johnson, Gary (IN) West Side 
Aside from Parris Campbell, wide receiver Lonnie Johnson has the highest ceiling of the ten commits in the class. He caught 31 passes for 777 yards and 13 touchdowns last year for his West Side team, while intercepting six passes and making 29 tackles on defense in 2012. 
Lonnie could be a good wide receiver or cornerback at the college level, but he's almost a lock to play wide receiver when he arrives in Columbus next summer. If Johnson performs well when he arrives on campus, he could be a candidate for early playing time because of his high ceiling. His 6-3/200 frame and his blazing speed could make him into an elite receiver for the Buckeyes.
OL Marcelys Jones, Cleveland (OH) Glenville
Marcelys Jones became the first member of the 2014 class on Christmas Day, 2012. He had a very good year starring on the offensive line for Glenville in 2012, rolling defensive linemen along the way. He is only only current commit who has left the door cracked on taking a serious look at other schools, but I think he'll end up sticking with the Bucks in the end.
I view Jones as a project, therefore I don't think he'll see early playing time. I think it would be for the best if he redshirted in 2014 so he could have more time to develop. Nevertheless, I think Jones will eventually be a solid starting guard by the time his time at OSU is over.
OL Kyle Trout, Lancaster (OH) 
Kyle Trout has the chance to be an elite offense tackle if he puts in the hard work under offensive line coach Ed Warinner. He was the third player to join the 2014 class back in January and has worked tirelessly recruiting other members of the class.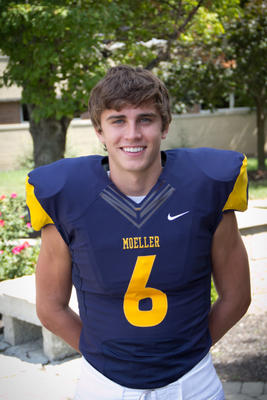 I wouldn't be surprised if Trout got on the field early because four of Ohio State's starters along the offensive line are set to graduate after the 2013 season and there will be a lot of holes to fill next year.
ATH Parris Campbell, Akron (OH) St. Vincent St-Mary
Parris Campbell has the highest upside of any player in this class. When his senior football season starts, he will only be 16, and despite that, he'll be the most talented player on the field. He was one of the most electrifying players in the state of Ohio in 2012 and figures to have an even bigger 2013.
Don't just take my word for it. See for yourself.
There's a very reall chance that Campbell will line up in the slot and get a few carries his freshmen year. I think he is very similar to freshmen running back/wide receiver Dontre Wilson because they can play the Pivot in Urban Meyer's offense.
DEFENSE
DE Dylan Thompson, Lombard (IL) Montini Catholic 
Thompson is the only pure defensive linemen in the class right now and he could end up being the only one in the class come National Signing Day. He was recently invited to Nike's "The Opening" where he'll have a chance to compete against some of the top offensive linemen in the country.
Ohio State has signed many talented defensive linemen the past couple of years, including Noah Spence, Adolphus Washington, Tyquan Lewis, Tracy Sprinkle and Joey Bosa. For this reason I think we could see Thompson redshirt and further develop his skills before getting on the field in 2015. It will be interesting to see what the Ohio State coaching staff decides to do with Thompson when he arrives on campus.
LB Kyle Berger, Cleveland (OH) St. Ignatius
Berger had his breakout season in 2012 where he totaled 44 tackles for loss and 10 sacks. His performance earned him offers from top schools across the country including Ohio State and he is one of two linebackers currently committed to Ohio State in its '14 class.
It's no secret that the Buckeyes are pretty thin at the linebacker position and due to this, I don't think there's a chance Berger will see a redshirt in 2014. He will need to be ready to compete from the moment he arrives on campus as he could see some significant playing time from day one. He will be an outside linebacker at the college level.
LB Dante Booker Jr., Akron (OH) St. Vincent- St Mary
Booker is a very athletic linebacker, but needs to add more bulk to his frame. He could also play defensive end if help is needed on the defensive line, but I think he'll be a linebacker when it's all said and done. The St. Vincent-St. Mary star posted 72 tackles, six sacks, and two interceptions last year while leading his team to a state championship.
Like Kyle Berger, Booker will be expected to come into the Ohio State football program ready play because the Buckeyes are so thin at his position. I'm going to go out an a limb and predict that Booker will be a starter at some point in 2014 – he's just that talented. The Bucks are getting a good one in Booker.
CB Damon Webb, Detroit (MI) Cass Tech
At the beginning of Webb's recruitment he was thought to be a Michigan lean and boy were people wrong about that. Webb shocked almost everybody who follows recruiting by committing to Ohio State in January and since then, he and his family have worked overtime to add to the 2014 class.
He had a very strong junior season totaling 42 tackles, 10 pass breakups, seven interceptions, and four forced fumbles.
Webb is probably the most talented commit in Ohio State's class right now and will definitely have a chance to compete for playing time 2014. I think Webb will be a two or three year starter for the Buckeyes by the time his career at Ohio State comes to a close.
OTHER/SPECIALIST
ATH Sam Hubbard, Cincinnati (OH) Moeller
A former college lacrosse commit to Notre Dame, Hubbard earned multiple offers to play college football after his junior season where he record 80 tackles, seven of which were for loss, two interceptions, and forced two fumbles. He could play multiple positions in college including tight end, defensive end, linebacker, safety, or Star.
It's tough to project a position for Hubbard in college, but I'm leaning towards tight end right now, especially if the Bucks are unable to sign a tight end in this class. There's still a very real chance he plays defensive in college which is why I can't definitively put him in either the offensive or defensive category.
K/P Sean Nuernberger, Buckner (KY) Oldham County
The German born Nuernberger committed to Ohio State about a week ago after a strong performance at Ohio State's kicking camp.
He'll be expected to start at kicker from day one and could also punt if needed.