Over the last week, elite prospects in the classes of 2014, 2015 and 2016 performed on a pair of big stages.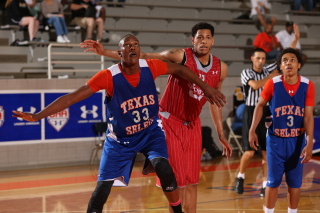 The National Basketball Players Association held its 20th annual Top 100 high school camp at the University of Virginia. Simultaneously, the United States Men's U16 National Team – for those 16 years old or younger – competed in Uruguay for the FIBA Americas U16 Championship.
There was no shortage of Ohio State commits or targets involved in both competitions.
One recruit, in particular, voluntarily removed himself from that list – no longer considering Thad Matta's scholarship offer. The coaching staff recovered rather quickly, extending an offer to the fastest rising 2014 recruit.
Also, as of this weekend, coaches are allowed to send unlimited texts, phone calls or messages on social media to rising high school juniors (insert your best NSA joke here).
Here's a more detailed round up of all the basketball recruiting news for the second week of June:
Future Buckeyes at the nbpa top 100 camp
At the NBPA camp, Buckeye pledges included Keita Bates-Diop, Jae'Sean Tate and the newest member of the class, D'Angelo Russell.
Unfortunately, Tate suffered a torn labrum and was limited to one day of action at the camp. The other two Ohio State commits made some noise, however – none louder than this Bates-Diop dunk.
He caught the attention of the Denver Nuggets' Andre Iguodala, who was tickled with excitement after that dunk. Fellow NBA players Andre Miller, Troy Murphy, and "human garbage" Kwame Brown joined Igouodala as camp instructors.
Several members of the media praised Bates-Diop's abilities in the open court, as well:
Keita Bates-Diop showing flashes as a slashing/transition power forward type. Bouncy, lanky and smooth. Fun kid to watch #top100camp

— Corey Pegram (@CoreyPegram) June 14, 2013
So, if Thad Matta chooses to play a smaller lineup (as he did at the end of this past season), Bates-Diop appears to be capable of playing the four spot.
Russell, on the other hand, did not have as much of a chance to shine. He did catch up with Scarberry Productions' Zach Fleer to talk about why he chose Ohio State:
Ohio state offers myles turner 
Myles Turner was one of the stars of the camp, continuing his rapid ascent up the list of the top prospects of 2014.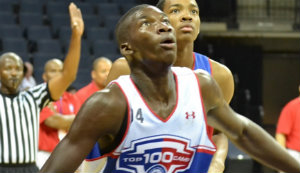 In a camp lacking the top talent, such as Jahlil Okafor and Tyus Jones, Turner might turn out to be the best prospect there. At the very least, he was the camp's most talked about player.
Matta and his staff took notice, offering Turner a scholarship – just another school to jump on the Turner bandwagon. For the Buckeyes, it's a chance to add another much needed big man to their 2014 class.
Turner's length and athleticism has always been a problem for opposing teams when they try to attack the basket. Besides his dominating shot-blocking presence, Turner is rapidly rising because of his improvement on offense.
He can run rim-to-rim, clean up the offensive glass, and, now, he will step out to three-point range to knock down jumpers. While he still needs work on his low-post moves, there's little question about his desire to polish any aspect of his game:
Myles Turner was in the gym by himself earlier getting some shots up pic.twitter.com/IWGPAOvhwm

— Garrett Tucker (@GTuckerF150) June 15, 2013
Jaquan ​Lyle cuts list, buckeyes left off
While Turner piles up scholarship offers, JaQuan Lyle is trimming his options.
He originally intended to narrow down his list on Twitter, Wednesday afternoon, but said the decision was too difficult and held out on the announcement. Apparently, he was ready Thursday evening, after the day's camp session.
Lyle cut his schools of interest to four: Florida, Indiana, Louisville and Tennessee. He dropped Ohio State, Illinois and UCLA from consideration.
The 6-foot-5 inch guard out of Evansville, Ind., was likely influenced by the D'Angelo Russell commitment – since both play the same position, essentially. Matta has a limited amount of scholarships to work with now and will try to land a post player before considering another guard.
Team usa u16 rolls to gold medal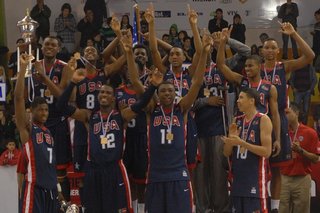 Twelve prized recruits chose a more patriotic showcase for their skills, competing overseas in the FIBA Americas U16 tournament.
The competition started Tuesday, although "competition" isn't necessarily the best way to describe the United States' path to a gold medal. In five games, topped off by a victory over Argentina in the gold medal game, the Stars and Stripes went undefeated, outscoring its opponents by a combined 267 points.
OSU targets Harry Giles, Josh Jackson, V.J. King and Ivan Rabb made the squad – Rabb being the only one of those in the class of 2015. Giles sprained his knee in their second game, sidelining him for the rest of the tournament. Jackson and Rabb got the most minutes out of the four, but with all of the blowouts, everyone played about an equal amount.
Malik Newman won the tournament's MVP award, but Rabb was impressive, in his own right. Rabb, a 6-foot-9 inch forward, averaged 12 points, 9.8 rebounds and 2.6 blocks per game.
A characteristic of any USA squad – regardless of age – is its proficiency in transition (excluding the horrid 2004 squad). This team was no different, as Rabb's relentless motor and Jackson's ability to push the ball in the open court contributed to an explosive offense.
The class of 2014 is already shaping up to be one of Matta's best. Don't expect much drop-off in 2015 and 2016, especially if he can land any of the members of this year's United States U16 squad.