The 11W Community Interview is truly of the people, by the people, and for the people. You submit the questions, vote on them, and then we pass the top ones on to the biggest names in the world of Ohio State athletics.
Sunday night at 6pm is officially 11W Community Interview time and this week we're back with one of the most enigmatic and talented athletes from Ohio State's 2014 recruiting class, Cincinnati Moeller star Sam Hubbard. Hubbard chose Ohio State football over Notre Dame lacrosse in early April and since then he's been a key component to Ohio State's pursuit of a number of other players. At 6-foot-6 and 225 pounds, Hubbard could potentially play a number of different positions at Ohio State and is likely to be a fan favorite because of his versatility and team-first mentality.
So, if this is the first 11W Community Interview you've ever read, welcome to our site. If you're a return reader, thank you for making us a part of your Father's Day.
Enough of my yammering, let's get to goods.
What position do you see yourself playing in college? - TheObi
SH: I am playing safety or rover linebacker this year at 225 pounds for Moeller. I have no idea where I will play once I get onto campus and start putting college weight on. My gut feeling is either at outside linebacker or tight end, though.
What other players are you currently helping recruit? - ColoradoBuck
SH: All of us (the 2014 commitments) have a group message that is going constantly and I think we really do a good job of working together to try and help recruit. We have all put in work sharing information and talking to a bunch of guys like Demetrius Knox, Brandon Harris, and many more. We are focused on bringing in the best players we can that fit what Ohio State is looking for.
Can you talk about your journey from being a one time Notre Dame lacrosse recruit to becoming a football commit to Ohio State? - Hovenaut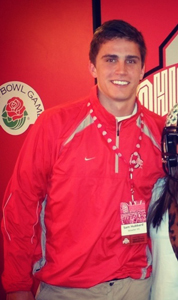 SH: I started playing both sports in third grade and I have always loved them both. I couldn't have dreamed I would have so many great opportunities to play them both at the next level, but in the end I felt like Ohio State was the best place for me to feel at home and be successful. It was hard to change my mind and decommit from a program I was committed to for a year, but I will always be a Notre Dame lacrosse fan and will always be grateful for their interest in me.
Would you be cool with the possibility of Demetrius Knox joining you sometime in the future? - Meechy77
SH: I would be more than cool with having Demetrius Knox at Ohio State. In fact, I would love it! It is a huge priority for us to get him to join the family, and I know he is an incredible player. We hope he decides to come home.
Would you prefer playing offense or defense in college?  Basically all recruiting sites have speculated you are definitely an OLB, but how do you feel about the TE position?  - TDIBLE2132
SH: I've played defense my whole high school career so it will be a transition if I am asked to switch sides of the ball. That said, I am more than willing to play tight end, defensive end, linebacker, safety or anywhere else if that's what's best for the program.
What was your favorite part of the campus tour - LilBuckeye
SH: My favorite parts were meeting with Urban Meyer, meeting with Gordon Gee, and just getting to know the staff and the program. The weight room and Woody Hayes facilities really impressed me, too. I loved everything about both my visits, and have been on campus a number of times with my sister (she graduated from Ohio State last month).
You were originally committed to another school for lacrosse and are now committed to play football at OSU. I was wondering which sport you enjoy the most? Which one is most fun for you? - Poison Nuts
SH: I have always loved them both, but there is nothing like playing a football game with thousands of fans there watching you play. I have mainly been focusing on football for the past year and I would say it is my favorite sport.
Being a Cincinnati kid from Moeller do you think Ohio State can consistently get top GCL kids?  - ODeez330
SH: I hope so! Coach Meyer loves the GCL. He has offered Justin Hilliard, Derek Kief, and myself recently, so it appears he knows there's players here. There is so much talent in this league, and I have a feeling Ohio State will be very successful recruiting there in the future. 
WE hope he decides to come home. - On Demetrius Knox
What are your favorite things to do outside of football? - MN Buckeye
SH: I like to go fishing with my friends as often as I can. I keep pretty busy with a tough class schedule, football and lacrosse, but the main things I do with my free time are fish, lift, swim, and hang out with my friends.
Gold Star or Skyline? - Right Again
SH: Skyline! I have one right by my house and it never gets old.
Thank you for all of the questions! Things are going very well for the 2014 class, and the Ohio State football program. I can't wait to get up in Columbus to represent Buckeye Nation! Thanks again for having me.