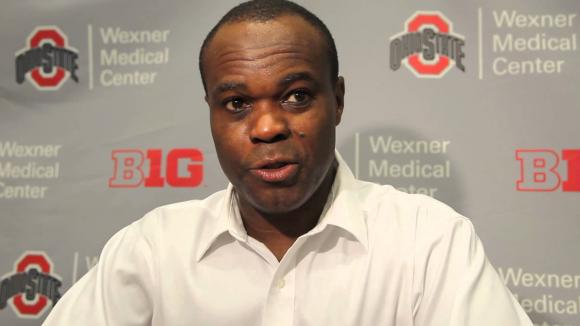 When the spread offense arrived to college football some 10 years ago, it was viewed by many as a gimmick and a fad that would soon wear out. Here we are in 2013 and variations of the spread offense can be seen in nearly every game of the season, including the national championship.
In the beginning, teams that needed an edge against bigger, faster and stronger opponents would utilize the spread as a way to gain an advantage. Urban Meyer was a huge proponent of the system, using it at Bowling Green and Utah and reaping the rewards. When Florida hired him, few believed the Gators could win in the SEC with an offense thought of as a fraud. But Meyer proved them wrong in resounding fashion.
Now Meyer and others must find the most effective way to defend the monster they created. During much of the 2012 season, Ohio State struggled against talented, athletic offenses. The Silver Bullets did improve as the year progressed, though, fielding the second-best defense in the nation for the month of November.
In the season-finale against Michigan, the Wolverines utilized Denard Robinson's skill set, which contributed to 21 first-half points and 240 yards. Aided by questionable play calls, the Buckeyes didn't allow Michigan to cross midfield in the second half and only yielded 39 yards.
They'll have to perform at that level for 14 games in 2013 if a national title is the ultimate goal. But a schedule that features several up-tempo offenses could give the Buckeyes trouble. In the first seven games a year ago, Ohio State surrendered more than 400 yards per game. The common denominator for six of those opponents was a wide-open offensive attack. Each game resulted in a 'W,' but relying on your offense to outscore people, no matter how explosive, is not ideal.
Ohio State's plan to combat this issue is to play with an extra defensive back. Nickel and dime sets will become the norm this fall. The Buckeyes have the experience and personnel, so cornerbacks coach Kerry Coombs doesn't see where the problem lies.
"We've got a lot of kids who are fast and they're playing fast, and that's exciting," he said. "We've got to use speed to our advantage. We've got to take advantage of the strengths of our players.
"I think the benefit is the more fast guys you can put on the field against spread offensive teams, particularly in passing situations, the greater the chance you have to play multiple coverages. You can play more man-to-man and you can rush the passer more effectively. If it's third-and-9 and you don't anticipate they're going to run the two-back run game at you, you can get some fast guys out there who can cover."
"We've got a lot of kids who are fast and they're playing fast, and that's exciting. We've got to use speed to our advantage."
It's the job of the defense to make sure they aren't stretched and facing mismatches against an athletic offense. That task wasn't so easy last season, when Ohio State allowed Cal (28), Nebraska (38) and Indiana (49) to score a combined 115 points. It's no coincidence that Cal and Northwestern – spread offense teams – often come up in the toughest game of the season discussion.
Everett Withers has a reputation for building quality defenses, having done so for almost 30 years. As co-defensive coordinator and safeties coach for the Buckeyes, Withers realized early on that using a base defense stocked with smashmouth linebackers wouldn't get you too far in today's version of college football. In an era of formations featuring three and four wide receivers, it isn't practical to play a base defense even three-fourths of the game.
That was part of the hang up in 2012. The Jim Heacock/Luke Fickell defenses didn't veer far from the traditional 4-3 alignment. That continued into last season, but this spring saw sweeping changes. Some formations included as many as six defensive backs.
"We're talented in the back end," said senior safety CJ Barnett. "We're talented everywhere, but the mindset is that (Coach Withers) wants to get as many defensive backs on the field as he can. As long as we're able to prove to him that we can play and we can be out there, why not have six or seven defensive backs out there?"
The star, a hybrid linebacker, will function as an extra strongside linebacker in the base defense, while the sixth defensive back will be similar to a weakside linebacker. It will allow the Buckeyes to pressure quarterbacks from various angles and disguise blitzes.
The more athletes Ohio State has on the field, the better equipped they are to slow down an opponent's playmakers. Time and personnel also contributed to the installation of defensive back-heavy packages.
There's a finite amount of time for players and coaches to interact during the offseason. The first year with a new staff isn't conducive to a dramatic overhaul, so this spring became the period for implementation.
"There's no doubt we thought we could use a little bit more of the nickel and dime packages that we started to use a little bit later in the year," Withers said. "I think we thought if we could have had those available to us early on, we would have been a little bit more flexible in what we could have done."
The loss of six starters along the front seven means the secondary is the most experienced spot on the entire team. The depth chart features five upperclassmen, including three seniors. Supply meets demand.
Adolphus Washington, Noah Spence and Co. helped change the perception of the defensive line with a robust spring. But it doesn't change the experience factor. A majority of the guys are still underclassmen with limited playing time. Behind them are Barnett, Bradley Roby, Christian Bryant, Doran Grant and Pittsburgh Brown.
"I think it gives us some flexibility and more ability to blitz and do some things," Withers said. "It obviously gives us some availability to cover in some more man-to-man situations. I just think it gives us some more flexibility to match up with some of the more spread-type offenses."
There's also a youth movement taking place with Tyvis Powell, Adam Griffin, Najee Murray and Devan Bogard providing stability and depth. That doesn't include three freshman – Vonn Bell, Chris Worley and Jayme Thompson – who could make an immediate impact. 
"We recruited for those spots, and I think we can use the athleticism out there," Withers said. "You don't want to be trying to install those packages during the fall, you want to have those things already in place."
For Ohio State, it's about assembling the top talent on defense and letting the knowledge take hold. 
Said Fickell: "We're going to play the best 11 guys."