The 11W Community Interview is truly of the people, by the people, and for the people. You submit the questions, vote on them, and then we pass the top ones on to the biggest names in the world of Ohio State athletics.
It was a surprise – without question it was a surprise when Detroit Cass Tech cornerback Damon Webb committed to Ohio State in January – but should it have been? This week we let you, the 11W readers ask the 5-foot-11, 185-pound human blanket that question and a number of others in the second in our series of community interviews. Does he prefer pizza or tacos? You're fixing to find out!
I won't waste your time on this holiday weekend with my musings, let's get to the reason why you're all here, Damon "Dame" Webb.
How tough was it/has it been to commit to OSU so early in the process given where you are from and the history with Michigan? - Jedkat
DW: I just wanted to set my own path. It wasn't really that tough committing to OSU being from Michigan because I always liked OSU even before I was offered. I remember a time in middle school when I had to wear my favorite team's shirt. I only wanted to wear Ohio State. It was hard finding a shirt in Michigan but my mom found one for me. 
Which 2014 prospects have you been recruiting the hardest since committing to the Buckeyes? - Sin City Buckeye
DW: Right now I am recruiting Derek Kief, Raekwon McMillan, and Jamarco Jones. I really like those guys and I think they will be a great addition to our class. I would love to get Malik McDowell; hopefully I will get him to come on a visit with me soon. I'm not recruiting just because that's what commits do now, these are athletes I would genuinely like to play on the next level with.  The other 2014 Buckeye commits are recruiting hard so I think we will end up with a great class.
What do you think is the strongest aspect of your game? What would you say is something you feel you need to work on/improve? - LLJJGG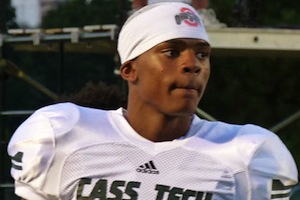 DW: I'm a competitor and I love a challenge. I want to compete against the best even if I get beat. If the best WR is out there, I will step up because that's how I will get better and know what I need to work on. I think the strongest aspect of my game is the ability to play man-to-man coverage but I need to work on my off-man technique.
Who is your all-time favorite Buckeye defensive back? - Hovenaut
DW: My all-time favorite Buckeye defensive back is Malcolm Jenkins. I watch his OSU highlights all the time. Of course, my current favorite Buckeye is Bradley Roby; this will be a great year for him and can't wait to see it.
Are you actively recruiting your teammates weber and campbell? If so, how is that going - PCUZZ1
DW: Yes! I talk to Mike Weber, Jayru Campbell and Josh Alabi about OSU but I'm not on their heads too tough, because I want their recruiting process to work itself out. They like what they have seen so far at Ohio State, though.
I'm a Buckeye who was raised in Michigan, do you think more kids from Michigan will be open to visiting and/or committing to Ohio State? - Chinooker97
DW: Most definitely, Ohio State is a top program! Coach Meyer and the staff have set the bar high; to win not only Big Ten championships but national championships.  Ohio State ranks as one of the best colleges academically, the athletic facilities are top notch and many former students make Columbus their home. We will see more kids from Michigan at Ohio State.
Its fairly well documented you are from that state up north. And that cass tech is known to be a very fertile recruiting ground for that school up north. What about ohio state was the deciding factor in you becoming a part of this class? - LuckyNutz
DW: It was Raising Cane's. I'm kidding.. maybe not! (Laughs) The deciding factor in my decision was my relationship with Coach Coombs and my family being  able to come see me play. Coach Coombs gives it too you straight; you have to put in the work and nothing will be given to you.  If I do that, I think I will have opportunity to play early, win national championships, and most importantly get a quality education. My parents were a major deciding factor too, they had to be comfortable with the choice I made. What got my parents on board was talking to different people at Ohio State. They spoke with one of the professors in the field I plan to study, the Athletic Director, the vice president of Student Life and the President. My dad has a fraternity brother who's an academic counselor at OSU. It's the family feeling you get at Ohio State. Another factor was the athletic facilities, especially the weight room. I am looking forward to getting on Coach Marotti's program...I think.
What are you planning on studying when you get to Ohio State? What is Damon Webb like outside of football - any out of the ordinary interests? - Basso Profondo
DW: I'm interested in the sport industries major with a concentration in business. Outside of football I'm just a laid-back kid I like to hang out with my friends and listen to music. I don't really have an 'out of the ordinary' interest, but I guess going shopping with my mom might be one.
It sounds like you have wonderful parents... How have they supported and assisted you with your decision? - BuckGuyFan1
"THIS WAS NOT A DECISION WE TOOK LIGHTLY."
DW: I would not be where I am without my parents support. My dad coached me in little league and I value his opinion. My mom is always there for me and when it came down to making my decision, my mom was the last one on board. This was not a decision we took lightly and my parents played a major role.
Everyone seems to think that it was down to Ohio State and TTUN, but who else were you considering, and was TTUN your second for your services, or was another team there? - ChicagoBuckeye
DW: I could have seen myself playing for all the teams that offered me. My final top three choices were Ohio State, Michigan State, and LSU, though.
Tacos or pizza? You can only pick one. - Denny
DW: I love pizza. I especially love Jets BBQ chicken pizza.
Buckeye fans are the best and I love it. I can't wait to be a student at Ohio State, and to play my first game in 'The Shoe.' This summer I will definitely be recruiting and having fun. I plan to visit Columbus a few times and I am looking forward to Friday Night Lights. This fall I will be playing my senior year of football and competing for another state championship. I will also attend a few home games this fall, especially the night games against Wisconsin and Penn State. I know it will be amazing to see the Buckeyes under the lights, and I'd like to visit when all the commits can attend. Hopefully we can make that happen!
Thank you all and I look forward to being a Buckeye. Follow us on Twitter @2014bucks and visit 2014bucks.com.