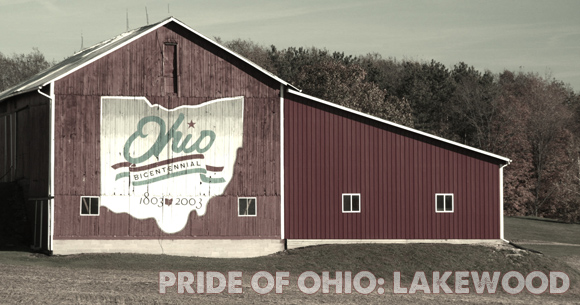 It's no secret that small town football in the state of Ohio is a success story. It involves winning, community spirit and togetherness. But the state is also home to powerhouse programs in major cities.
One metro area home to schools both large and small that have won consistently on the big stage is Cleveland. And few have done so more than Lakewood, a suburb located five miles west of downtown. Lakewood High School and St. Edward have combined to win 60 state championships between the two of them.
Nestled on the banks of Lake Erie, Lakewood is an affluent community that features two high schools, one public and one private, creating an interesting dynamic. The Rangers of Lakewood High, the public school in town, receive most of the community support. It comes from having one of the largest enrollments in the state and a fan base that cares about its own.
A large segment of the population attended Lakewood with parents of St. Edward students a part of that list.
"They're the home school," St. Edward athletic director Paul Michalko said about Lakewood. "We draw a lot of people to the city that normally wouldn't be here, so they're happy to see them. But the community support is with Lakewood High School. We don't have very many kids that live in Lakewood. It's a little different. It's not really a competition. We coexist very nicely."
The two schools share a football stadium and residents that love football often watch both teams' games.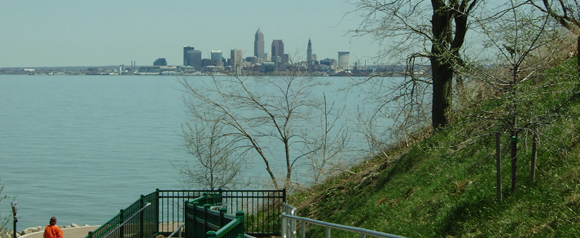 Lakewood has a renowned band and music program that receives just as much attention and backing as the athletic programs. The Ranger Marching Band has been a part of several bowl games, including the 2000 BCS National Championship Game.
The less athletically successful of the two schools, Lakewood does call one of sports greatest announcers among its alumni. Jack Buck's family moved to the area when he was in high school. He nearly dropped out after the untimely death of his father but chose to stay in school.
Buck would be honored with the Purple Heart for his service in World War II before enrolling at Ohio State, where he called Buckeye basketball games. As a student, Buck also was the voice of the Columbus Red Birds, the Triple-A affiliate of the St. Louis Cardinals. And thus began one of the broadcasting's greatest careers.
One block away, private all boys St. Edward High School has won a state record 46 championships spread over seven different sports, and there's a good possibility it could grow before the spring season is over.
"Every season there's something going on where we're competitive to the end," Michalko said.
Lakewood, Ohio
Population: 51,724
Where: 41.481, -81.800
County: Cuyahoga
Zip Code:

44107

Area Code: 216
Fun Fact: Lakewood's population density is the highest of any city in Ohio.
Some might pass his statement off as haughty, but it should instead be taken as fact. Whether it's fall, winter or spring, there's near certainty that the Eagles will be at worse competing for a state title.
How dominant is St. Edward? You must go all the way back to 1993 to find a year in which it did not win at least one state championship. This year has already been taken care of with a wrestling title. The wrestling program is a true juggernaut, having claimed 28 state and 11 team national championships in the last 35 years.
"It's all very tentative," Michalko said. "We know it doesn't last forever. We attempt to be as good as we can in everything that we do, but it's very streaky. History says it doesn't last long. We're actually pushing it a lot farther than people thought we could."
Across the board success is welcomed in any walk of life, sports is no different. But there is also one thing more glamorous than others. In sports, football is the kingpin. Only one of St. Edward's 46 state championships has come on the gridiron. The program's success has been up and down through the years, but the Eagles are considered to be among the heavyweights in Division I. Their 2010 championship came against Braxton Miller-led Huber Heights Wayne.
With a bulk of the starters returning off a team that went undefeated during the regular season, head coach Rick Finotti's group will have the spotlight firmly placed on them when practice commences in August, though the work began months ago.
"Certainly everyone is looking forward to football," Michalko said. "We obviously have high expectations. It's always a big thing. It's the most publicized of all the sports in the area. They start working at in January, so they're ready to go."
St. Edward is part of one of the state's best rivalries. Dubbed the "Holy War," St. Edward and St. Ignatius have played first played in 1952. The two schools are located six miles apart and opponents are often former and current friends from Catholic grade school, which adds to the intrigue. 
St. Edward and St. Ignatius have risen to the top of Division I the past two decades. While Ignatius owns most of the championships, the schools count 12 football titles among them and 18 semifinal appearances, all in the past 25 years. Some colleges would like to attract the crowd that comes to watch the two teams play. It can number more than 20,000 depending on the venue.
Three games in three different sports stand out from all others. In the 1993 season finale, St. Ignatius won 35-34 in triple overtime, a game that is considered one of the best in Ohio high school history. Five years later the schools met in the basketball state championship game. St. Edward won, led by a super team featuring Steve Logan and Sam Clancy. In 1998, the same scenario played out, only a different sport. This time it was baseball, but St. Edward was victorious again.
One can imagine all the winning has led to prominent alumni. If that's what you're thinking, consider yourself correct. Ohio State football players that came from St. Edward include Tom Cousineau, Rodney Bailey, Alex Boone and Nate Oliver.

The list of non-Buckeyes is equally as impressive: Delvon Roe, Jawad Williams, Haruki Nakamura and Dolph Ziggler
"The place is full of college guys – the weight room and the track," Michalko said. "When they leave here, they get something from us and are always welcome back. They spend a lot of time here and still feel like they're part of it. We recognize them whenever we can. Former football players are always on the sidelines. We like to have them here.
"When Rodney Bailey and Alex Boone were at Ohio State, it was always great for them to be in our weight room getting their workout in when we bring in freshman and eighth graders. To see those guys in there and see that work ethic is great. They always take time to talk to the kids and offer encouragement. It's a big deal, and we like them back here. It's great that they're comfortable enough to keep coming back."
To sustain the level of success St. Edward has won at is almost unthinkable. Generations have walked through the doors since the school was established in 1949 and that's where the pace began. 
"We have good kids, good coaches, we have a good program academically. They're functioning at a high level there," Michalko said "They understand what needs to be done and the kids are willing to put the work in. They'll stop being successful when the people involved stop working at it. Our coaches and kids work at it all year round, and they're happy to do it. They understand that's what it takes. The more we put into it, the more we get out of it."
When you factor in the heavy course loads and community service requirements from the school, the Eagles' winning tradition is all the more remarkable. It's not uncommon for students to have three to four hours of homework at night. When you combine it with hours of practice, time can become a factor. And that is why St. Edward limits time spent on athletics if outside the classroom activities become too arduous.
"We're very aware of the amount of commitment they have academically," Michalko said. "That's what they're here for first and foremost. If we see they need to shave some time off, we shave it off athletics so they're doing what they need to in the classroom."
Pride of Ohio: St. Henry | Martins Ferry | Piqua | Amanda | Lakewood