The 11W Community Interview is truly of the people, by the people, and for the people. You submit the questions, vote on them, and then we pass the top ones on to the biggest names in the world of Ohio State athletics.
The subject of tonight's 11W Community Interview – our first – is Cleveland St. Ignatius junior linebacker Kyle Berger. After narrowing his list to Ohio State and Michigan, he chose the Buckeyes to become the 7th commitment in Urban Meyer's 2014 class.
We caught up with the 6-foot-2, 218-pound tackling machine a month ago, but we felt he'd be a great candidate to kick off this new series. He answers readers' questions on everything from nicknames, recruiting, school and the origin of his Twitter nom de plume.
What recruits are you recruiting the hardest to join the 2014 class? – TDIBLE2132
KB: Personally, I've been recruiting Chase Winovich the hardest. We've been texting a lot and stuff and are planning to go up to OSU in one of the next couple weekends together. I've also talked with Mark Andrews.
How close was it with Michigan? – OhioWhiteSnake
KB: Honestly, it was really close between the two. Both programs are so much alike, great facilities, a rich football history, and good coaches. There was so much to like about both schools. But in the end, I just had this certain feeling about OSU when I stepped on campus that I didn't get anywhere else.
What other OSU prospect would you most like to play alongside? – Buckeye-In-SEC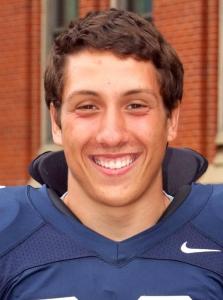 KB: It'd be awesome to play with Chase. I think we're so much alike as players and the coaches agree. It'd just be sweet playing with almost like another you on the opposite side of the field. We're both hard-nosed kids and we'd get after each other in practice and make each other so much better.
Are you planning to enroll early? How exciting or frustrating is it to be committed to a program, but still have a least a few months - up to a year - from being in it? – Basso Profondo
KB: Unfortunately, St Ignatius doesn't allow me to enroll early. It's kind of a bummer but it'll be nice to enjoy my whole senior year instead. Its definitely frustrating knowing you can't just go there right away and start school and football. It'd be nice to just start working out with Coach Mick and beginning school. But like I said before, it'll be nice to have my whole senior year. You only go through high school once and I'll  be at OSU for at least 4 years so I just have to wait it out until my time comes.
What is your biggest strength that you'll be bringing to the Bucks? What's one aspect of your game looking to improve between now and enrolling? – CalgaryBuck
KB: I think my biggest strength will be my hard work and dedication to the team. Anything a coach tells me, I work to fix it the very next play and I always do. I never have to be asked twice to do something. If I need to move to Mike (MLB), I absolutely will and will learn it as fast as possible without questions asked. The aspect of my game I'm looking to improve the most is my size. I was a "skinnier" linebacker, so I got to work to add muscle weight while keeping speed. I'm at about 218-pounds, so I've already gained about 15 pounds this offseason and have gotten faster too so I'm going to keep working on that.
What course of studies do you plan to pursue at Ohio State? How much did that influence your decision? – GV9
KB: I plan to be an orthopedic surgeon or a sports medicine doctor so I'll be on the the pre-med track. I will most likely major in biology with a classics (language) minor. I take Latin now and I love it (laughs), but it honestly had a huge impact on my decision. Football only lasts so long so you have to have a backup plan. Ohio State has a great medical school and I got to talk to the head doctor of their hospital and he was able to tell me a lot of great things about the medical program at OSU.
How difficult was it to balance recruiting, school, football and life during this process? Would you say time management or support structure was most important? – JedKat
KB: It really was difficult to balance school, recruiting, and life. Ignatius really teaches kids time management skills so that was a huge help. But I didn't hear anything from schools until after football season so that helped a bit. My parents were also very helpful during the process, they helped me notify coaches when I was supposed to call them or had to study or go to practice and stuff. They always stressed school first because it's obviously the most important. Then after homework was when I would talk to coaches. It got super annoying having to calls multiple coaches everyday when i just wanted to watch Netflix or something (laughs).
What was the worst recruiting pitch you heard? – D1145Fresh
KB: Honestly, I didn't hear a bad recruiting pitch. Every coach I came in contact with was very nice and always had great things to say. Really, the only "bad pitch" I heard was being called "Alex."
Tell us something that makes you unique, a special talent, skill, etc. – BME_Buckeye
Really, the only bad pitch' I heard was being called 'Alex.'
KB: Haha I get a ton of crap from my friends for this but I'm going to say it anyway, I love playing chess. I learned in like 1st grade and have loved playing it ever since. I haven't played as much lately but like up until sophomore year, I would play everyday. Also, I am obsessed with "Lost," as you all probably know due to my Twitter name being "Hugo Reyes. (I guess we know what he's watching on Netflix.)
Before you committed, did you follow Ohio State recruiting through Eleven Warriors or other sites regularly like us fans? If so, what kinds of comments about you boost your confidence or bother you the most? – TAE1986
KB: Honestly, I didn't at all. I tried to stay away from all that as much as possible. I stink at not caring what others think (laughs) so I was afraid of reading tons of negative comments. My mom read all that stuff and of course her "Mom mode" would take over when she'd see a mean comment and I would hear her talk back to the computer screen.
Thank you to all the Buckeye fans that asked questions and thank you all for your support! I will give my all for Ohio State, Coach Meyer, my family, and Buckeye Nation through my time at OSU. Can't wait to be playing in the Scarlet and Gray.