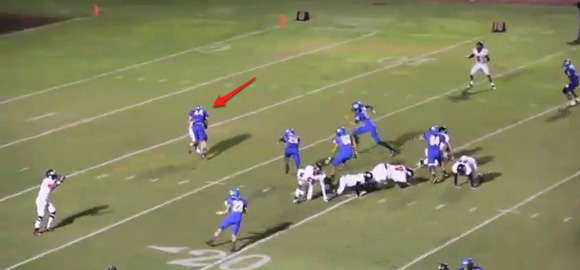 When you're a program like Ohio State, there are few things you have to do in order to make an impression on a high school football player. The kids around the country know who you are, and they know what you're about. Impressing a prospect is often a matter of simply getting them on campus and letting them see for themselves the things you have to offer.
For Orlando (Fla.) First Academy sophomore Garrett Williams, that moment came at the end of March when the 6-foot-4, 222-pound prospect and his family made their first trip to Columbus to check out the Buckeyes.
"I loved it, that trip was awesome," Wiliams told Eleven Warriors. "The school and campus is huge but I loved it. I had been talking to the Buckeyes since January and Coach Meyer said I should come up and we planned the trip."
The visit went off without a hitch - and barely without a peep, either - and that lack of attention to the visit seems to go hand-in-hand with the even-keeled personality of Williams. This is not the type of player, or person, that is trying to draw attention to himself. He's got one goal, and that's to make sure he handles his business the right way on and off the field.
"I enjoy the attention, but don't let it go to my head," he said. "I believe God has given me a platform to share my faith and this attention is good if I can reflect it back to Him. Everyone that has reached out to me have been great people so I'm blessed with the relationships I get to make as well."
Quiet and unassuming, Williams is trying to get a handle on the new attention and is quick to say it: he is anxious to get the recruiting process over. That doesn't mean he's not sure what he's looking for in whatever school he chooses, though, because he most certainly is. 
"For me, there's a lot of important parts, but the coaches and academics are a big part," he said. "I mean, I know they won't always be there, sometimes a coach leaves, but I need to be at a place that has a family feel to it. I need to feel at home, because that's where I could spend four to five years of my life, and maybe even more after school is over. I'm a Christian, so what type of person my coach is off the field is important, is he going to care about me as a person off the field? Academics is huge, because football can only take you so far, and it doesn't last forever."
If Williams sounds like he's got a pretty good handle on things, it's because he does. This is an impressive young man that has a plan for himself and intends to stick to it. One part of that plan that's not entirely settled? Where he'd fit in on the field at this point. 
"Honestly, gosh, I don't know (what position he'd want to play in college)," he continued. "If you would have asked me last year it was absolutely defensive end, but now I like playing tight end. I play full back in our wing-T right now, and I think that's where I best help my team, so I like playing there too."
With offers from Ohio State, Clemson, Tennessee, Kentucky, Virginia, and Duke among others, Williams is trying to get a handle on where things stand. He is hoping to make a trip back to Ohio State this summer, and wants to attend the Buckeyes high-energy "Friday Night Lights" camp made famous by Urban Meyer at Florida. That trip could be a big one for the Buckeyes, because Williams doesn't want to wait too long before deciding. 
"I absolutely want to commit early, because there are so many plusses to getting it done early," Williams added. "I'd like to decide either the end of the next spring or early summer before my senior year. That way I can help recruit for my college and enjoy high school. You only get one chance to be in high school, I want to enjoy it."