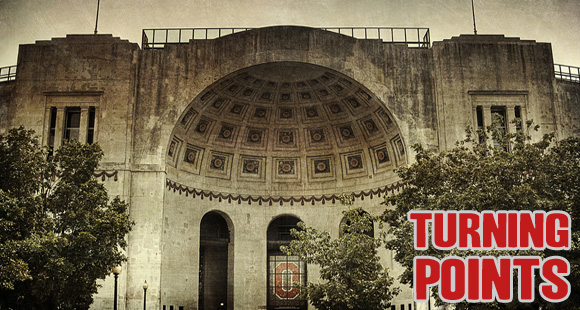 Setting the Scene
The year was 1996 and excitement was brewing in Columbus. The Buckeyes were returning a veteran football team that had gone undefeated in 1995 until it all came crashing down at the end of the season with back-to-back losses to Michigan and Tennessee. Still an 11-2 season was nothing to scoff at.
The Scarlet and Gray were charged with replacing a number of key offensive pieces including Eddie George, Bobby Hoying, and Terry Glenn. However, the team had a veteran defense to lean on including CB Shawn Springs, DE Matt Finkes, DT Mike Vrabel, LB Greg Bellisari  and NG Luke Fickell.
The Buckeyes got out to an amazing start winning their first two games against Rice and Pitt by a combined score of 142-7. 
It seemed even with the loss of their offensive nucleus, the Bucks remembered how to put up points in bunches. Credit can be given to players who stepped in immediately like RB Pepe Pearson, freshman WR, David Boston, freshman RB Michael Wiley and the emergence of a successful two QB system in Joe Germaine and Stanley Jackson (though I could have played QB successfully behind the wall that was Orlando Pace).
The defense also had a rising star in freshman LB, Andy Katzenmoyer. His start in the game against Rice marked the first time a true freshman had ever started an opening game at LB. The Big Kat didn't disappoint tallying eight tackles, three for loss and two sacks (the eight tackles were a team high). 
Yes it seemed the team was clicking on all cylinders and their record was certainly reflecting that observation. Over the next seven games, the squad racked up seven W's including wins against 5th ranked Notre Dame and 4th ranked Penn State in back-to-back games. 
Heading into their 10th game against Indiana, the Buckeyes were averaging 44 ppg and giving up only 9 points on average. Domination is the word you're looking for there.
So, it was a foregone conclusion heading into Bloomington that the Hoosiers would be a final tune up before facing TTUN for a chance at an undefeated season.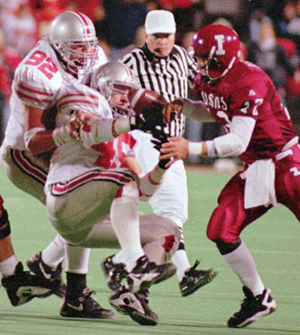 A Hoosier slaying would secure a Rose Bowl berth for the Buckeyes in the week before the Michigan game (something that hadn't happened since 1957). In addition, a victory would put an end to the 12-year drought of Rose Bowl-less seasons in Columbus.
While Ohio State had all the impetus in the world to perform, Indiana did not. The Hoosiers were a team without an identity, losing their last 14 consecutive B1G games and headed by a coach (Bill Mallory) who had been informed mid-season he was fired. 
With that said, the Hoosiers wanted to send their HC out in style, attempting to beat a top-ranked OSU in Mallory's last home game as coach. 
Much to the surprise of the college football world, late in the game the Hoosiers looked ready to deliver on that promise.
For the majority of the game the potent Buckeye offense was kept at bay. The score was 7-3 OSU until IU quarterback, Jay Rodgers took a 2-yard option keeper into the endzone with five minutes left in the third.
Suddenly the Buckeyes were down 10-7. Quickly they answered with a field goal of their own to knot it at 10, but time was running out in Bloomington.
With roughly six minutes to go in the game the Hoosiers were at midfield and driving to put the game away. Which brings us to…
Turning Point: Finkes Goes 45
According to the Chicago Tribune, the estimated 20,000 OSU fans in Memorial Stadium watched in silence, dumbstruck. 
The trip to Bloomington had been viewed as a bye week that happened to feature a game. All of this was supposed to be a formality leading up to Michigan.
Now those fans were wondering if their undefeated season would once again end in two straight losses.
With 6:18 left to go many had their heads in their hands, but those who didn't got to see this.
Katzenmoyer ripped the ball out of Rodgers' hands, and in the scrum Finkes was able to locate it on Andy's shoulder pads. From there he took it 45 yards for a TD. 17-10 Buckeyes.
In the end, the Scarlet and Gray would tack on 10 more points to make it 27-17, capping off a successful escape from Bloomington.
Unfortunately history would repeat itself in the following week as Cooper pulled a Cooper and allowed Michigan to ruin his undefeated season in back-to-back years.
Still, the Buckeyes were able to head to the Rose Bowl to play the Arizona State Sun Devils in a game for the ages.
Ultimately we all know what happened, but here's a little refresher:
Of course it all would have been impossible if not for Katzenmoyer to Finkes. A Turning Point indeed.
---
Until next week, Turning Points…out.