The connection between winning the turnover battle and winning the entire game is well documented and empirically tested.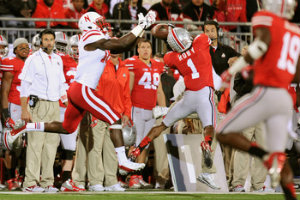 In fact, some would argue that turnover margin (the difference between takeaways and turnovers) is the single most important statistic for predicting how well a team will perform.
Tom Herman agrees, telling Rivals in 2011, "If you win the turnover margin and the explosive-play margin, you will win almost all of the games. There was an NFL study about 10 years ago that looked over five seasons. And teams that won those two areas won 97.5 percent of the time." 
This appears to be true when looking at Alabama, which has led the SEC in turnover margin over the last five years.
It's easy to criticize Alabama quarterbacks as only game managers, but Saban coaches his quarterbacks to be risk averse for a reason. 
As the Buckeyes prepare for "The Chase" this upcoming season, they will fight to approach Alabama's turnover margin in terms of both maximizing takeaways and minimizing fumbles and interceptions. 
The Buckeyes were 48th in the country last season in turnover margin. Disaggregating this ranking, the Buckeyes were 69th in takeaways and tied for 29th in turnovers. 
Compared to Oregon, who led the country last season, the Buckeyes were among the best teams in terms of not turning the ball over (Oregon turned it over 19 times compared to Ohio State's 18), but were extremely behind in takeaways. 
Meyer has a history of leading the country in turnover margin, finishing in the top 25 in 2005, 2008, and 2009. Between 2005 and 2010, his Florida teams were second in the country in number of passes intercepted. 
The 2012 Buckeyes were just average in passes intercepted and poor in fumbles recovered. While this didn't affect the Buckeyes' win total, it certainly didn't make it any easier. 
Looking at the Buckeyes' 2012 season and the turnover margin, we can classify games according to one of three basic categories: 1. A high turnover margin helped in a blowout, 2. The Buckeyes barely won despite a neutral or negative turnover margin, and 3. A positive turnover margin was instrumental in winning. 
Against Miami of Ohio, UAB, and Nebraska, the Buckeyes had a combined 9:1 turnover margin. It is nearly impossible to lose when a team is able to severely limit the opposing team's possessions.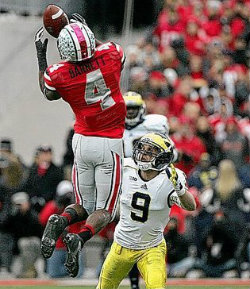 Travis Howard and Bradley Roby were completely in sync with Zac Dysert and Taylor Martinez in the Miami and Nebraska games, with each corner picking up two interceptions in each game. 
Besides dreaming about getting his first pick-six the night before, Roby mentioned that the game film showed Martinez relied upon just a few common routes. By studying film, anticipating these throws, and playing aggressively, Roby was able to get his first two interceptions of the season.
In contrast, the Buckeyes almost blew it against UCF, Michigan State, and Purdue, and the turnover margin played a key role in each of these close wins. 
While it's unlikely the Buckeyes would have lost to UCF, Rod Smith and Zach Boren's fumbles did nothing to help a too-close game. 
Against Michigan State, Braxton coughed up the ball three times. Despite Meyer's enthusiasm for the win after the game, he said:
"The one thing, if I remember right, (Miller's turnovers) were all in plus territory, though," he said. "If I remember, Braxton, Braxton and Braxton. I gotta go visit with Braxton. Remember that family member? He's not in the family anymore."
While the inability to create big plays on defense and the four turnovers on offense certainly didn't help Ohio State, Purdue failed to capitalize on a single one of the Buckeyes' four turnovers. That is pretty remarkable for the Buckeye defense. It's not easy for a defense to be forced into action earlier than expected and often in a high-stress situation following a turnover. 
While Buckeye turnovers didn't lead to any direct Purdue points, the Buckeyes primarily were hampered by their own missed opportunities and shortened drives. 
Finally, a positive turnover margin (5:2) played a crucial role in the Buckeyes' final two games against Wisconsin and Michigan. If not for Shazier's forced fumble and Christian Bryant's recovery on the goal line, Montée Ball would have tied the game earlier, with around 2:45 left in the game. 
Sometimes we forget how crucial turnovers were to Ohio State's success against Michigan. The Buckeyes forced three fumbles and picked off Devin Gardener once, taking away four potential scoring drives. 
Looking back on the 2012 season, it's easy to see that the Buckeyes won in spite of somewhat mediocre statistics. The Buckeyes had a relatively mediocre turnover margin, yet still ended the season 12-0. As the Buckeyes begin their Chase in the 2013 season, pay close attention to the turnover margin – especially the number of takeaways.