It's midweek, it's 4:30 p.m. and it's time to talk Buckeye recruiting.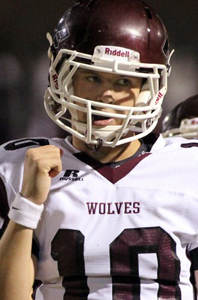 This week we're taking an in-depth look at what is happening with Ohio State's oft-discussed, even more oft-lamented quarterback recruiting for the class of 2014. The Buckeyes have taken their time, dissecting and reviewing a number of talented quarterbacks over the course of the last year and a half, and at this point have struck out on the only two that have garnered a scholarship offer, Jerrod Heard of Texas and Deshaun Watson of Georgia. 
It was the decision of Watson last week that may finally have accelerated the Buckeyes' efforts at arguably the game's most important position, but in the meantime a number of talented, yet not offered players have made their choice to stop waiting for the Buckeyes to call. 
Of course, it is Ohio State football and there are a number of players still hoping for any sort of interest from the Buckeyes, and new names are being tossed around nearly every single day as Urban Meyer's staff "plants flags" across the country.
Who has said goodbye? A number of players have committed elsewhere in recent weeks, including Caleb Henderson (North Carolina), Darius Wade (Boston College), William Ulmer (Maryland) and Will Crest (West Virginia). All were on the "short list" to replace Watson and are now off the board.
But just a moment ago, the Buckeyes made their decision on "who's next" at quarterback.
Almost all of the scuttlebutt about the quarterback position these last few weeks has revolved around three names: Deshaun Watson, Brandon Harris and Drew Barker. One name that had not been discussed as frequently was Scottsdale (Ariz.) quarterback Kyle Allen. 
He's about to be talked about. A lot.
"I just got off the phone with Coach Meyer; it was awesome," Allen told Eleven Warriors minutes after the offer came his way. "This is huge for me."
It's huge for a number of players, including Harris, Barker and Apopka (Fla.) standout Zack Darlington, who is being visited by Ohio State this very afternoon.
Allen highlights:
At 6-foot-4 and 190-pounds, Allen is a pro-style passer ranked 4th nationally by Rivals.com, but is Scout.com's top-ranked QB. Allen visited and camped at Ohio State last summer and was long-rumored to be a "Buckeye lock" if an offer came his way, and while he's still got the Buckeyes very high on his list, there's no guarantee of a commitment. One thing is sure: he's not the prototypical QB in Urban Meyer's system, but that didn't deter the Buckeyes from making their play.
"He (Coach Meyer) told me that they had done their homework," Allen said of the wait for the offer. "They wanted to see me develop as a quarterback and they liked what they saw from me in the last year and they decided that today was the day to make the offer. It's huge."
On Monday, Allen got a scholarship offer from Notre Dame, and you can't help but wonder if the Buckeyes wanted to make sure they had their guy. It doesn't hurt that Allen's high school teammate, WR Mark Andrews, holds a Buckeye offer as well. The two of them have discussed attending the same school, but now as they're both getting major offers from the around country, it's a "package deal" that's worth exploring.
"I was pretty focused on the Buckeyes a year ago," Allen, who plans to graduate in December, said. "I wanted that offer pretty bad, but I think the wait (for the offer) is actually a good thing. I have gotten a chance to see a number of great schools around the country and I am looking at them all. It helped me do my homework and I've got a lot of great opportunities around the nation, but the Buckeyes are up at the top of my list. I will make sure to visit them again now."
That brings us to the interesting discussion about Harris, a 6-foot-3, 185-pound product of Bossier City, (La.) who has gone from an anonymous blip on the radar for most Buckeye recruiting fans to the Pièce de résistance of the recruiting cycle in less than two weeks; and Barker, who's waited patiently for a Buckeye offer during the course of the last year and a half. 
We'll have more on this at Eleven Warriors as it develops.
IF NOT ALLEN, THEN WHO?
The interesting case of Brandon Harris, who had become the trendy pick as the Buckeyes Pièce de résistance at quarterback, added more intrigue on Monday:
Honestly I'm nervous about tomorrow

— Brandon Harris (@bharrisqb1) April 29, 2013
Ohio State was in Bossier City on Monday to check out Harris in person for the first time, and it's a visit that could be very telling as to Ohio State's intentions. Ohio State's Tom Herman was scheduled to be in Louisiana May 7 and 16 to see Harris, but apparently the news with Watson helped push the Buckeyes into action on Harris. 
There were reports that if impressed by Harris, Herman was granted "permission" to extend an offer to him, but sources that I've spoken to indicated that was not entirely the case. 
"Not necessarily (true)," the source told Eleven Warriors. "I'm sure they would have to talk about it as a staff first (before the offer)."
That appears to be accurate as Herman's visit came and went and as of now there's no offer to Harris, yet one to Allen. For his part, the quarterback felt confident about how he performed and about the chances of that offer coming his way. Harris told Brad Bournival of ESPN.com that he believes it could come as early as this Friday, but that may be changed at this point.
"Coach Herman seemed to love my game and the way I threw the ball," Harris said post-visit. "I hope the offer is on the table soon."
Perhaps one of the reasons the discussion was necessary was Herman's scheduled visit this week to Connor High School in Hebron (Ky.) where Drew Barker was poised to get himself reacquainted with the Buckeye playcaller. Barker was contacted last week by Ohio State for the first time in about two months, and it appears that the Buckeyes have some face-saving to do in order to keep him interested. Barker, 6-foot-3 and 205-pounds, has admitted to some frustration with how the Buckeyes have operated, and it seems that could push the Kentuckian away from the Buckeyes even if he ended up being the guy the staff decides to eventually extend an offer to. Kentucky and South Carolina, along with Tennessee, have all made a big impression on him and have already made their offers to him. 
Urban Meyer was supposed to call Barker this past weekend, but did not manage to do so, according to Barker himself, who was looking forward to the chance to throw again in front of Herman. As of now, Herman has not been to see him, although he could still make the visit this week. One person close to Barker was very candid about the way he's feeling.
"The window (for Barker) was so wide open," he shared. "I think (Urban Meyer) is gambling a bit because in his mind, he does not have to take a QB in this class."
News came early this week however that it's not just a two-man race for another offer at this point.
Apopka (Fla.) junior Zack Darlington has 12 scholarship offers at this point (including West Virginia, Virginia Tech and Nebraska, among others), a state title in Florida's largest division (8A), an All-American game invitation under his belt and a 3.3 GPA to go along with his 6-foot-2, 210-pound, twice-verified 4.43-forty frame. A self-described "football junky," Darlington gets his chance today to wow the Buckeyes, and an offer from the Buckeyes would be difficult for him to pass up, according to those in the know. Could he steal Brandon Harris' "Thunder"?
While the popular notion is that there's "no way" Braxton Miller departs after this upcoming season, if he decided to then the Buckeyes could find themselves in quite a pickle moving ahead into 2014. With Kenny Guiton's swan song coming, one that is hopefully filled with clipboard holding and mop-up duty in Buckeye blowouts, the 2014 quarterback situation looks a bit bare. 
Cardale Jones, who redshirted last season, has shown some flashes but is hardly ready to take over the reins of a program like Ohio State and incoming freshman JT Barrett is coming off of major knee surgery and, barring some roster disaster or miracle, will redshirt this year. In a full class of 25, I almost think I'd take two quarterbacks considering the current setup.