Kyle Trout was not always sure that this dream would come true.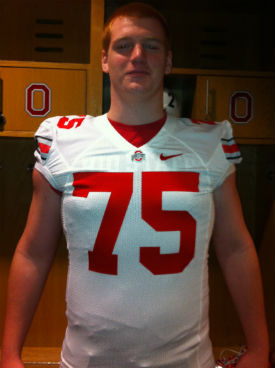 As a kid growing up in Lancaster, 40 minutes southeast of Columbus, Trout was well aware of what being a Buckeye was all about, but that doesn't mean he had an inside track to his eventual offer and subsequent – and quick – decision to join the Buckeyes' 2014 recruiting class.
"Growing up in Lancaster, there's always been a great Buckeye history," Trout said. "All the way to Rex Kern, then Barry Walker, Bobby Carpenter and Jimmy Cordle; now Luke Roberts, and soon, me. It's a great tradition and I'm proud to continue it, and of course it is the place I dreamed of being as a kid. We used to watch all the games on TV, but were unable to ever get to a game. I have a brother and a sister, so to get five tickets to a game was not cheap. The UCF game last year was my first time ever in (Ohio Stadium)."
Yes, that's right. Ohio State's leading recruiter among this year's commitments, despite only being a commit for less than three months, and an Ohio boy through and through, had never been to Ohio Stadium prior to last September. Not for a spring game, not on a tour after impressing the Ohio State coaches last summer after two-day camp, not ever. Zilch, zip, nada.
While Trout was not familiar with the "Brew Crew", the nickname given to the 2008 recruiting class spearheaded by Orlando native and former Buckeye Mike Brewster, he can certainly appreciate the thought behind it.
"All of us are trying (to recruit other players). We are constantly talking via group messages," he said. "We communicate all the time and are recruiting like crazy. We are all on the same page, because we just want to be crazy good."
Trout may never have believed that his dream would come true, but he's a believer in the Buckeyes. Always has been. Always will be. That's why he's taking it upon himself to become the go-to guy for the coaching staff, a guy that they know is hell-bent on making sure this recruiting class is a special one.
"Yes, it was an easy decision, a no-brainer," he said about the decision to be an active recruiter for the Buckeyes. "To be as successful as we want to be, we have to have the best talent. I want to win, and I want to win big. Getting the number one recruiting class in the nation will be a great start.
"Since I'm up there so often, the coaches have started to open up a little bit about what targets are important, but I don't repeat the info they have relayed to me (laughs)."
One tool that has come to light lately, a website created by fellow commitment Damon Webb's mother, is something that Trout thinks will be a special piece of the puzzle for the recruiting class, although he had nothing to do with its inception.
"I think the idea is awesome, and it's something that could definitely help us," he said. "But I had nothing to do with it.
What Trout has had plenty to do with is the recruiting effort for the Buckeyes on campus. As noted, he's been on campus pretty often, multiple times a month in order to help secure the pledges of many of the Buckeyes' top targets. That commitment to this class has led to not only improved relationships with the class, but also as he noted, the coaching staff.
"Coach Meyer and I have actually grown quite close, and Coach (Tim) Hinton and I joke around all the time, too, so we're pretty close," Trout said of his future head coach. "On our last meeting he said 'Thank you, Kyle, for everything that you're doing. I know you love it here and you're just doing it because you want to win, so thank you'.
"Quenton Nelson (offensive line prospect from New Jersey) and Kyle Berger both told that me and my family are 'simply amazing and nice people', and that helped lead to a commitment (from Berger)", Trout added. "I think that I'm impressing the whole staff with my efforts and results so far."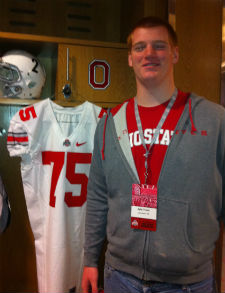 For Trout, listed at 6-foot-6 and 280 pounds, being a "big" target is nothing new, and he knows that his Scarlet and Gray commitment means he's even more likely to garner extra attention on and off the field moving forward into his senior season.
"I am so blessed to be given this opportunity to play for The Ohio State University and I am very thankful for that," he said. "Yes, it is a little more stressful because everything I do is monitored by my parents and the coaches and everyone knows who I am and what I look like in my community, so I have to be careful of what people see or could misinterpret.
"Yes, I have a huge target on my back now, and I believe that some people may try to take shots at me this season. I'll just work hard and stay focused and not get caught up in those types of games, and I'll be able to have a successful season."
Trout's journey to Ohio State really took a turn last summer at Ohio State's two-day advanced camp, where he caught the attention of the coaching staff with excellent performances on both days, and he thought it might have been enough to get the offer he coveted the most.
Turns out he was right.
Now, ironically, he is working just as hard to recruit other players who play the same position as he does, players who could – potentially – keep him off the field. However, there's no conflict of interest for Trout. He wants the best around him.
"Personally, I thrive on competition. I believe that having even more people fighting for a position will make everyone a lot better," he said of the decision to help recruit players like Nelson and Chicago's Jamarco Jones, another top Buckeye target at tackle.
"Everyone will be working that much harder for their chance to get on the field and have 100-plus thousand people cheering for them."
Now that he's committed and helping bring others into the fold, Trout is just trying to keep things in perspective, being sure to keep his focus on the right things before he gets to Ohio State next January.
"I fully intend on graduating early from high school and enrolling early at Ohio State so I can be ahead of the game," Trout mentioned. "I grew up dreaming about this chance, but I never knew it could or would be a reality. I'm very excited to be at Ohio State as soon as possible and want to be a part of the program well after my playing days are done."
Yes, Kyle Trout is now a believer that dreams come true, and he's making sure other people know that Ohio State could be their dream, too.