The ninth installment of the fifth edition of this now 24-part series titled Better Know A Buckeye now profiles Tracy Sprinkle. Sprinkle, a defensive lineman from Elyria, was a recruit picking up considerable regional attention before the Buckeyes extended a scholarship offer in mid-April. Sprinkle wasted little time in accepting the offer, committing to Ohio State a year ago today. This brief story is retold below. Thereafter, I include a player breakdown, highlighting strengths and areas for improvement. I then include a redshirt projection and miscellaneous things of minor importance before concluding that Tracy Sprinkle is better known. He is put on the board accordingly.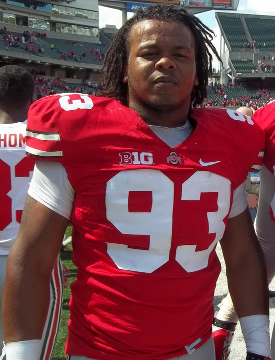 Height: 6'3
Weight: 255 lbs
Fake 40: 4.7
High School: Elyria High School; Elyria, Ohio
His Recruitment​
Tracy Sprinkle is one of the lesser-heralded recruits in the class, a consensus three-star selection by the major recruiting services. However, his offer sheet through the spring of 2012 was nothing to belittle. By February, he had scholarship offers from Arkansas, Kentucky, Syracuse, and Toledo. The Arkansas offer came by way of Taver Johnson, who went to bat for Sprinkle to Bobby Petrino's coaching staff.
The Syracuse offer seemed appealing as well. Syracuse was his first offer and was extended to him by Tyrone Wheatley (yes, that Tyrone Wheatley), then-running backs coach for the Orangemen. He intended to take a visit to Syracuse to see the program for himself.
In the interim, Sprinkle attracted greater attention from programs in the B1G TEN. Michigan State offered shortly after Sprinkle took an unofficial visit to East Lansing. He was unable to meet with Mark Dantonio on the visit, but Dantonio nonetheless offered a scholarship after a follow-up conversation.
In addition, Bill O'Brien offered Tracy Sprinkle the opportunity to play at Penn State on scholarship. While Penn State was firmly entrenched in the scandal that would define the latter half of 2011 and the first half of 2012, Penn State is still a signature brand in the Midwest (and even in Northeast Ohio, in particular). Sprinkle was excited about the prospect of playing for Penn State.
A month after picking up his first B1G TEN offers, Ohio State offered. It was a game-changer. Sprinkle was a lifelong Ohio State fan, a product of a part of the Buckeye State (Northeast Ohio) that is rather loyal to the flagship in-state institution. He was contacted by Urban Meyer to come down to Ohio State and bring his parents with him. During that meeting, Meyer communicated that he was impressed with what he had seen of Sprinkle on film and offered him the chance to be an Ohio State Buckeye.
Sprinkle sat on the offer for a few days, mentioning he still wanted to see Penn State and further evaluate his options from Michigan State and Arkansas. However, it didn't take long.
His Commitment
On April 17, 2012, Tracy Sprinkle became the ninth commitment in Ohio State's 2013 recruiting class. He, in essence, tweeted his verbal pledge to Ohio State.
Its official. #BuckeyeNation

— Tracy Sprinkle (@TSprinkle93) April 17, 2012
He informed the coaching staff of his decision after calling Stan Drayton, the regional recruiter. Drayton did not anticipate that a verbal pledge was forthcoming, but excitedly passed the phone to Urban Meyer and Luke Fickell when Sprinkle gave it. Sprinkle, a lifelong Buckeye fan, wanted to keep his talents "in the state" (his words) and be part of the tradition he grew up watching.
Where He Excels
Tracy Sprinkle doesn't have the skill set of a Noah Spence or Adolphus Washington, though he projects at the position of the latter (strongside defensive end). He can still be an animal, nonetheless.
Maybe it's fair to say Tracy Sprinkle is "raw"? He can be explosive all the same. Athleticism is a strength. He fires off the line of scrimmage at the snap, posing problems for offensive linemen trying to execute their assignments. Footwork is great, which can, in part, be attributed to Sprinkle's experience playing basketball.
He can get very skinny too, sliding between two offensive linemen to make a play in the backfield. I would expect to see something like this from Sprinkle, given the opposition he's playing. Elyria plays North Royalton in the division, but avoids Mentor. Still, it's very promising. Plus, he's shown a spin move on a few occasions, which is even more promising.
More than anything, what attracted the coaching staff to Tracy Sprinkle is the proverbial "motor". You know that "juice" term that is the word du jour for Ohio State athletics? Sprinkle has it in a gallon jar.
Must Work On​
Sprinkle is "raw", which means there are a lot of little things he needs to do better if he's going to reach his potential. Further, some of these little things are important.
Pad level is often less than ideal. Sprinkle will, on occasions, find himself creeping up from his stance and trying to overwhelm his man with raw strength. This is often sufficient in high school, but will not be sufficient in college. Further, I think his opponent makes first contact more than Sprinkle does. I'd like to see a better "punch" from Sprinkle, and more often. All told, his ability to get off his block should improve.
These are all things that are correctable with experience and coaching.
Highlights​
Senior year.
Redshirt?
This is another judgment call, though the answer is likely no. It will be difficult for Sprinkle to crack the rotation on the defensive line, even though Sprinkle has already enrolled and has been with the program for almost five months now. That's not to say Sprinkle is that inadequate, just that the depth and talent at the position is that outstanding. Still, his position is among the most amenable in college football to liberal substitution patterns. Maybe we'll see it against the likes of Illinois, but I suspect he gets some snaps late in games against non-conference teams. This could be his platform to demonstrate he could be a regular in Ohio State's defensive line in future seasons.
Miscellany
Birthday is tomorrow.
Elyria High School is the same high school as Chase Farris, his former and current teammate.
1950 Heisman Trophy winner Vic Janowicz graduated from Elyria High School in 1948. Vic Janowicz Drive runs along the south side of the high school.
Les Miles graduated from Elyria High School as well. However, to say that Tracy Sprinkle also enjoys eating Tiger Stadium grass is incorrect.
Important backstory on Sprinkle, who recently lost an older brother to a shooting after an argument. He is trying to make that family tragedy as inspiration for a family triumph.
His Elyria Pioneers finished 7-3 in both 2011 and 2012. His seasons concluded with losses to Mayfield both times.
He played offensive guard through most of his high school career before moving to defensive end midway through his junior season. He finished with 80 tackles, 8 sacks, and 25 quarterback hurries. He was a third-team All-Ohio pick as a junior.
He had 103 tackles, 30 TFLs, 19 sacks, and 2 forced fumbles as a senior. He was co-defensive player of the year in Ohio. He shared the award with Cincinnati Moeller's Shane Jones (future Spartan and brother of former Spartan Greg Jones) and Austintown Fitch's Billy Price, the latter of the two you already better knew.
Well, I think Tracy Sprinkle is better known.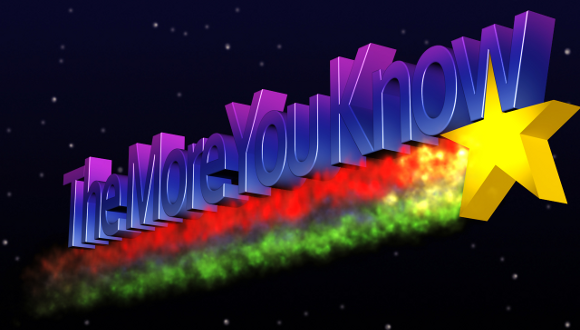 ---
Let's put him on the board.