Ohio State's departure in the Elite Eight on Saturday night was indicative of the same problems that previous Buckeye squads have suffered through in years past. During the Thad Matta era, tournament exits have coincided with irregularities in long-range shooting that flare up at the worst possible time.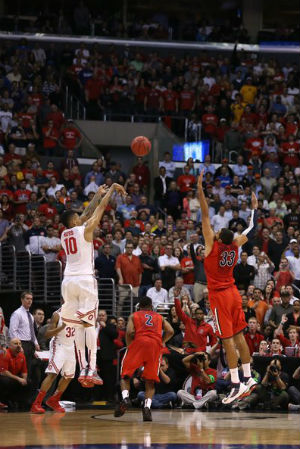 Sometimes the clanky shooting has affected one particular top player. At other times, like Saturday night, the disease has quickly spread like the hantavirus, infecting everyone on the roster.
As a team, the Buckeyes shot 35.6% from three-point range in 2012-13, yet Saturday night in Los Angeles, Ohio State couldn't buy a bucket from the arc. Ohio State was 5/25 from deep against Wichita State, hitting only 20% of the time. That's a pretty large swing from the norm. Particularly affected were Deshaun Thomas (0/7) and LaQuinton Ross (2/7). Thomas hit 34.4% of his treys this season, while Ross drilled 39%.
Aaron Craft was also 2/7, but that is less distant from the norm than the others. Sam Thompson, however, was 0-2 on Saturday after a 3-6 performance over the first three tourney games.
Ross was probably due for a game like this, having gone 6/11 on triples in the tournament's first three games. But Tank laying an egg was a pretty big surprise. By shooting 15.6% below average, the Buckeyes missed out on about 12 additional points. Needless to say, in a four-point loss, that's huge.
Some of this is attributable to bad shot selection, especially those launched early in the shot clock or in transition. But many of those were legit open attempts out of normal offensive sets. It's frustrating to watch players clanging triples, particularly open ones that come in the course of the regular offense. Wichita State effectively packed the lane and dared Ohio State to hit open jump shots. The Buckeyes hit two fewer than they needed.
The tournament is unforgiving, and one off night shooting can relegate a team to the sidelines while other teams march forward.
Last season, the Buckeyes reached the Final Four, where they ran into a solid Kansas team. Many point to Jared Sullinger's 5/19 performance in that game for just 13 points as a reason why the Buckeyes failed to advance to the title game. However, Thomas was abnormally off as well. Tank was 3/14 from the floor, including just 1/7 outside the arc. He hit 35% from the arc last season as a whole, so a 1/7 performance was once again unusual.
As a team, the Buckeyes actually shot well from outside against the Jayhawks. The team was 8/22 (36%) from three, and if you delete Tank's 1/7 night, that jumps to 7/15 (47%). Buckeyes not named Thomas or Sullinger (0/2) combined to go over 50% on 7/13 from deep.
One of the most fun teams to watch in Ohio State history, the 2010-11 Buckeyes featured a veteran team that could score in every conceivable way. The additions of freshmen Sullinger and Craft added excitement and enthusiasm to the core of William Buford, David Lighty, Jon Diebler and Dallas Lauderdale. Just about everyone was capable of putting up 15-20 points on any given night. OK, maybe not Lauderdale. That squad hit an impressive 42.3% from outside as a team for the season.
In the 2011 tournament, the Buckeyes reached the Sweet 16 against the Kentucky Wildcats, and promptly imploded. Everyone recalls Buford's 2/16 night, and much blame has been laid there. But only two of his misses were from distance, with one of those occurring at the buzzer.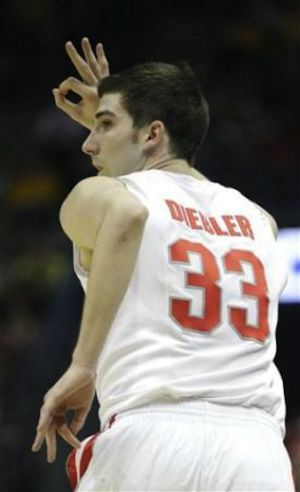 Diebler hit an impressive 4/7 from outside against the Wildcats, making up for his failings the previous two seasons (more on that below). But guys not named Diebler combined to go just 2/9 outside. That was a two-point loss. If Buford, Lighty (1/4), or Craft (0/2) had just hit one more, well, that could have been a championship season. All three were under their season average that night (44% for Buford, 43% for Lighty, and 38% for Craft).
In 2010, the Buckeyes rolled into the Sweet 16 with wins over UC Santa Barbara and Georgia Tech, before squaring off against Tennessee. Ohio State fell by three points, 76-73, in a hard-fought contest, in which the team actually shot right on its 39% average from downtown. The big anomaly in that 39% for the game was Diebler's 1/7 performance from the arc. Diebler hit 42% of his triples that season, but his shot failed him in the Edward Jones Dome in St. Louis.
The first round in 2009 featured a trip to Dayton to face No. 9 seed Siena, after an NIT-winning performance in 2008. The Buckeyes hit 38% of their bombs that season, but in an agonizing double-overtime loss, Ohio State hit only 7/25 (28%) from deep. Buford went 1/5 and P.J. Hill hit 1/4, but the biggest goat horns were Diebler's.
The man who would one day set every three-point record in school history, and become the B1G's all-time leader in made threes, was just 2/11 from long range that night. Diebler was a 42% shooter from three that season.
In the 2006-07 season, the Buckeyes may have featured their most talented cast of all time. Greg Oden locked down the paint and the likes of Mike Conley Jr., Daequan Cook, Jamar Butler, and Ron Lewis patrolled the perimeter. That team wasn't an especially hot team from the arc that season (36%), possibly owing to Conley's driving and Oden's dunking, but it was serviceable, with three players hitting at least 39%.
You know about that team's run to the national championship game against Florida, a team essentially returning an entire national championship squad. Oden did his part, nearly fouling out three opponents and scoring 25 points with 12 rebounds.
Florida ended up winning by nine, on a night that saw the Buckeyes clanging threes in bunches. Ohio State was just 4/23 (17%) from the arc, with many wide-open looks. It was a who's who of missed triples: Butler (1/6), Cook (0/1), Conley (1/3), Ivan Harris (2/8), Lighty (0/1), and Lewis (0/4). An average night from the arc would have produced an additional 12 points. The final was 84-75, with the Gators drilling quite a few freebies from the stripe down the stretch.
In Thad Matta's first trip to the dance as Ohio State's coach, his 2005-06 squad hit 37% of its threes. After a win over 15 seed Davidson, the Buckeyes faced the Georgetown Hoyas, who were seeded seventh. No. 2 seed Ohio State allowed only four Hoyas to score, but still fell, 70-52, in Dayton.
Honestly, the Buckeyes still would have lost had they shot their average from the arc that night, but they didn't. Ohio State hit 5/16 (31%), with Matt Sylvester (0/3), J.J. Sullinger (0/2), Lewis (0/2), and Harris (0/1) all laying eggs. Butler went 2/3 and Je'Kel Foster was 3/5.
Failings from the arc in elimination games certainly aren't limited to the Buckeyes. That particular bug bites many teams. But it's curious how generally good-shooting Ohio State teams, and individual star shooters, have crashed and burned in the tournament, even after starting the tourney well.
In all but one of the above examples, just the norm would have pushed the Buckeyes into the next round, and in the case of the NCG of 2007, to the school's first title since 1960. Is it pressure? Solid defense? Unfamiliar rims? It's likely all of those things, but until Ohio State can put a run of six games together without an off night from the arc, that elusive chase for the second OSU national hoops championship will likely have to wait.