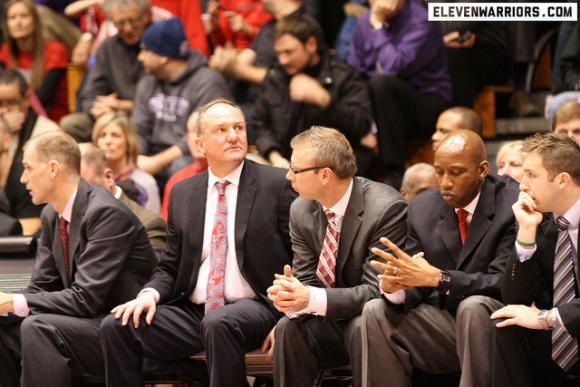 DAYTON – Ten years ago, Ohio State basketball was on the decline. Jim O'Brien conjured up one of the most magical seasons in any sport at the university when he guided the Buckeyes to the 1999 Final Four. But the honeymoon was long over.
Basketball has always been a filler during the long Ohio winters. It receives little attention when the team is down and moderate devotion during positive years.
Enter Thad Matta. A national title may be missing from his resume – something only Fred Taylor has accomplished at Ohio State – but one can make a legitimate case that the current era of Ohio State hoops is the Golden Age.
All Matta's done is won Big Ten title after Big Ten title, advanced to multiple Final Fours and sent nearly a dozen Buckeyes to the NBA. Most important is his 50-12 record in the month that spawns Madness.
"Winning conference championships and advancing deep in the tournament is key to that," director of athletics Gene Smith told Eleven Warriors, about the basketball program's fan support.
Just how relevant is Ohio State basketball nowadays? Well, the media contingent was present in Dayton on Thursday afternoon, not up the road in Columbus for the Buckeyes' spring football practice.
"Thad has done a marvelous job with working his plan that he shared with me in 2005," Smith said. "We've been able to put in the resources thanks to Buckeye Nation that allow him to work that plan. His recruiting is phenomenal, obviously he's a great teacher, I think the scheduling has been well. We've reached a point now where our basketball program is garnering the support it should garner in the Columbus area and nationally."
Expectations also have intensified. A month ago, a letter to the editor in the Columbus Dispatch called for Matta's firing. Unfortunately for Matta, his own success has led to the same unrealistic outlook that the school's football coach experiences.
Sophomore forward LaQuinton Ross, a Mississippi native, became aware of Ohio State through the football team. Living nearly 1,000 miles away, it doesn't come as a surprise that the Buckeye basketball team wasn't on Ross' radar.
"I knew about Troy Smith, Beanie Wells and Ted Ginn," he said, "so I watched them a lot. Coach Matta actually turned it into a basketball school. Now they're on the big stage and expected to win every year."
Count Smith among the believers in Ohio State basketball before the program soared. An Ohio native, Smith said he knew the talent level of Ohio high school basketball was high. It was just a matter of getting the kids to Columbus.
"(Ohio State) always had peaks and valleys," Smith said. "We'd do extremely well and then drop off."
Few schools have been able to enjoy such a successful run in football and men's basketball simultaneously. Florida, Texas, Oklahoma and Michigan are some of the programs through time that have fielded top-10 teams in both sports.
The support from fans, however, is unmatched. Ohio State ranks near the top of attendance year after year in both football and basketball.
"The football team does a great job getting everyone excited, and they don't want it to stop so they come to basketball games," said point guard Aaron Craft. "Coach has done a phenomenal job. We're still a football school, but there's an and basketball quietly after that. People get excited about basketball. It's great to be a part of."
Ohio State has been a 1 or 2 seed six times under Matta. The affable coach was asked if he thought that was a noteworthy accomplishment and responded with a resounding, "Hell yes it is."
The Buckeyes have been on that 1 or 2 line four consecutive seasons, meaning everyone on the current roster has lived the charmed life in Columbus. More stunning is the makeup of those four teams has been completely different, yet entering the tournament each was a favorite to reach the Final Four.
"It's all Coach Matta and the staff," Craft said. "Those guys really believe in us. No matter where we are in the year, they continue to put their trust and belief in us. It's trickled down from the older guys to the younger guys. They've come into their own, and hopefully we can build on that."
If anyone knows the irrelevance of seeding, though, it is Craft. He was a key contributor on the 2010-11 team that entered the tournament as the No. 1 overall seed. The Buckeyes departed in the Sweet 16, however, after falling victim to the upset.
"It feels good (to be a 2 seed), but seeding doesn't mean a ton once you get there," Craft said.
Winning the Big Ten Tournament this season and earning a favorable No. 2 seed is perhaps Matta's best coaching job yet. Yes, even more impressive than leading two teams to the Final Four.
The current eight-game win streak came after an embarrassing 22-point loss, which set back the Buckeyes at 8-5 in the conference. But the month of March was lurking in the distance, giving way to a miracle run engineered by Matta.
"As the head coach, you're always thinking big picture," he said. "I knew we had some mountains to climb. It just goes to show you how fun the season is and there's ups and downs to it. It's never going to go the way you want it to. If you've got good kids and you stick to it, good things are going to happen."
They've happened to Matta and his program nine years running.
"(It takes) leadership," Smith said. "We've always had great resources at Ohio State. But it comes down to leadership. Thad is the best there is. Great character, very humble, knows how to work with young men and develops them in a holistic way.
"He understands what their dreams and goals are and puts them on that path."
LAQUINTON BOSS: In need of one more critical stretch of play, Matta turned to his assistant coaches and players during the Big Ten Tournament championship game and pleaded for someone to make a basket. Not only did LaQuinton Ross provide the points, he also grappled for two rebounds.
Ross almost single-handedly lifted Ohio State from a 43-41 lead to 47-41, insurmountable in a slugfest against Wisconsin. He's more of a finesse player that bides his time near the three-point line, so seeing Ross bang bodies against the Badgers was a new experience.
He scored seven of Ohio State's 27 points in the second half, including four in that important late sequence. He finished the game with seven points, four rebounds and a steal.
"We needed a couple of baskets and I was like 'Hey, why not me?'" Ross said.
For two seasons, Ross has failed to live up to his potential. Grade issues halted his development a year ago, which also contributed to his level of play much of this season. But after more than 30 games, the sophomore is starting to catch on.
The Big Ten Tournament was arguably his best three-game stretch as a Buckeye. He finished the weekend with 27 points on 10-of-18 shooting, including six made 3s on nine attempts. Ross added eight rebounds, two assists and two steals. There were also six turnovers, but those are going to be included with the good in Ross' game.
"I thought he was tremendous in the Big Ten Tournament," Matta said. "He's turning the page. I love his game. I love his growth."
When practice commenced in October, it was Ross who was hailed as the complement to seasoned scorer Deshaun Thomas. But that scenario never consistently came to fruition. Entering the tournament, it appears the Buckeyes' wishes may finally be granted.
Ross – along with Craft and a host of others – are the reason Ohio State is a trendy pick for the Final Four. It's not solely based on Thomas anymore. Matta was hoping it would all click for Ross early in the season, but the timing couldn't be any better.
"I looked at this season as my freshman coming out year," Ross said. "Last year I didn't really feel a part of everything. I wanted to go out and get my own title this year and we won the Big Ten Tournament, so I felt great about that."
BULLETIN BOARD MATERIAL: "To me, it's not an upset. It's a game we should win, it's a game we're capable of winning."
Those are the words of Iona junior guard Sean Armand. He and his Gaels teammate come to Dayton full of confidence, and why not? Iona is winner of its past five games and has been here before. This is the Gaels' 10th appearance in the NCAA Tournament.
They've only won once – back in 1980 under Jim Valvano – but this is the fifth NCAA Tournament berth since 2000. Seven of their 10 tournament losses have come by a combined 19 points. That includes last season's six-point loss to BYU in UD Arena after Iona led by 25, the biggest comeback in NCAA Tournament history.
"There's nothing to talk about now," Armand said. "We have a whole new team. There's no point in talking about it. You live and you learn."
Iona's season to date has been a microcosm of their lack of tournament success – close loss after close loss. Still, it added up to a 20-13 record. But Iona had its share of triumph over major-conference programs. The Gaels beat Wake Forest and Georgia, and lost to Rutgers by two. So the intimidation factor will be nonexistent.
"I don't buy the mid-major thing," Iona guard Momo Jones, the nation's third-leading scorer, said. "We played against great teams, we played against big conferences and we've won, so it's no different from going to the NCAA Tournament and winning.
"Whether people see it as an upset or not, when I get back in that hotel, when we happen to win a game, it's going to be a regular game. It's not going to be any more celebrating than another game."
LaQuinton Ross went ahead and printed out the words for his teammates to see. But the level of confidence exhibited by Iona is not all that surprising. They have the recent success against BCS conference programs and even though last season's tournament loss was an historic blown lead, it still gave Iona the sense that it belonged.
And anytime you have Jones on the team, there's a chance to win. He began his career at Arizona, becoming a national darling during the Wildcats' 2011 Elite Eight run. Jones was the starting point guard and finished with 16 points, three rebounds, six assists and a steal in Arizona's 93-77 dismantling of Duke in the Sweet 16. It remains one of the best games of his career.
The Final Four dream came to an end two days later, though, in a two-point loss to eventual national champion Connecticut. Weeks later, Jones, a native of Harlem, left Tucson for Iona to be closer to his ailing grandmother. The NCAA granted him a hardship waiver, clearing the way for him to play immediately.
The Gaels' shot at redemption was not a foregone conclusion. They have nine new players on this year's team and they hit a snag in the middle of the season. Six losses in seven games put a halt to Iona's postseason plans.
But a five-game win streak vaulted them into the NCAA Tournament.
"We're thrilled to have won the conference," Iona head coach Tim Cluess said. "Obviously we know what's ahead of us and the great team we have to play. At our level to be able to win and be able to go to the Dance is a phenomenal thing. We're going to go in there and give it everything thing we have, just like we do every single game. It's just a great moment for our school and our team."