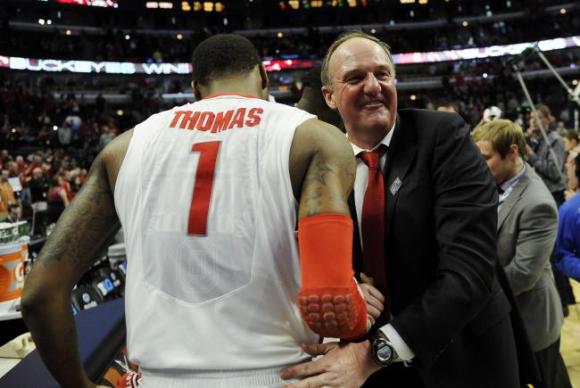 DAYTON – On Deshaun Jr.'s first birthday, the little tyke's father ended a miserable stretch of games that saw his point total and shooting percentages free fall. All that was needed to break out of a slump was inspiration.
It was one year ago, with Ohio State facing Cincinnati in the Sweet 16, that Deshaun Thomas' son was born. The elder Thomas was off in Boston and said he'd honor his newborn son through his play on the court. Actions spoke loudly that night in the Boston Garden, as he shredded the Bearcat defense to the tune of 24 points.
On the one-year anniversary, Thomas was at his best again, scoring 24 points in the Buckeyes' 95-70 win over Iona – history repeating itself.
"That is something crazy," Thomas said. "It's unbelievable."
Thomas' star rose considerably during Ohio State's run to the Final Four a year ago, when he averaged nearly 20 points per game. But that was with Jared Sullinger and William Buford helping attract defenders. That's not the case on this season's team, which is built around defense. Thomas is the lone true scoring threat.
The junior sharpshooter admitted prior to the Iona game that pressure was a factor in his recent shooting slump. Being "the man" isn't always rainbows and wide open avenues to the basket.
But with his son in attendance wearing a miniature No. 1 jersey, everything seemed to slow down for Thomas. His 24 points came on only 12 shots, the most efficient shooting night he's had in more than a month.
"I knew he was going to be here showing his dad support," Thomas said. "It was something special, going out there and performing the way I performed for his birthday was real good. I looked up and I saw him clapping his hands. He was up there all happy, cheering me on. That was a great feeling."
Now Thomas has another dilemma on his hands. Sunday afternoon he'll be in Dayton as his son's birthday party commences an hour east in Columbus.
"The mom (Jasmine Lewis) understands," Thomas said. "Games are going to happen my whole career. He's young. He doesn't remember things right now. I'm sure when he gets older, he'll be like, 'Dad, where are you?' I just need to think about my son and know he's having a great week and be aggressive for him and my teammates. Just go out and play hard."
It's been a constant maturation process for Thomas since he arrived in Columbus – both on and off the basketball court. His game has evolved from all offense to an all-around set of skills. Thomas still takes questionable shots, but he's also not afraid to kick the ball out and find an open man.
He is averaging 19.5 points, tops in the Big Ten, and 6.2 rebounds.
Fatherhood sped up his actions off the court. He had to learn to balance basketball, school and life. By all accounts, a grownup Thomas has taken to his roles with great pride.
"It's having that type of responsibility," said point guard Aaron Craft. "He takes it all in stride. He'll say no to us sometimes because he knows he's got to go home and hang out with his kid. I've seen him take academics more seriously and an all-encompassing kind of growing up."
COMMANDER-IN-THIEF: In the past year, Aaron Craft has become Mr. Popular, a real life Big Man on Campus. He got a Sports Illustrated cover during last season's NCAA Tournament run, a six-page spread in the iconic magazine this season and he's now a twice named "Hottest Guy of March Madness" by Cosmo.
"That's just two years running, I'm just sayin'" Craft said.
But all of that took a backseat to President Obama picking Ohio State to reach the Final Four in his bracket, with Craft's defense being the reasoning. 
"I think Craft's defense is unbelievable," the president said. "That makes a big difference."
Said Craft: "Getting a shoutout from the President of the United States is pretty crazy. We were all watching as a team and out of nowhere he said it. It's pretty cool, pretty sweet. (My teammates) gave me some crap about it, but I'm going to cling to it, and hopefully I don't disappoint him."
That president's statement has been prophetic so far, though the Buckeyes have only played one game. In Ohio State's win over Iona, Craft finished with a season-high six steals, frustrating Iona guard Momo Jones, the nation's third-leading scorer, into a 3-of-14 shooting night. Jones scored nine points, tying his season-low.
With his partner in crime, fellow point guard Shannon Scott, Craft have spearheaded a nine-game win streak with defense. The duo has spent large chunks of time on the court together attacking opposing offenses with relentless energy.
"That's when I feel as if we're playing our best basketball," Craft said. "We don't always gets steals, but I fell like we limit guys to one shot and limit guys to their second and third option on offense. Hopefully we can do that. Obviously that helps us on offense get easy baskets in transition."
During the Buckeyes' uptick in success, Scott's entire stat line has corresponded with the team's triumphs. More minutes, more points, more steals, more assists equals more wins.
"I give Shannon a lot of credit for being perceptive enough to understand, 'What do I have to do to help this team?'" Ohio State head coach Thad Matta said. "He has really embraced that. You see the look in his eye that he really wants to be a good defender and that helps our team."
Still, the seal of approval from Matta doesn't quite compare to Mr. President.
'He's got good taste, what can I say?" Craft said.
WILD WEST: It quickly became clear on Selection Sunday that the West Region was the weakest of the four NCAA Tournament regions.
No. 1 seed Gonzaga has more than 30 wins and hasn't lost since January, but the Bulldogs are still an unproven mid-major to many. The proof came on Thursday when Gonzaga narrowly averted disaster and eked out a six-point win over 16 seed Southern.
Second-seeded Ohio State has now won nine-straight, but flaws still exist. Then you get to seeds 3 through 5, and the Madness begins. New Mexico, Kansas State and Wisconsin all fell victim to the dreaded first-round double-digit upset.
"It's crazy," sophomore forward LaQuinton Ross said. "This tournament is really crazy. You have a lot of big teams out early. I don't want that to be us."
Yes, it's fair to call it the Wild, Wild West.
The road to the regional final has been paved with rose petals for Gonzaga and Ohio State. The top seeds will gladly watch the implosion take place around them.
"As we saw the last couple years, one half of bad basketball can end your season," Ohio State assistant coach Jeff Boals said. "If you don't focus on the now and present, you're in trouble. I don't think we're good enough to look ahead."
The Buckeyes took charge on a topsy-turvy Friday, roaring out to a 30-13 lead over Iona. It took the Gaels out of their game and out of the game. Iona's fast-paced offense was completely outclassed by Ohio State, who turned the dial up as well, catching the Gaels off guard.
"Those guys, they looked like they work out every day," Iona guard Tavon Sledge said. "They're a lot more physical than us. They just played hard throughout the whole game. I believe they stuck to their game plan, and just kept doing what they do best, what they did all year."
Defense has been the modus operandi for the Buckeyes. Nothing changed on Friday night. Iona turned the ball over 19 times, leading to 29 Ohio State points. Lenzelle Smith Jr. called it a "dose of reality."
But lurking in the background is the specter of overconfidence. To avoid that, the Buckeyes need only take one glance at the tournament bracket.
"It tells us to stay humble and let you know you can't look past any team," Smith said. "We have to be ready to go. It comes down to whoever is the best team that day is going to win that game.
"I hear a lot of people say, 'Ohio State should be there at the end.' But we can't be one of those guys thinking that."
MR. MARCH: Korie Lucious has been a March hero before. In 2010, when he was at Michigan State, Lucious hit a buzzer-beater in the second round that propelled the Spartans past Maryland into the Sweet 16, and ultimately the Final Four.
But Lucious' time in East Lansing ended unceremoniously. He was suspended from the team in January 2011 for conduct detrimental to the team before eventually transferring to Iowa State.
At the time of his suspension, Lucious said he didn't "live up to standards of the program."
"Unfortunately, I let my teammates, my coaches, and myself down, and wish them the best for the rest of the season," he said.
His career in far-off Ames, Iowa, has seen a resurgence. Lucious is averaging 9.8 points, 1.9 rebounds and 5.6 assists for No. 10 seed Iowa State. He has the Cyclones poised for an upset on Sunday against Ohio State.
Few players in the NCAA Tournament are as experienced as Lucious. He's played in two Final Fours and a national championship game. His tournament scoring average hovers near 10 points per game. Plus, he has that last-second shot, a personal One Shining Moment.
"I remember a scorer, a tough kid defensively, a Michigan State kid," Boals said. "He likes pushing the pace on the offensive end. You can tell he's really grown in his year sitting out and being in Coach Hoiberg's system."
He'd like to make more of those memories, and he has the teammates to help him out. Iowa State pushes the ball and shoots from every corner of the arena. The Cyclones have made 334 three-pointers this season – 9.7 per game to lead the nation. Nineteen times they've made 11 or more 3s in a game this season.
"I can't really explain how we do it," Lucious said. "We just go out and play our game. Coach Hoiberg has extreme confidence in everyone on the team. He gives us the unlimited confidence to go out there and play and make shots. We spread things out, so it's tough for teams to hold us."
But Ohio State is an entirely different animal. The Buckeyes haven't allowed double-digit made 3s during their current nine-game win steak.
"I don't remember a point guard like Aaron Craft on defense when I was there," Lucious said. "They extend on defense, get in the passing lanes and try to speed the tempo up and get opponents uncomfortable.
"We have to make sure we play our game, space the floor and try not to do too much. It's going to be key for us not to turn the ball over because they get out and pressure a lot. Aaron Craft is a great on-ball defender. As long as we take care of the ball and play our brand of offense, we'll be all right."