In anticipation of the upcoming season of Ohio State football, I continue with the fourth installment of the fifth edition of this now 24-part series titled Better Know A Buckeye. In this installment, I profile Eli Apple, a cornerback prospect from Voorhees, New Jersey.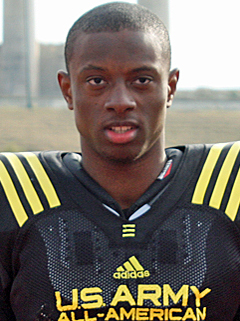 Apple was an easy projection to sign with Ohio State. In fact, he had followed the Buckeyes from afar since he was very young. Pictures of a preteen Eli Apple with Jim Tressel circulated among Ohio State recruitniks early into Apple's recruitment. Once it seemed like Ohio State's future was rosy despite the scandal that plagued the 2011 calendar year, Apple hopped on board and committed to Ohio State, via public tweet, on February 16, 2012. 
Apple's story is discussed here, first recapping his recruitment and commitment. A discussion of strengths and weaknesses follow, with a projection of whether Apple is a candidate for a redshirt. Thereafter, I conclude Eli Apple is better known.
Height: 6'1
Weight: 188 lbs
Fake 40: 4.48
High School: Eastern Regional High School; Voorhees, New Jersey
Twitter: Follow @EliApple_9
His Recruitme​nt
Eli Apple appeared on the radar for Ohio State fans around the time he received a scholarship offer. Having just completed his sophomore season, albeit one with considerable publicity, Apple did not have an extensive offer list yet. In fact, he picked up only his first scholarship offer the day before arriving in Columbus, Ohio, to participate in Ohio State's Senior Advanced Camp on the weekend of June 24-25, 2011. After participating in a few drills, Ohio State's coaching staff pulled Apple aside and let him know he had a scholarship offer. The rest of the visit involved Apple meeting with Taver Johnson (cornerbacks coach), Nick Siciliano (who recruited his region), and Luke Fickell, the interim coach at the time.
While this was our first exposure to Eli Apple, Apple was well known to Ohio State's coaching staff. Though hailing from Voorhees, New Jersey (a Philadelphia suburb in New Jersey), he had been a yearly visitor to Ohio State. He had been participating in Ohio State's camps since he was in seventh grade. This is not a trivial level of commitment by a kid to get recognition from a target college football program, especially for a kid whose commute to these camps is fairly expensive.
When pressed to talk about what the offer from Ohio State meant to him, despite the fact that the Notre Dame offer is objectively as important and came first, Apple reiterated that he had wanted this offer badly since he was a kid. Indeed, that's how far back it went for Eli Apple.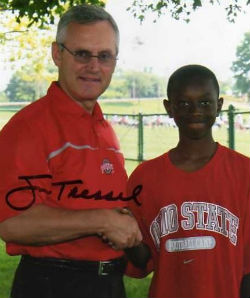 That said, Apple was cautious enough to not jump on the Ohio State offer immediately. First, there would be no need. While Eli Apple was an Ohio State fan from afar since he was a kid, the process was still early for him. That trip to Ohio State, in which he received that scholarship offer, was but one stop on a trip that also included trips south to Gainesville and Tuscaloosa. Further, it was worth waiting to see what exactly would happen to Ohio State as a result of the scandal that ultimately led to Tressel's resignation on May 30, 2011, a month before Apple received his offer from interim coach Luke Fickell.
Apple was quick to note that his interest in The Ohio State University went beyond just Tressel. Ohio State's self-imposed sanctions that were announced in July 2011 did not faze Eli Apple. He repeatedly stated that Ohio State was his dream school. Still, there was no rush to make a decision. In the meantime, Eli Apple put together an offer sheet that included offers from programs like Alabama, Purdue, Michigan, Rutgers, Tennessee, and Wisconsin, among many others.
There were three important events that ultimately led to Eli Apple choosing Ohio State. While I wouldn't say it was a determinant in Eli Apple choosing Ohio State, hiring Urban Meyer to replace Jim Tressel helped. I've mentioned this in past installments here, but it's a signal to recruits that the transition to life after Jim Tressel wouldn't be a transition to second-tier status, not with Urban Meyer in charge. Further, Meyer has his own charisma and bona fides that would attract top recruits like Eli Apple.
Retaining Luke Fickell may not have been the highest priority for Urban Meyer when he arrived (and he said as much when he signed a contract with Ohio State), but it was a little important for the Apple family. It was at least something they liked. Luke Fickell was an integral part of Jim Tressel's staff for over eight years. In hindsight, ArKansas' implosion in 2012 under John L. Smith should underscore to Ohio State fans just how bad Ohio State's 2011 season could have been. Fickell performed rather capably by comparison. Given Fickell's performance under pressure in 2011, and Apple's connections with the Tressel coaching staff, retaining Luke Fickell (even if other coaches were not retained) was an added bonus from hiring Urban Meyer.
After taking another unofficial to Ohio State to visit the new staff in Columbus, and after internalizing that the extent of the sanctions that brought down the Tressel regime in Columbus would be limited to only the 2012 season, it seemed a forgone conclusion that Eli Apple would commit to Ohio State. He scheduled a public commitment for February 16, 2012.
His Commitme​nt
On February 16, 2012, Eli Apple became the fourth commitment in the 2013 recruiting class. He also set himself apart in how he committed to Ohio State. In an increasingly digital age, Eli Apple tweeted his commitment instead of announcing it on television. Announcing college commitments on television is so 20th century, bro.
After much prayer and consideration, I'm proud to commit as a student-athlete to The Ohio State University! #BuckeyeNation

— Eli Apple (@EliApple_9) February 16, 2012
When asked why Ohio State, Apple mentioned that he had seen everything he needed to see from multiple visits to Columbus since he was in seventh grade.
"I really took the time between my sophomore and junior year and treated it as if it was my senior year which I thank my parents for supporting me in. I took a lot of visits to various schools and got to see and feel what I liked and what I didn't. I have been to Ohio State several times since the seventh grade and was very familiar with the football side of things but hadn't visited the academic side of the university until this past August. I really appreciate all the schools and coaches that recruited me, but in the end Ohio State lived up to everything as a university, football program and the entire Buckeye Nation has been nothing but great!"
When asked why Ohio State right now, Apple gave emphasis to his most recent visit to Ohio State and discussion with Urban Meyer and his staff.
"I knew once and for all after meeting the new coaches, and my mother and sister who hadn't attended the visit in August got to see the campus for the first time which was big for me. We sat with Coach Meyer and were able to get his perspective on everything which is really exciting, and it's a special time to be a Buckeye! So I just knew that now is the time!"

...

"Just getting to meet the new coaching staff and getting a feel of what the direction of things will be going forward. I will always be thankful for the positive impact all the coaches have had on me over my time spent being there over the years from Coach (Jim) Tressel, Coach (Darrell) Hazell and Coach (Taver) Johnson, and I'm just as excited for the impact the current coaching staff, which I believe is the best in country, will have on me over the next chapter of my life on and off the field."
Eli Apple chose Ohio State over Notre Dame, Purdue, and Rutgers, for all intents and purposes. He also considered the Alabama offer as well.
Where He Excels
Eli Apple is an intriguing prospect at corner. His addition to the 2013 recruiting class, along with Gareon Conley and Cameron Burrows, should put Ohio State as having the best cornerback recruits in the conference in 2013.
At 6'1, 188 lbs, Apple qualifies as a "big" cornerback. He's more "long" to Cameron Burrows and Gareon Conley's "big". I haven't seen a measure of Apple's wingspan, but he looks like he has the arms of a standard 6'4 guy. This would allow him to jam opposing X receivers, though you tend to not see a lot of that in high school football.
Cornerbacks are notorious for being meek and unenthusiastic tacklers. It's sometimes a stereotype that invites an ecological fallacy, but I do see a lot of it. That's not Eli Apple, though. Apple is very diligent in run support and shows no hesitation in attacking the ball-carrier. In a run-heavy game that is high school football, seeing this was assuring.
Must Work On​
There were a few questions I had in looking at Apple's film. For one, I think his backpedal needs work. It's a bit lackadaisical as it is. This comment comes with some reservation since Ohio State may be experimenting with pattern match (I'm actually not sure on this). In that case, the issue of backpedaling becomes less important.
Second, his speed isn't "elite". I see some things I like. His closing speed on a receiver down the field looks all right and his burst off his back foot looks pretty good as well when reacting to a wide receiver screen (for example). Straight line speed doesn't appear to be a strong suit. It's why I was curious about possibly cleaning up some mechanics in order to avoid wasted motion.
Highl​ights
Senior year!
Red​shirt?
Nope. I'm not sure yet if Eli Apple has an immediate effect at cornerback despite our questions at that position. He would need to replace Adam Griffin or Doran Grant in the two-deep to do that, while also competing with Cameron Burrows and Gareon Conley. However, his position is fodder for special teams duties. Expect Eli Apple to be in the piranha tank in Week 1.
He may be a home run signing when we look back at his career, and there's a lot of confidence from area coaches in Philadelphia about that, but I don't think we see it in his freshman year beyond kickoff coverage.
Miscellany
Eli Apple has a unique history. He was born in Philadelphia, lived in Ghana for two years, and then moved to Brooklyn before eventually returning to the Philadelphia area.
Regarding Ghana: Apple's grandmother is a community leader of Shama, Ghana. She also runs a church in the area.
He spent high school volunteering at a local pediatric clinic. Expect him to do some similar volunteer work while at Ohio State.
Eli Apple committed to the coaching staff in person before announcing it via Twitter. His position coach at the time was actually Bill Sheridan. Remember him? Here's the group photo with Bill Sheridan front and center.
Eli Apple was "Eli Woodard" for as long as Ohio State fans knew him. He changed his surname at the end of 2012 to that of his stepfather. His announcement of the name change came with these comments.
"A wise man once stated, 'Fatherhood is not biology. Fatherhood is responsibility.' From the time I was two years old my dad, Timothy Apple, has been my father. He's nurtured, provided, and protected our family. I am the man I am today because of his tireless love, and commitment to our family. So it is with great pride and honor to carry his last name. I am truly blessed to be Eli Apple. Go Bucks!"
He will wear #13 as a true freshman.
He had 17 pass breakups, two interceptions, 45 tackles, three forced fumbles and a blocked kick in 2012 while playing on defense. He also had 39 receptions for 770 yards and four touchdowns on offense.
His high school quarterback was Joe Flacco's kid brother, Tom Flacco.
Mom and Dad work in television, mostly in the production side of things. His mom, Annie, is worth a follow on Twitter if you want the perspective of what it's like to be a Buckeye mom. Her website also includes some posts Ohio State fans would enjoy.
Eli Apple represented Ohio State in the 2013 Army All-American Bowl, along with Ezekiel Elliott, Evan Lisle, and Mike Mitchell.
Well, I think Eli Apple is better known.