Indiana and Michigan State continued their duel as conference top dogs this week, showing they are the class of the B1G at this point. The Spartans have the tougher road ahead, with four straight ranked opponents coming up starting tomorrow night.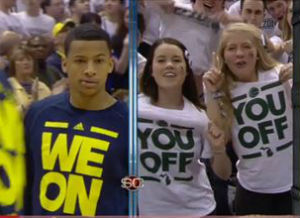 The return leg of the Indiana-Michigan State fixture very well may decide the 2013 B1G regular season, but the Hoosiers will have an easier time winning out after Tuesday than the Spartans will, so one cannot completely count out TTUN or the Badgers.
The Buckeyes unfortunately bowed out of the race with their loss at Wisconsin, and may well settle in to that 4-6 range in the conference for the remainder of the season, barring something unforeseen. That, of course, means that a first-round bye in the B1G tourney is in jeopardy.
Aside from Indiana-Michigan State, the interesting race to watch is the one to see how many B1G teams get into the NCAA tournament. Iowa and Illinois are making moves toward securing a spot. Minnesota is a hard team to figure out, and will likely get in as well.
With all of that said, here are this week's rankings:
T-1. INDIANA (23-3, 11-2)
Christian Watford's double-double on 13 points and 11 boards led Indiana's 76-47 rout of Nebrasketball on Wednesday. Cody Zeller scored 16 points and Victor Oladipo tossed in 13 and eight rebounds.
The Hoosiers forced 15 turnovers and allowed only 18 first-half points against the Huskers. They also won on the glass, 36-21.
Will Sheehey scored 22 points to lead Indiana's 83-55 beatdown of Purdue on Saturday. Zeller added 19 points and nine boards, and Indiana shot 56% and wiped the glass with the Boilermakers, 37-25.
The Hoosiers visit the Breslin Center in East Lansing in a critical B1G showdown against Michigan State tomorrow, and then they have a week off before a trip to Williams Arena in Minneapolis.
T-1. MICHIGAN STATE (22-4, 11-2)
The Spartans kept pace with the Hoosiers at the top of the conference, sweeping their two games this week.
Gary Harris scored 17 points to lead the Spartans to a 75-52 curb stomping of Mitten State rival Michigan Tuesday night at the Izzone. Derrick Nix added 14 points, as four MSU starters reached double figures.
Michigan State held TTUN to 40% shooting and killed the Wolverines on the boards, 40-28. The Spartans also forced 16 turnovers, while losing the handle themselves only eight times.
Adreian Payne scored 15 points and pulled down 14 boards in Sparty's 73-64 win at Nebraska Saturday. Keith Appling led Michigan State with 16 points, but was just 3/11 from the field (1/7 from three), scoring nine of his points at the stripe.
Nix joined Payne in the dub-dub club, scoring 13 points and snatching 11 rebounds. Harris chipped in 14 points. Michigan State crushed the Huskers on the glass, with a 41-23 advantage, and shot 51%.
The Spartans will face four straight ranked opponents in the next two weeks. Indiana visits tomorrow and Sparty makes the trip to Columbus on Sunday. The return legs against the Wolverines and Badgers loom next week.
3. MICHIGAN (22-4, 9-4)
Trey Burke scored 18 in Tuesday night's loss at Michigan State and Nik Stauskas added 10. Tim Hardaway Jr. struggled in the exact same way that he didn't against the Buckeyes, finishing 1/11 for two points. Where was this performance against Ohio State, Tim?
If not for a non-call at the end of the Ohio State game on Feb. 5, Michigan could have lost its fourth straight game Tuesday. The Wolverines were totally exposed in the paint, as Mitch McGary, Glenn Robinson III, Jon Horford and Jordan Morgan combined for seven points, nine rebounds, and nine turnovers.
The Wolverines struggled a bit against Penn State, but eventually pulled away late for a 79-71 win. Burke's 29 led all scorers and Robinson finally had a good game, adding 21 points and 10 boards.
TTUN was outrebounded and allowed Penn State to shoot 44%, but did what it had to do to get the victory.
Michigan is off until Sunday, when it will host Illinois.
4. WISCONSIN (18-8, 9-4)
Sam Dekker scored 14 off the bench and Ben Brust added 11, but the No. 20 Badgers lost in overtime at Minnesota Thursday, 58-53.
A late derpy play by Mike Bruesewitz gave Minnesota a chance to tie the game in the final half minute. Joe Coleman converted two free throws to send it to overtime, and the Gophers outscored Wisconsin 9-4 from that point to win it.
The Badgers owned the glass, 35-29, but shot just 31% (18/59) overall, 25% (7/28) from three, and a horrible 59% (10/17) from the stripe.
Brust and Jared Berggren scored 15 points each to lead Wisconsin's 71-49 massacre of Ohio State Sunday. Dekker added 13 more off the pine.
The game got out of hand early. Wisconsin it 53% of its shots to Ohio State's 38% and outrebounded the Buckeyes, who just never seemed to be in the game.
Wisconsin's lone game this week is Wednesday at Northwestern.
5. OHIO STATE (18-7, 8-5)
After another tough week, Ohio State has lost three of its last four, falling out of contention for the B1G title. It was always going to be tough to win a fourth straight conference championship, and now that's out of reach, barring some incredible mayhem.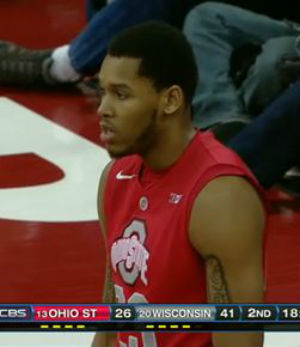 On Thursday, the No. 13 Buckeyes snapped their first two-game skid since Evan Turner hurt his back in 2009, but it wasn't easy. Northwestern offered much more resistance at The Schott than Ohio State would have liked, but the good guys managed to put down the Cats, 69-59, in a game much closer than the score indicates.
Deshaun Thomas had a tough first half shooting, but decided to take the rock to the hole after the break, finishing with a game-high 22 points to go with seven rebounds. Lenzelle Smith Jr. added 12 points, which all came in the first half. He disappeared offensively thereafter.
Slam Thompson chipped in 11 and Amir Williams kicked in a career high 10 points and eight boards. A 12-0 run late was basically the difference in the game.
Despite a dreadful 5/17 (29%) performance outside the arc, the Buckeyes shot 46% overall, matching a hot Northwestern squad that rained threes from everywhere all night long. For most of the game, the Wildcats were above 50% from three. Ohio State was decisive on the boards, winning that battle by more than 20, including 16-4 on the offensive end.
Almost no one did anything well in the curb stomping at Wisconsin. It was as if the entire team reverted to the Illinois game. While the Kohl Center is a tough place to play and the Badgers are a good team, there is no reason Ohio State should struggle that badly against them.
Thomas scored 18 points but it took 17 shots to get there — never a good sign for Ohio State's success. Thompson added 10 points. Williams failed to score or grab a rebound, committing four fouls in only nine minutes of work.
Nothing can be gained from looking back at the game and the Buckeyes should kill those "special" uniforms with fire. Ohio State is pretty much out of the race, but a regular season road loss provides no transitive indicator to what awaits in March.
The troubling thing for Thad Matta as the postseason approaches has to be Ohio State's record against top 20 teams. The main thing Matta should do is put a stop to this song being the team's theme. Seriously, the Buckeyes make layups look hard.
The Buckeyes have another big week ahead, with home games against Minnesota (Wednesday) and Michigan State (Sunday).
6. ILLINOIS (19-8, 6-7)
The Illinois resurgence continued Wednesday, with D.J. Richardson leading a 79-59 beatdown of Purdue at Assembly Hall. Richardson scored a team-high 18 points and Tracy Abrams added 13, with five rebounds, seven assists and two steals.
Tyler Griffey is a big part of why the Illini have played better of late. Griffey chipped in 12 points off the bench, with six rebounds. Illinois enjoyed its 40-29 rebounding advantage in much the same way I enjoy David Gilmour's lap steel guitar solo in "High Hopes" — which are what Illini fans suddenly have again.
Brandon Paul scored only three points on 1/6 shooting. If the Illini can win that big without Paul contributing, it's bad news for their remaining opponents.
Illinois made it four straight wins by crushing the Wildcats at Northwestern on Sunday night, 62-41. The Illini gave up only 15 points in the first half, and put together a decisive 26-0 run in the middle of the game.
Richardson scored 18 points and grabbed eight boards. Abrams helped the cause with 13 points.
The Illini host Penn State Thursday, ahead of Sunday's trip to Ann Arbor.
7. MINNESOTA (18-8, 6-7)
Andre Hollins scored a game-high 21 in the OT win over the Badgers, with Austin Hollins adding 11. In addition to sinking the two crucial free throws that forced overtime, Joe Coleman grabbed seven boards.
Minnesota outscored Wisconsin 18-8 from the stripe, hitting 75% (18/24) from the line. This game simply came down to which team made its freebies.
The Gophers couldn't keep any positive momentum after the win over the Badgers, falling 72-51 at Iowa on Sunday. Minnesota blew a 16-point lead and ended up getting blasted in Iowa City.
Austin Hollins scored 14 and Trevor Mbakwe chipped in 13, but the Gophers shot 36% (21% outside the arc on 3/14 shooting) and committed 17 turnovers.
The Gophers have just one game this week — their trip to Columbus on Wednesday.
8. IOWA (17-9, 6-7)
The Hawkeyes escaped Happy Valley with a 74-72 win over Penn State Thursday, in a game they led by double digits on multiple occasions. Roy Devyn Marble scored 22 points and made a huge block late in the game to preserve Iowa's lead.
Mike Gesell added 13 and Melsahn Basabe chipped in 11. Iowa was just too much inside, winning on the glass, 35-24, and getting to the line often.
Iowa continued its quest for an invitation to the big dance, winning its third consecutive game Sunday. Marble and Aaron White scored 15 apiece to pace the Hawkeyes. Mike Gesell (11), Eric May (10) and Zach McCabe (10) also reached double figures.
Despite their struggles at Penn State, Iowa is starting to play decent basketball.
The Hawkeyes visit Nebrasketball Thursday.
9. PURDUE (12-14, 5-8)
Terone Johnson scored 18 points to lead Purdue in the loss at Illinois. The Boilermakers were done in by 17 turnovers, a failure to keep the rebounding deficit close, and 38% shooting from the field.
A.J. Hammons and D.J. Byrd each added 10 points in a game that might have featured the most guys who go by initials instead of a first name.
Anthony Johnson and Terone Johnson each scored 11 at Indiana, but Purdue offered little resistance in the loss at Bloomington. Turning the ball over 17 times and shooting 38% at Assembly Hall is the perfect recipe for getting pummeled. Purdue followed that recipe flawlessly.
The Boilermakers are off until Sunday, when they host Northwestern.
10. NORTHWESTERN (13-13, 4-9)
Despite losing starters Jared Swopshire (knee) and Alex Olah (concussion), the Wildcats gave Ohio State everything it could handle on Thursday. Indeed, the Cats led most of the game and never got rattled when the Buckeyes made runs.
A 33-15 scoring advantage from the arc was much more harmful than the few times Northwestern successfully executed its patented backdoor cut plays. The Cats moved the ball well, assisting on 17 of 23 field goals. They also kept the ball, committing only seven turnovers.
Four starters reached double figures, led by Tre Demps' 16 points.
After shooting well at Ohio State, Northwestern remembered it was Northwestern in the loss to Illinois. The Wildcats shot 25% for the game, hit only 19% from the arc (5/27), went the first 6:34 of the second half without a point, and turned the ball over 14 times.
Reggie Hearn had the only six points for the five Wildcat starters before the break and Alex Marcotullio scored eight more off the bench, but they were the only two Cats who registered a field goal in the first half. Hearn led Northwestern with 11 points in the game.
Northwestern hosts Wisconsin on Wednesday and visits Purdue on Sunday.
11. NEBRASKA (12-14, 3-10)
It was another tough week for Nebrasketball. Dylan Talley scored 16 against Indiana, but the other four starters combined for just 23 and the bench only added eight more points.
In addition to its 15 turnovers and being owned on the boards, Nebraska shot just 36% from the field, including a 25% (4/16) night outside the arc.
Talley led all scorers with 28 in the loss to Michigan State on 8/16 shooting (4/9 on triples). Shavon Shields scored 19. The six other Huskers who played accounted for only 17 points combined, and Nebraska hit only 36% in the game.
The Cornhuskers have only one game this week — Thursday's visit by the Hawkeyes. After that, Nebraska plays three of its final four games on the road.
12. PENN STATE (8-17, 0-13)
For the bulk of the season, especially after Tim Frazier's injury, Penn State basketball has been worse than "Ben's" teeth on Ben and Kate. Don't feel bad if you don't know who I'm talking about. It's a terrible show that should never be watched. Still, how they cast a lead actor with teeth that bad is one of the great mysteries of Hollywood.
For the record, I have nothing against people with bad teeth, so long as they aren't making a horrible show even more awful.
Despite playing like Ben's teeth, the Nitts had a real shot to beat Iowa for their first B1G win of the season. Down three points late, Jermaine Marshall hit a free throw, but failed to intentionally miss the second freebie with just a second and a half remaining, helping the Hawkeyes hold on.
D.J. Newbill showed how dominating he can be when he takes care of the ball. Newbill scored a game high 26 points, with eight rebounds, two assists, two steals and a block, committing only one turnover. Marshall and Sasa Borovnjak added 14 points each.
Although there are no moral victories in basketball, the Nittany Lions have to feel good about their week. Penn State gave its second straight good effort by pushing the Wolverines in Ann Arbor. Marshall led the Lions with 17 points and seven boards, with Borovnjak also chipping in 17 points.
The Nitts will look for that elusive first B1G win at Illinois on Thursday.
NEW FRIENDS
Maryland (18-7, 6-6)
The Terrapins made the most of their one game this week, upsetting No. 2 Duke at College Park, 83-81. Seth Allen's two free throws with 2.8 seconds remaining were the difference. The Terps held off a late run by the Blue Devils, who trailed by 10 with three and a half minutes to play.
Maryland has won three of its last four and would now be ranked around sixth or seventh in the B1G.
Rutgers (13-11, 4-9)
The Scarlet Knights started the week by edging Seton Hall, 57-55. The home win snapped a six-game losing streak. Undaunted by the sudden win, Rutgers lost again Saturday at DePaul, 75-69.
The Knights are probably better than Penn State and Nebraska, but that's about it.